Winter Park resident Charles Williams is gathering support for an initiative to create more green space in the community through an online petition, which requests that the City of Winter Park use the land at Progress Point Park in this effort. Since going live in May, the petition has collected more than 380 signatures, several comments from locals, and, recently, support from the Winter Park Land Trust.
Williams and petition supporters believe the City should keep the land at Progress Point Park as green as possible to provide shady trees, walking paths, and benches where residents can "escape their homes and enjoy relief from the concrete urban chaos of today's world."
After nearly 16 years of living in Winter Park, Williams decided to launch the petition in response to the City's planning and design sessions for Progress Point Park and other parks in the area, a conversation that has been ongoing for over a year. According to Williams, utilizing the park for green space is a "once-in-a-lifetime" opportunity, and the goal of the petition is simple when looking at the bigger picture. Without creating and preserving green space, Williams believes that in 2030, less than 10 years from now, Winter Park could look very different.
"I stepped forward after witnessing the slaughter of oak trees on the lake in Martin Luther King Jr. Park to make way for the library and events center," Williams said. "Lesson learned: We can't afford to remain silent. That shade won't be back in my lifetime. Question for our leaders: What's our guiding green ethic? Maybe it's time to restate it — after all, 'park' is in our city's name."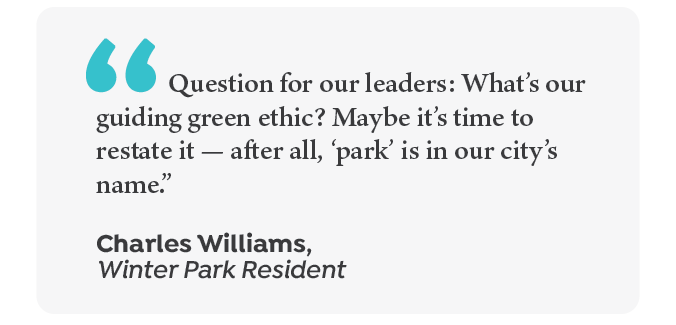 Initial plans for the property's development showed a hybrid park split three ways. One-third of the park would be for a flat lot parking, one-third for a two-story retail space up to 40,000 square feet (approximately the size of a Publix) with a potential two-level parking garage, and one-third for green space. "That doesn't spell 'park' to me," Williams said. "Progress Point is a legacy project for next generations. Can you tell me where our next new urban park space is coming from? Land is not getting any cheaper."
On July 12, the Winter Park Land Trust shared its resolution with the City of Winter Park, stating that the nonprofit recommends maximizing the amount of land devoted to green space in the Progress Point parcel and connecting the green space to other city parks through walkways and bikeways. "To have the support of the Winter Park Land Trust for maximum green space utilization is huge," Williams said. "It drives home the point: Preserve our precious urban green space. We only have one shot to keep it, or we lose it forever."
Earlier this year, Winter Park residents gave feedback about the design and featured attractions for Progress Point Park during an online survey sent out by the City. According to City Manager Randy Knight, the additional support of the Winter Park Land Trust does influence the City's stance because all public input is important during the planning process. "The City Commission has approved a budget of approximately $2.1M to build the park and relocate Palmetto [Avenue]," Knight said. "There is still consensus among the Commission that a small portion of the property should be used for a commercial purpose that helps activate the park."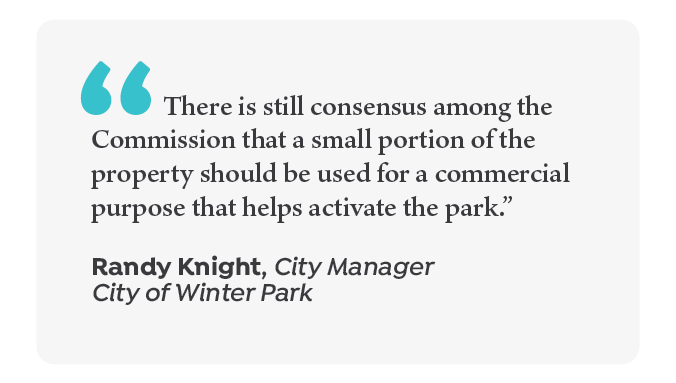 In its recommendation, the Winter Park Land Trust suggests that the City's design for Progress Point Park includes ample use of large shade trees, pedestrian and bicycle access, safety features for children considering the adjacent street and railroad, and materials that are durable, practical to maintain, and consistent with those used historically in Winter Park.
Like Mead Botanical Garden and Martin Luther King Jr. Park, more green space in Progress Point would offer Winter Park locals additional recreational opportunities to explore without a car. According to Williams, there is a national push for every American to have a park within a 10-minute walk, and additional green space would help Winter Park reach that goal. "Once it's paved, these limited assets are lost forever," Williams said. "We ask for your stewardship and protection of this unique City-owned parcel for generations to come."
City officials have listened and responded to suggestions made by the group, and it has been a "very open process" for Williams and others to voice their opinions. Since addressing the City, Williams says that next steps for the group will be to continue to monitor the progress of the City's plans and request that their priorities reflect the "Keep it Green!" initiative.
For more information or to sign the petition, visit the website.