On March 17, more than 40 people gave their input about designs and features for Winter Park's newest planned attraction—Progress Point Park—during an interactive virtual charrette held by the City of Winter Park. Residents, workers, and visitors gave feedback on topics such as how they would like to use the park, as well as the types of fountains and landscaping they preferred.
The previous site of Progress Energy, Progress Point Park is part of the larger Orange Avenue Overlay (OAO) district and will sit on a currently empty parcel of land between Orange Avenue, Denning Avenue, and Palmetto Avenue. City officials have been working in tandem to create plans for transportation improvements, new overlay guidelines, and the development of Progress Point Park.
According to the City, the goal is to create a space where people can live, work, and play that reflects the charm of Winter Park. Engineers used Park Avenue as an example of how transportation, business, residential, and green/park space can come together to create a destination.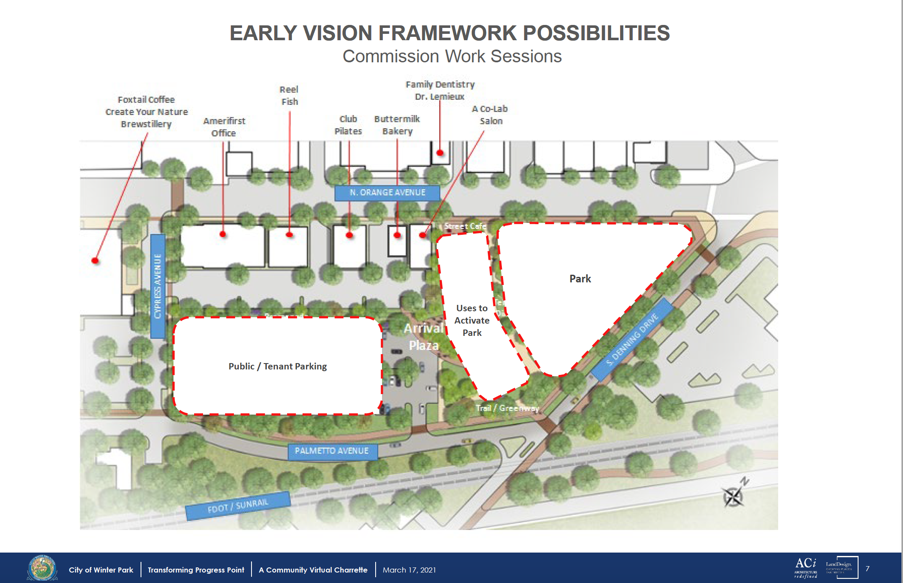 In the City's meeting, ACi Architects and LandDesign presented early framework possibilities for the park. These include realigning Palmetto Avenue closer to the railroad, which will give additional land to the park, and building a parking structure to service park visitors as well as nearby restaurants and retail stores. In addition, architects also planned an arrival plaza for local businesses to use for curbside pickup, along with a designated space for rideshare services — something they mentioned Park Avenue currently lacks. The design of the space would give people safe access to businesses on Orange Avenue such as Foxtail Coffee, Buttermilk Bakery, and Club Pilates.
Founder of ACi Architects, Larry Adams, said that a key component of design for any park is including features that "activate" the space by bringing people in to use and enjoy it. A lawn where the City can host concerts or movie nights, village-style buildings on the west side of the park for restaurant and retail, and a children's play area are just some of the plans in place to help activate Progress Point Park.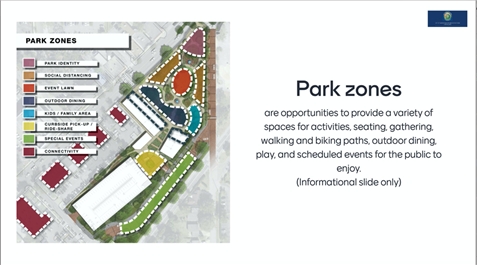 After an overview of framework elements, such as street and crosswalk improvements along Denning Drive and Orange Avenue and plans for significant tree cover to provide shade to most of the park, presenters began the interactive portion of the meeting. Attendees logged onto a website so they could give instant feedback to posed questions about design and use. Using the charrette questions, the City created an online survey that's still accessible to provide input on the project.
The first questions gathered baseline information about residency and how far voters lived from the park. Survey results revealed that most are in favor of a mix of traditional fountains (like those in Central Park) and interactive, splash-pad-type fountains.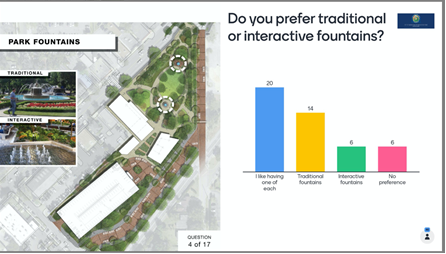 Additionally, voters wanted a mix of attached patio dining, rooftop dining, and café-style dining throughout the park, along with a large open play area for children. The majority felt it was important to have designated areas for ride-share spaces and curbside pickup. 43 out of 45 people voted in favor of a trail for bicyclists and walkers that creates safe connectivity to the park and other parks throughout the city. They were split; however, on what the walkway surface should be: concrete, brick or asphalt. Other questions asked for input on landscaping designs and seating and wall finishing. View the results of the interactive charrette here.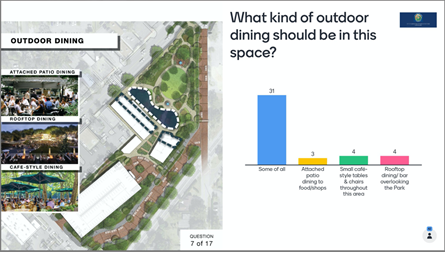 Access the full PowerPoint presentation, watch the meeting, or read more about plans for Progress Point on the City of Winter Park website.