Leading an academic institution through a pandemic is no simple task. Just ask Rollins College President Grant Cornwell, reflecting on his many years as a college administrator: "You can take every issue that I've dealt with and roll it into one and it wouldn't touch the complexity of managing a college through COVID. This calls for all of the strategic acuity that one can muster."
Rollins, where comprehensive tuition approaches $70,000 per year, aspires to deliver a premium offering in an environment where lower-cost, online education is growing rapidly. "Our whole value proposition is around in-person intimate education [and a] residential learning community," Cornwell said.
The college's whole value proposition changed earlier this year when Rollins sent its students home in advance of concluding the spring semester in the face of the emerging pandemic. "We moved it all online in the space of a week," Cornwell said. "We did it and we did it well." However, Cornwell recounted some resounding feedback, paraphrasing what he heard collectively from students: "This isn't what we signed up for, this is not a Rollins education."
Rollins was not alone its decision to close facilities, as most campuses around the country found they had little choice in the matter and followed suit. But planning for the future in the midst of such uncertainty was challenging. "I look back now on the spring and the summer and I realize how high my anxiety was," Cornwell said. "We were planning multiple scenarios for an unknown future." Back in April, Cornwell described the college as facing "tremendous risk."
As Rollins brought students back for the fall semester, Cornwell felt more optimistic about the future of Rollins. "We planned for a lot of possibilities, but the worst did not come to pass. The anxiety is down because now it's just work… It's hard work but we're doing the work," he said.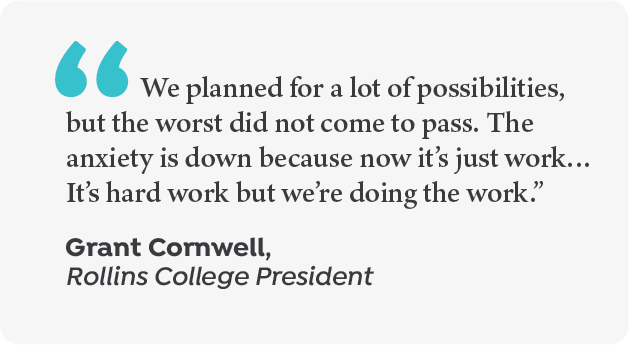 That "work" is the result of a campus-wide comprehensive strategic planning process resulting in a hybrid learning model where some classes are offered both online and in-person. In-person classes and activities are subject to social distancing, mandatory mask-wearing, and other protective measures.
"Students are really doing their best," Cornwell explained, but admitted that not everything has gone to plan. "18-20-year-olds don't always have the best judgment."
Rollins has experienced its share of COVID-19 cases (tracked and shared through an online dashboard) but has seemingly found a rhythm in managing them through contact tracing and isolating those infected. "We're managing this throughput of positive cases. Literally, every day, a new kid will get COVID. In they go and someone else is coming out," Cornwell said, referring to isolated rooms where students remain until they recover. He also credits candid communication to the Rollins community as part of their success: "We've put tremendous effort into communicating in every format we can think of."
As students returned to campus in the fall, Rollins happened to be completing new residence halls, which were adapted to house infected students during their recovery. Cornwell credits the opening of this new residence, Lakeside Neighborhood, as "good luck." "The whole complex is arranged in apartment suites that are all singles with private baths – perfect for COVID isolation," Cornwell said. The newly constructed facility is on the shore of Lake Virginia, presumably some of the most valuable real estate in Central Florida.
When asked if he still feels the college is at risk, Cornwell responded with confidence. "The fact is, I don't," he said. Pointing to a "larger than anticipated first year class, better retention in the last ten years," and enrollment and revenue that are "very strong," Cornwell is pushing ahead with cautious optimism.
Part of that positive outlook involves the college's geographic home, the City of Winter Park. "The relationship and the interdependency with the college and the City is the most positive that I've experienced. Both appreciate what the other brings to the table," Cornwell said.
Cornwell, who celebrated his fifth anniversary as president this summer, touched on his own affection for the town. "Believe me, Winter Park is one of the reasons I took on the assignment here," he said. "You can't find a geographic relationship between a college and a town that has as much grace and charm and sophistication as Rollins has with Winter Park… It's a love affair. I'm very aware—and I think it's authentic— that the citizens of Winter Park realize what Rollins brings to the quality of life here."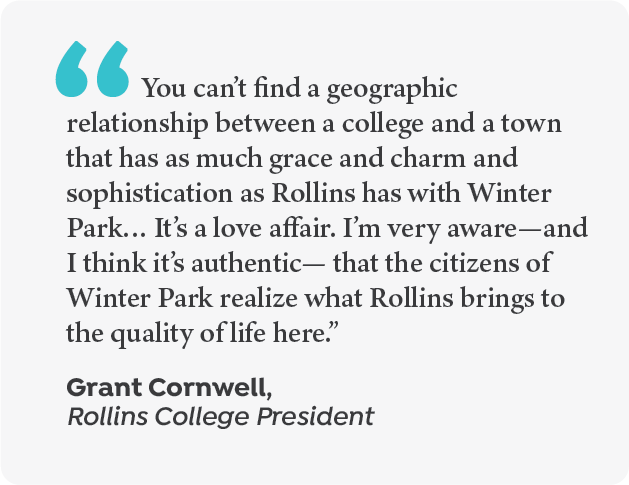 The college's several campus building projects as well as its high successful boutique hotel, The Alfond Inn, the expansion of which was put on hold earlier this year, surely contribute to the enhancements Rollins brings to Winter Park. Cornwell characterized the paused Alfond Inn expansion as "fully designed" and explained they are "waiting to take advantage of a softened construction market." As global travel has slowed, Cornwell also anticipates a reevaluation of the demand for added rooms. "We want to make sure the vision for expansion is still viable. We have confidence, but we don't want to be foolish," he said.
Rollins is also keeping an eye on its proposed Innovation Triangle project, a concept that would relocate the Crummer Graduate School of Business and Cornell Fine Arts Museum closer to the city's core. "[The project is] still important and viable, but it does rely on fundraising," Cornwell said. "People are devoting charitable resources to COVID relief and funds and it feels a little tone deaf to go out and raise money for a new business school. We have to wait for the timing to be right."
Not all of the college's projects are on pause, however. Cornwell is particularly proud of the recent completion of the Kathleen W. Rollins Hall renovation located at the center of campus. The facility is the hub of a new career and life planning concept called "Rollins Gateway," a four-year developmental program.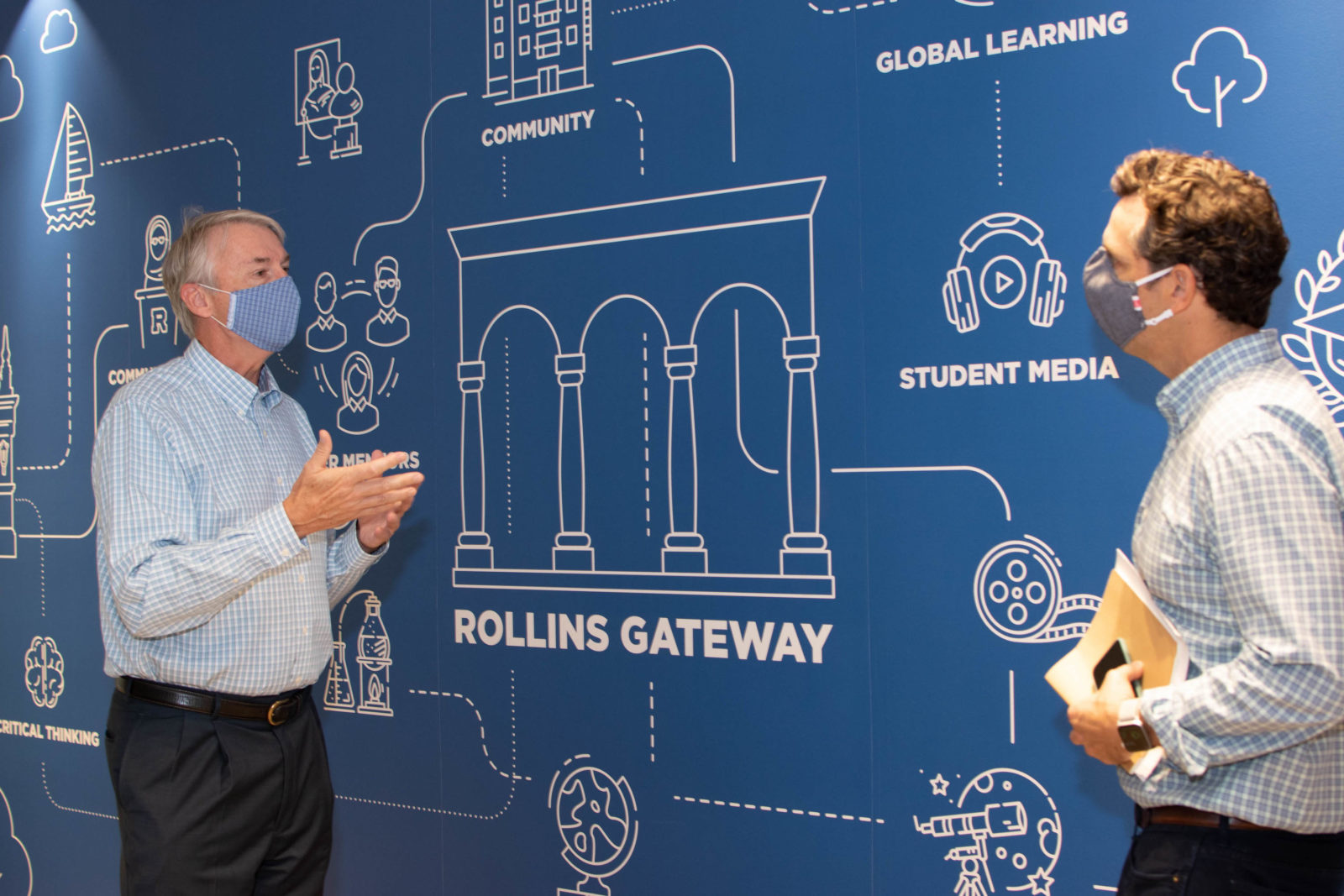 Rollins Gateway follows a visual motif that seemingly guides students to a successful launch into the post-graduate world. "We want students to move through college so they're putting together all of their experiences and academic programs in a way that's adding up to something— it's adding up to a story that they can tell about the value of their education and where they're going to go afterward," Cornwell said.
Cornwell described previous career planning efforts at Rollins as lackluster. "Rollins would have gotten a B- or C+ in career planning," he explained. "If Rollins' education is going to be relevant in the 21st century, we have to help our students put their education to work in the world after graduation… [Rollins Gateway] is our answer to our continued relevance."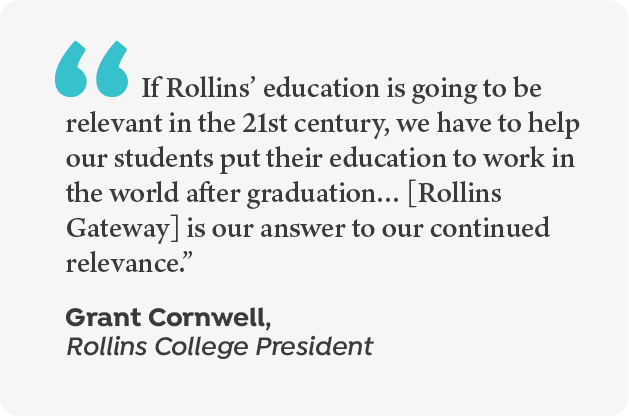 The newly updated Kathleen W. Rollins Hall brings together a variety of educational facets, united both conceptually and geographically on campus. Cornwell shared that "career and life planning and all of our experiential learning programs: study abroad, internship, research experiences, and our major in Social Entrepreneurship (one of our fastest growing majors)," are housed in Kathleen W. Rollins Hall. The new Social Entrepreneurship major "helps students create and run organizations that create social value," which is also significant to the mission of the college and helps to elevate the Rollins education.
As the college continues to move through a challenging year, President Cornwell is continuing his quest to deliver value while monitoring the future. As the end of the fall semester approaches, it's clear Rollins is anything but adrift during this challenging season.