In one of a series of virtual town hall meetings, Rollins College President Grant Cornwell briefed supporters on the college's response to the COVID-19 pandemic. "I've been president for 13 years, provost for 12, and a lot of stuff crosses your desk," Cornwell stated. "You could roll them all up into a ball and they would not compare to the challenges presented to higher education by [the coronavirus]."
Cornwell convened a disaster preparedness team in early 2020, a group well-seasoned by the challenges of Central Florida's recurring hurricane season. "We convened in January as soon as the virus came on our radar."
Rollins closed most campus facilities, including residence halls, just prior to spring break, announcing that "virtual, synchronous learning" would begin on March 23, 2020. "Spring break is usually a good time around here, but we had to tell students not to return," Cornwell explained.
During the week of spring break, all courses were moved online. Cornwell praised faculty and staff for their efforts to continue educating despite challenging circumstances. "You'd be proud of Rollins right now," he told attendees.
Reflecting on the last several weeks of classes and the end of the Spring semester, Cornwell lamented the student's loss of the on-campus experience. "I'll be frank, nobody liked it. Our students have told us, 'We know how to take courses online, but it's not why we chose Rollins.'"
Nationwide, smaller colleges were facing economic pressure even before the COVID-19 pandemic as lower-cost, online options emerged and high school graduates pursued other opportunities. In late March, MacMurray College in Illinois announced it would close permanently after 174 years of operation.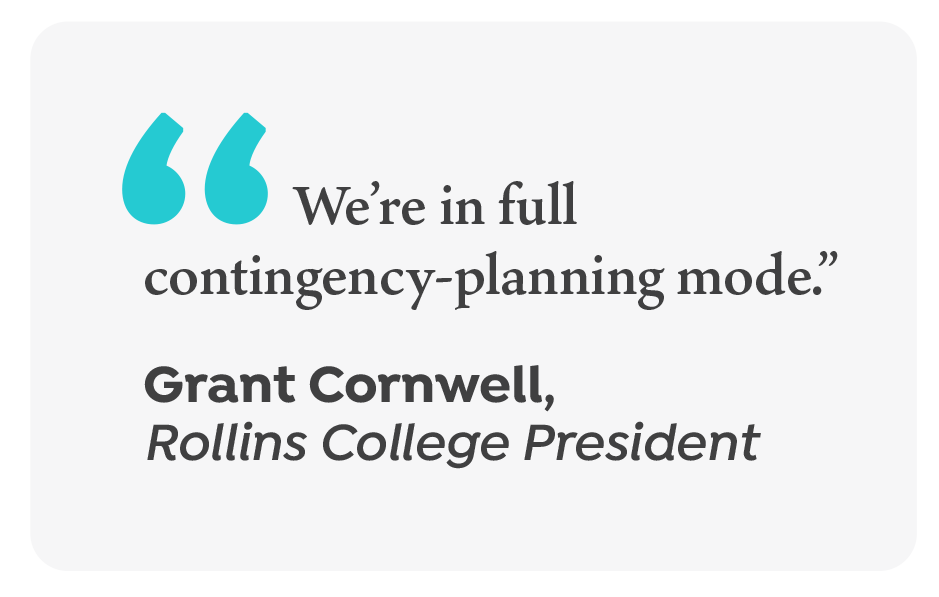 Recognizing the financial pressures students and their families are facing, Rollins is analyzing the potential financial impact of a declining enrollment, which may prove especially challenging if the campus is not able to open in time for the start of the Fall semester. "We're in full contingency planning mode," Cornwell said. "Students are saying to us in large numbers, 'if Rollins is online, we're going to take a time out.' That's a tremendous risk for the college."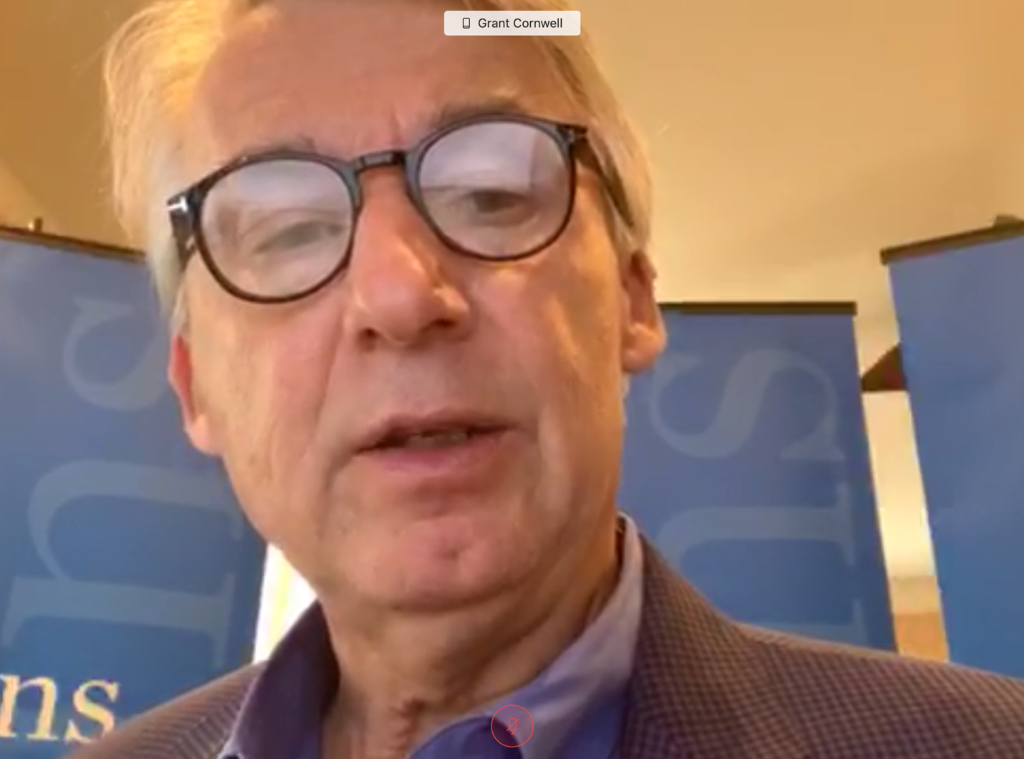 Like other institutions across the country, Rollins received federal funding to support its operation. "We have received $2.8 million in government funding and [are] trying to channel that to students whose financial situations have changed. The funding is helpful, but doesn't touch our losses," Cornwell said.
To prepare for the future, Cornwell formed two task forces – one focused on the fiscal risk, and one to examine various scenarios of what the Fall semester "might look like." Rollins is exploring various scenarios, including a later start to the semester and limiting travel once students arrive. "Traveling students could potentially become vectors for the virus and we want to avoid that."
Cornwell described proactive measures to manage the fiscal challenges of the pandemic. "We'll have to become a smaller Rollins quickly," alluding to potentially lower enrollment and possible reductions in faculty and staff. "It keeps me up at night, but it is also my duty."