Winter Park's Department of Urban Forestry recently implemented a new software tool on the city's website to share an active inventory of the city's trees. The database, TreeKeeper, catalogs more than 22,000 trees across a 10-square-mile area to help the Urban Forestry Division manage the city canopy. Now, an abridged version of the tool has been launched for the public to use recreationally.
Residents and visitors can use TreeKeeper to take a walking tour of Central Park in downtown Winter Park and learn about the trees in the area. The software identifies the locations of various trees within the park, guiding users through their tour. Clicking on a tree on the interactive map brings up details about its size and species, as well as aerial and street views of its location. One tree (below) at 111 N. Park Ave., for example, is noted to be a laurel oak that spans 21 feet.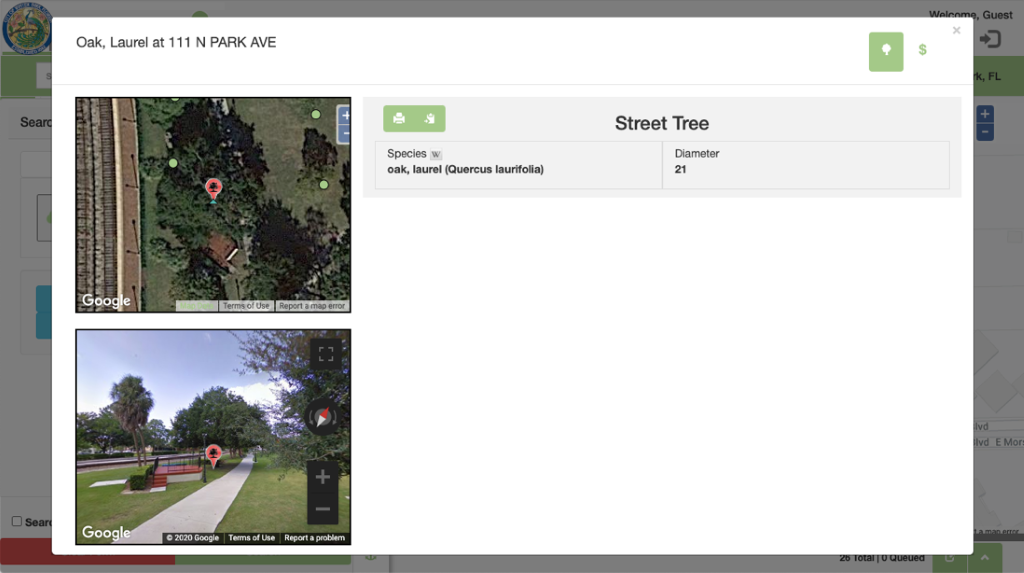 According to the site, Winter Park's trees provide more than $2 million worth of ecological benefits yearly, including improved air quality and sequestered greenhouse gases. The specific ecological and economic benefits of each tree are listed in a corresponding tab within TreeKeeper.
A separate view filter allows users to see Winter Park's newest street trees, many of which were planted as a result of damage from Hurricane Irma in 2017.
The city hopes this new resource will allow "residents and visitors to enjoy the outdoors and learn more about Winter Park's urban forest." By using the free public Wi-Fi that was recently installed downtown, users can access the TreeKeeper tours from their mobile devices at no cost.