A new request for proposal (RFP) in the reuse of Winter Park's former library is under way, along with a bid for a major piece of real estate at the Orange Avenue Overlay.
City Commission, during its June 14 meeting, discussed options for the library RFP that included resident input, received at a June 12 community meeting where neighbors were encouraged to offer opinions on the future of the 44-year-old building.
Approximately 30 residents attended the June 12 meeting with seven offering comments. There was a consensus against selling the library property, and speakers voiced support for using the land as a greenspace and/or a gateway to the downtown area, and for community and arts-related use.
Attendees also spoke against two unsolicited land swap offers, received since the last commission meeting.
The first involves swapping a property located by the intersection of Virginia and Canton Avenues (near the police and fire rescue complex) for either the old library or the current city hall property. The proposal, from an unnamed buyer, is outlined in a letter to City Manager Randy Knight from the law firm of Frank A. Hamner P.A.
The second offer involves land owned by the Bank of the Ozarks, at 1100 N. Orange Ave. The property is undeveloped and sits between Seven Oaks Park and Mead Botanical Garden. According to city documents, the library site would be used to build "workforce or attainable housing that at least, in part, would be for Rollins employees."
Both offers require the city to relinquish ownership of the library land, which commissioners have previously refused to consider.
During the June 14 commission meeting, Vice Mayor Sheila DeCiccio referenced several emails from residents who are against the land swap, and other commissioners reiterated their desire to retain ownership. Commissioner Todd Weaver re-opened a discussion to house the Winter Park Playhouse at the library site instead of purchasing its current building – an option that had been discussed at the last commission meeting.
"I'm not a fan of using CRA funding to purchase the Playhouse building," he said, adding that the nonprofit is working on a proposal to repurpose the former library building for its needs. "Given the fact that it's a 33,000-square-foot building and (the Playhouse) wanted 15,000, I think that opens up other spaces for some other nonprofits."
Six nonprofits previously responded to a request for letters of interest in the library property, and the RFP will include preference for accommodating space for nonprofit facilities in its reuse.
Commissioners all agreed to retain ownership of the property and keep C-3 zoning with a possibility of including market-rate office use. Other parameters of the RFP include a maximum building height of four stories, or 55-feet, and high volume tenants such as restaurants or food-halls remain dealbreakers due to increased traffic and parking needs. City staff was instructed to present a draft of the RFP at the June 28 meeting.
Commissioner Marty Sullivan then requested a discussion on pursuing the Bank of the Ozarks property, mentioned in the second land swap offer.
"I'm not getting a lot of favorable input for (the land swap), but I don't think it's because we don't want the Ozarks property," he said.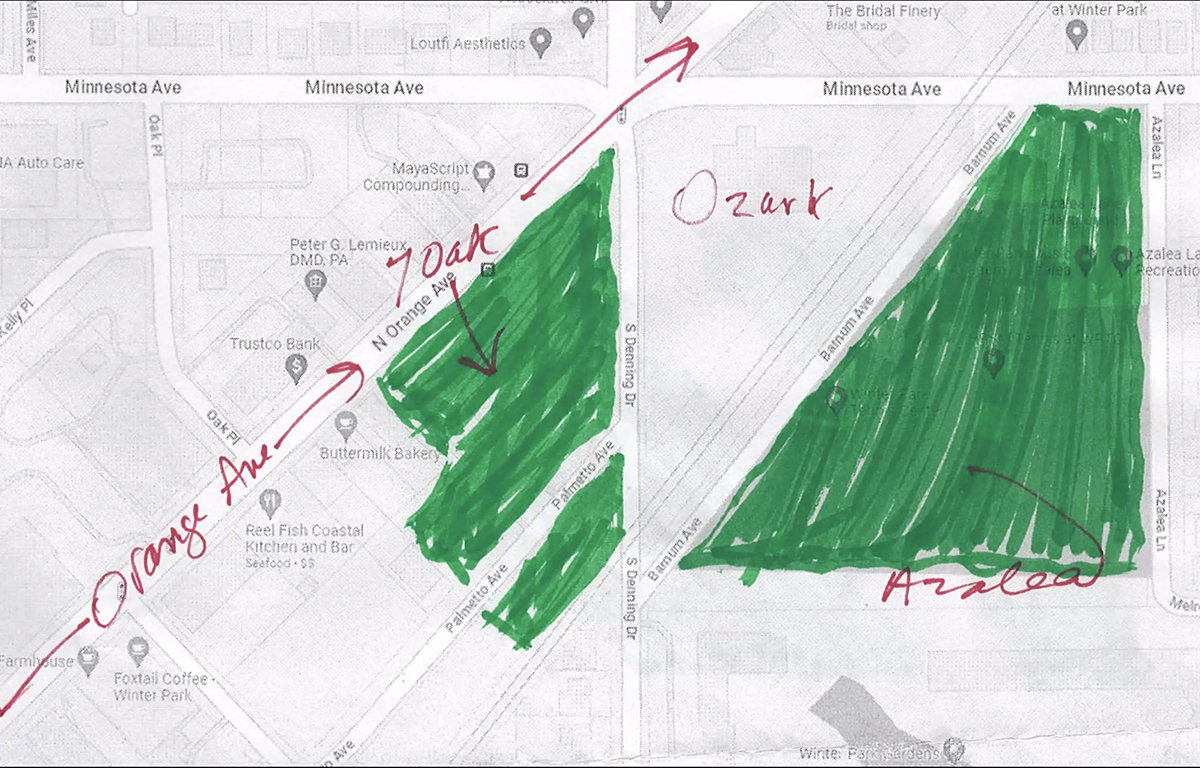 Commissioner Weaver offered an overview of the benefits to owning the property that include:
A contiguous park design with Seven Oaks Park and Mead Botanical Garden.
Stormwater retention and treatment, by virtue of exposed soil and sand content, on a stretch of Orange Avenue that has none.
Easements by the northbound and southbound railroad tracks that would accommodate the construction of future train stations.
Future construction of a roundabout at the six-point intersection of N. Orange and Minnesota Avenues, and S. Denning Drive.
"I believe that if we do not purchase this piece we'll forever regret it," said Vice Mayor DeCiccio, adding that possible development of a three-story bank building would increase traffic congestion to the area.
Weaver and DeCiccio spoke against paying the current $7.5 million asking price, and noted that the property had been appraised at approximately $5.8 million in January. An offer of $6 million was discussed, with funds coming from a $5 million bond and $1 million from donations or other resources.
Commissioner Kris Cruzada expressed concern over the annual bond repayment of between $300,000 and $350,0000. "I like the idea of purchasing (the land), eventually, I just don't think it's appropriate at this point in time," he said, adding that projects like electric utility undergrounding and street paving should come first. "The money could go toward other things."
Commissioners opted to table further discussion until their next meeting. Knight was asked to present the $6 million offer to the property owners and request a timeline for possible purchase. A review of the findings, along with a detailed overview of options, will be part of the June 28 meeting agenda.