The City of Winter Park has issued a curfew within the city limits effective until 5 p.m. today, Thursday, Sept. 29. The curfew may be extended if road conditions worsen throughout the evening.
The curfew is for the safety of residents as flooding and debris have made local roadways impassable. Driving is prohibited with exception to emergency personnel and those essential employees traveling to and from work.
Residents are asked to stay indoors as conditions remain dangerous. Live power lines may be down and can cause serious injury and death, weakened tree limbs can possibly fall, and storm debris remains scattered on streets and sidewalks.
Central Florida is expecting up to two feet of rain in several areas as Hurricane Ian makes its way across the state. The Category 4 hurricane slowed to a tropical storm in the early hours of Thursday, Sept. 29, but local flooding remains widespread.
According to local news reports, there is flooding on several Winter Park roads including Minnesota, Clay, and Nicolet Avenues. And widespread power outages have affected traffic lights at multiple intersections.
Social media reports of local flood conditions are also mounting. Blair Gilfillan posted video of flooding along Scarlet Road and S. Ranger Boulevard on her Twitter account.
"So far everyone seems good, no major damages," she told the32789 of conditions in her neighborhood. "My friend two streets away on Prince John Road did experience flooding into his living room at 3 a m. We still have power on Scarlet Road."
Mattia Joyce Castellano reported flooding at her home in the Georgetown Estates on SR. 436 and Aloma Avenue.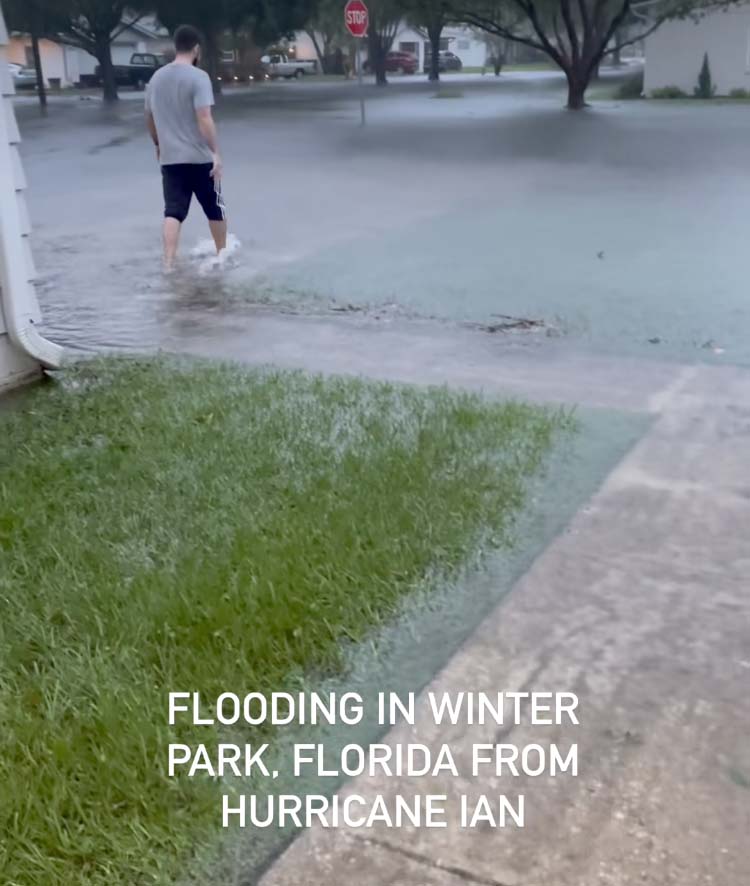 "We're shop-vacing the garage to make sure water doesn't come inside," she told the32789. "Our neighbors are ok, but transformers are blowing, we can hear them."
If you have footage or news to share with the Winter Park community in the aftermath of Hurricane Ian, please contact news@the32789.com