During yesterday's meeting, the Winter Park City Commission approved a $750 thousand donation from Philip and Sigrid Tiedtke to fund an outdoor amphitheater for the new Winter Park Library and Events Center. The Winter Park venue will be open to locals in fall 2021, and has already booked a wedding and a Winter Park High School reunion to take place in 2022
In April, Winter Park's $41.7 million project faced a shortfall in funding that arose when another potential donation that factored into the overall budget did not come to fruition, according to city manager, Randy Knight. After learning about the gap in funding for the project, the Tiedtke family, who founded the Enzian theatre in Maitland, stepped in to help. "They became aware of the opportunity to name the amphitheater from reading an article published in our local newspaper and called me," Knight said. "We have enjoyed our relationship with the Tiedtke family and Enzian in the past, most visibly as the sponsor of our Popcorn Flicks in Central Park, among other symbiotic partnerships."
Thanks to the Tiedtke family, who did not request any additional changes to the design or concept, the City's construction timeline for the Winter Park Library and Events Center will stay according to plan. "Their donation will definitely be felt by our community as the Tiedtke family will bring more cultural experiences to our residents and guests," said city manager, Randy Knight. "This sponsorship helps bring to life the indoor and outdoor spaces of the Library and Events Center with exciting film festivals, previews, and performances."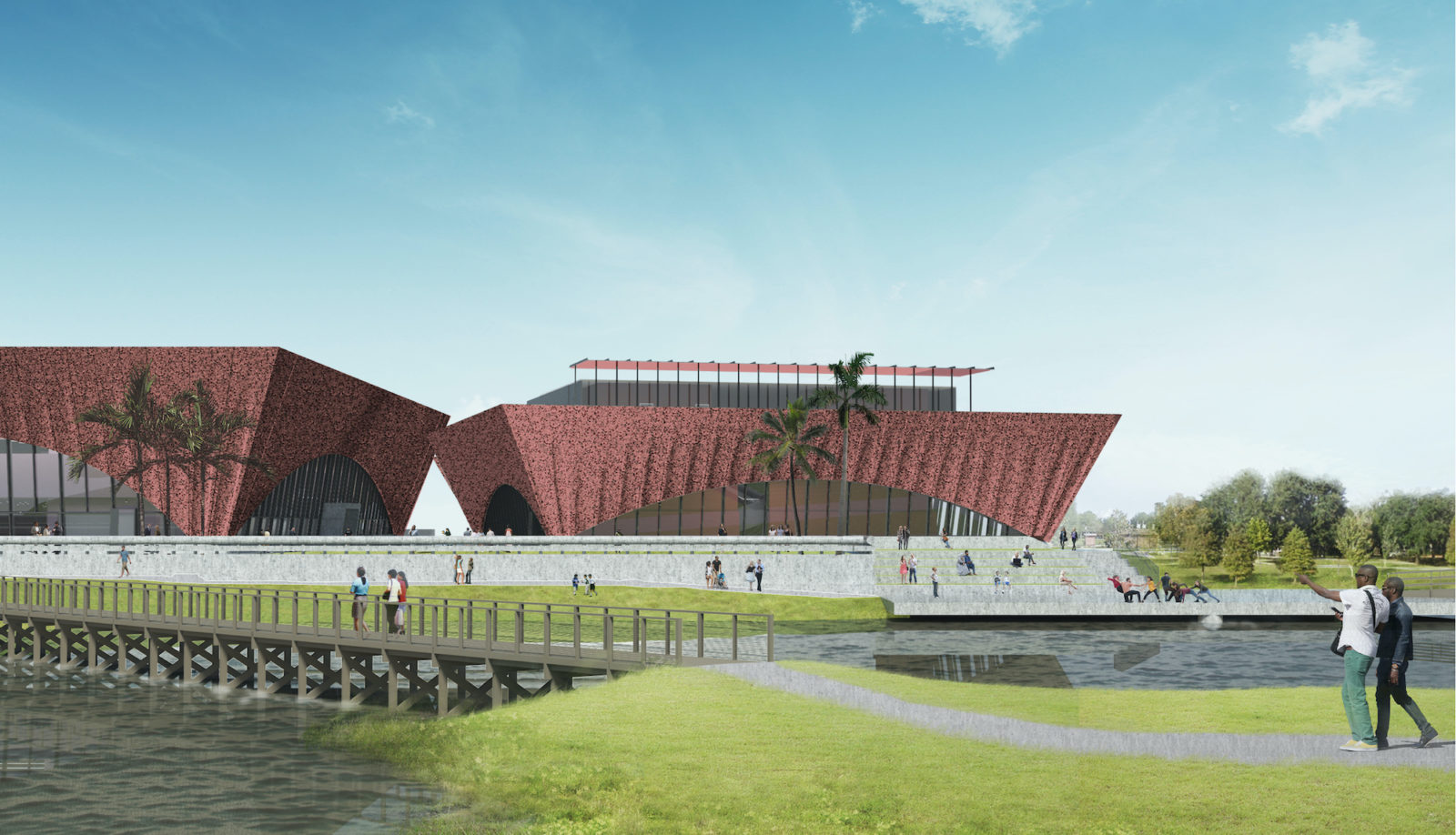 Only a few months after the Event Center's reservations office opened to the public, two events were scheduled to occur in spring 2022. In a press release the City announced that Emma Mendez and Anthony Gassman would be the first couple ever to get married at the center. The high school sweethearts both attended UCF and dated for seven years before Gassman proposed on New Year's Day of this year. Located across the street from Gassman's office, the couple chose the Winter Park Events Center almost immediately after touring the venue for their wedding, which will take place on November 5, 2022.
"Everything about the Events Center fits perfectly with the wedding theme we wanted. I love the earth-tone colors of the building, the domed ceilings, and the floor-to-ceiling windows that allow natural light in," Mendez shared in the press release. "The fact that the venue offers a rooftop space, a large ballroom, outdoor spaces, and two dressing rooms gave us plenty of space to have our ceremony, cocktail hour, and a reception all in one area."
On Monday, the City announced that a second event, a high school reunion for the Winter Park High School (WPHS) Class of 1972, had also been booked for the Events Center. On March 26, 2022, the WPHS event, which will celebrate a 50-year reunion for approximately 900 graduates, will take place on two levels of the venue to accommodate the extensive guest list.
"The WPHS Class of 1972 has a particular pride in being the first class to begin as sophomores and complete all three years of high school in what was the 'new' Winter Park High School back then," said Gay Gilleland Erwin, the chair of the Reunion Planning Committee. "Many have stayed in touch over the years, and the group has held earlier reunions. Members are also looking forward to this occasion to join with classmates far and wide and reunite with those they may not have seen since high school or possibly not even have known back in 1972."
For more information, call 407-599-3571 or send an email to the Winter Park Events Center for scheduling and reservations.