The City of Winter Park Economic Development Division (EDD) is now accepting applications for the Vacant Storefront Program, which will allow Winter Park commercial property owners the opportunity to brighten their storefronts during 'dark' or vacant times. In return, the owners will receive discounts totaling up to $500 off their electricity utility bill during the first three months of participation in the program.
Since January, the Economic Development Advisory Board has been in talks to solve the number of vacant storefronts in Winter Park, particularly along Park Avenue. According to the City, the Vacant Storefront Program, which was approved in March, also encourages owners to partner together to display art in their windows to contribute to downtown Winter Park's "overall aesthetic" and vibrancy.
Aiming to continue filling the near 8% of vacant storefronts on Park Avenue, Kyle Dudgeon, the assistant director of the City of Winter Park, hopes to illuminate these storefronts in partnership with local artists and designers. "The City continues to look for opportunities to support small businesses and the community in the wake of the pandemic's effects," Dudgeon said. "This program is another tool in the toolbox to demonstrate, encourage and market the enduring qualities of downtown Winter Park."
Online applications are now available for the Vacant Storefront Program for qualifying participants located within limits provided by the City, which is shown on the map below. Additionally, an applicant's property must be vacant with proof of intent to occupy the space, and the owner must work with City staff members to decide how the storefront will be illuminated.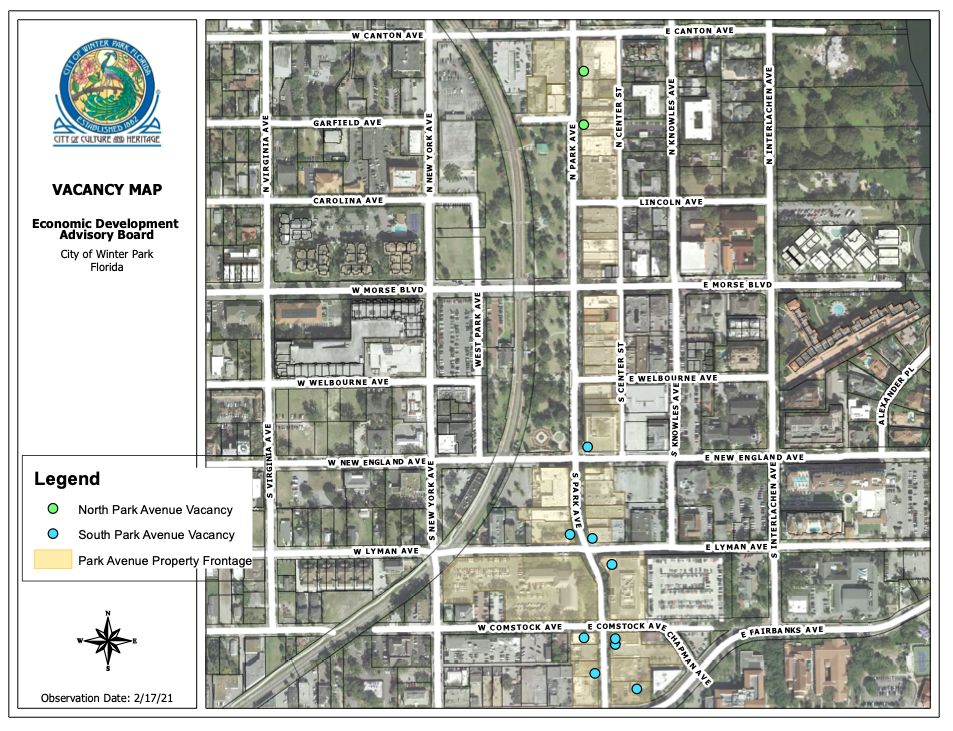 Visit City of Winter Park's website to learn more about the program, or call (407)-599-3217.