The new year will bring major upgrades to Winter Park Village. The Orlando Sentinel reports that the project's budget is still being discussed, but a ballpark of $50 million worth of renovations are planned to begin in 2021. This will be Winter Park Village's first major facelift since it was converted from the Winter Park Mall to the outdoor center we know today over 20 years ago.
Planned improvements include modifications to East Road, the street that leads from the center's main entrance on Orlando Avenue to the Regal Cinemas movie theatre, that will allow for it to be closed to traffic for events and pedestrian use. Outdoor amenities such as a beer garden, wine bar, areas for activities such as bocce ball, lawn and patio space, and more may be added. The theatre itself will also receive a makeover, including a new light tower and a water feature where the ticket box currently stands. The owner plans on updates to the office and residential spaces at the Village as well.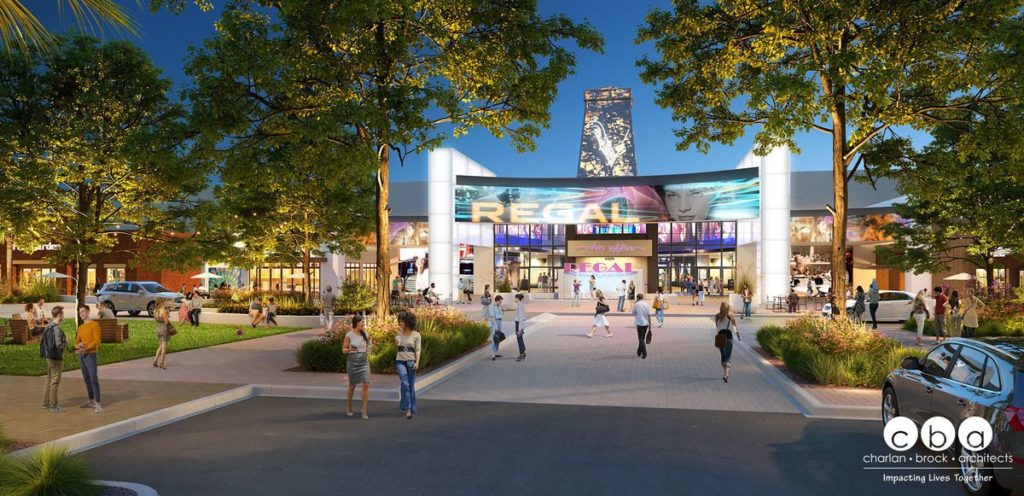 CASTO, the Ohio-based property owner that developed Winter Park Village in 1999, shares its excitement to implement these upgrades, which will focus on creating an improved outdoor experience to accommodate challenges during and post the COVID-19 pandemic. Earlier this month, CASTO became the sole owner of the retail center when its partner owner, JPMorgan Chase & Co., sold its 50% stake to CASTO.
Maitland-based Charlan Brock Architects developed the included renderings and will be the firm involved in the project. The renovations are projected to take 18 months to complete.