A hyper-local charitable response to the economic impact of COVID-19, THRIVE Winter Park was started by the Winter Park Chamber of Commerce in April 2020. In line with the Chamber of Commerce's 501(c)(3) initiative, THRIVE Winter Park strives to: 
Meet immediate needs in our community, such as buying meals from local restaurants to be delivered to frontline hospital workers.
Evaluate emerging needs and build recovery models.
Build capacity for a robust recovery.
THRIVE Winter Park led to the creation of another community resource, The Winter Park Economic Recovery Task Force. Formed in August of this year, Winter Park Chamber of Commerce President and CEO Betsy Gardner Eckbert says the Task Force first focused on "speed with discipline." Now, she sees the need to shift their efforts to preparing for other unforeseen circumstances. "That speed with discipline piece was so important for us at the beginning, but now we actually need to make sure that we're monitoring our resiliency building and we need to future-proof Winter Park against future shock," Gardner Eckbert said. "Our attention is now going to be turned to medium and long-range resilience building." 
Thus far, Gardner Eckbert believes one of the Task Force's greatest benefits has been representing a cohesive front that provides a space for residents' suggestions. "By having an objective process where we measure objective criteria for success and we have representation from all the business sectors representative of Winter Park, it really makes it a more fair process to distribute and allocate resources," Gardner Eckbert said. "We've been adamant about making sure that the process is inclusive and does the greatest good for the greatest number."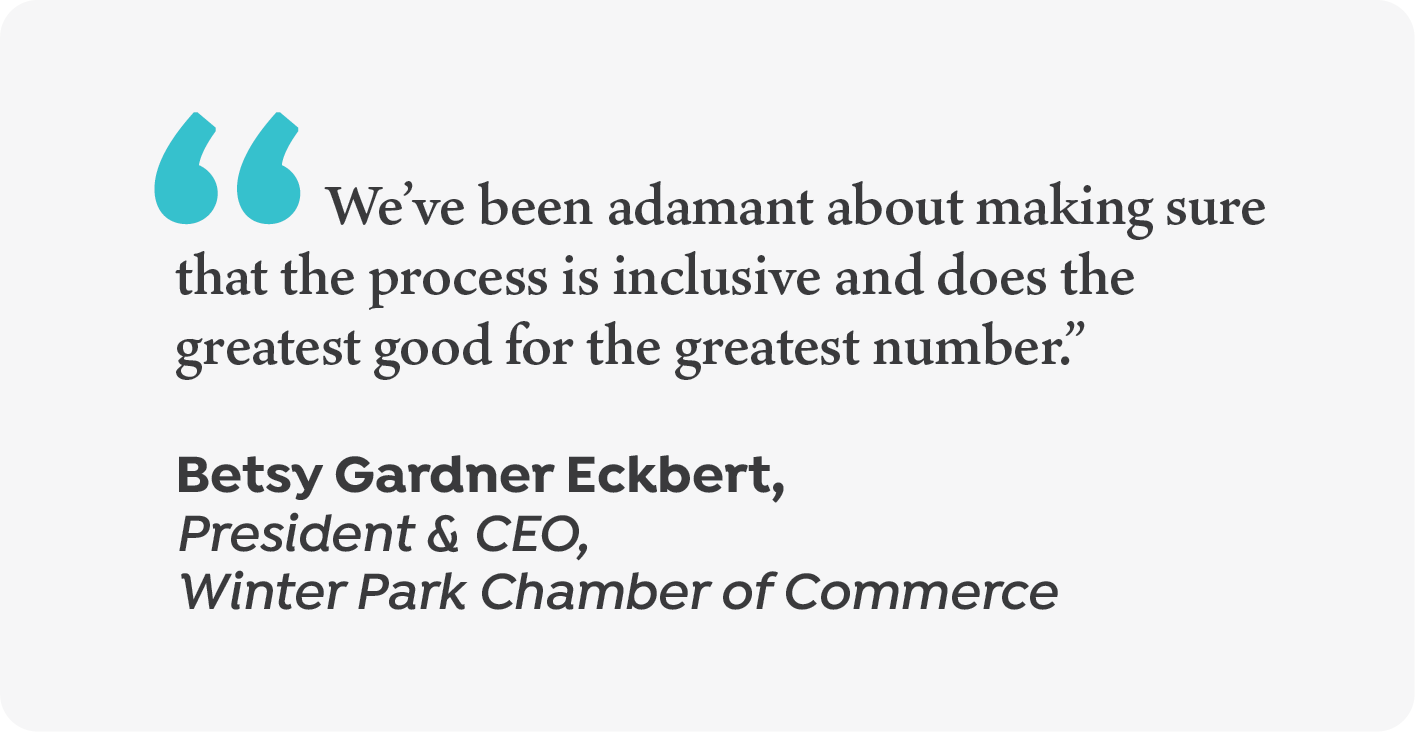 In a recent survey conducted by the Chamber, it was revealed that citizens feel communication is most important going into 2021. Gardner Eckbert says communication efforts such as webinars and weekly newsletters will continue to inform and connect residents. With multiple surveys conducted since the initiative's founding and over 2,000 responses recorded, she considers surveys to be one of her team's most powerful communication tools. The Chamber's end of year survey revealed:
93% of those surveyed believe the Chamber's efforts to support our member businesses in 2020 have been successful.
94% feel the Task Force has been successful so far.
98% think the Chamber pivoted appropriately in efforts to continue offering events and programs.
93% have found the Chamber's communication relevant, informative, and engaging.
Going forward, Gardner Eckbert and the Chamber of Commerce aim to continue bringing strength and stability to Winter Park. She's thankful the community has pulled together and taken advantage of resources put in place to support them. "One of the things I'm really proud of is that while a lot of chambers have suffered this year and really struggled with keeping members, we've put over 150 new members on our roles this year," she said. "There is a sense of people understanding that the Chamber is a valued resource not just for leadership, but for connecting and informing and developing, so we're going to keep looking to that in the future."