A movement advocating for the switch from Winter Park's current at-large election system to single-member districts made headway in August when City Commissioners voted 3-2 in favor of drafting an ordinance for a referendum on the upcoming ballot. Residents of Hannibal Square, a historically Black neighborhood in West Winter Park, are concerned that the current system does not allow sufficient opportunity for representation of their community.
The majority vote from the commissioners at August's meeting waived the requirement to gather 2,000 resident signatures for the cause. However, the Coalition for Access and Representation (CFAR), a local political committee organized by leaders from Hannibal Square, is currently working to collect signatures for an online petition in support of single-member districts. The group is also supplying in-person access to the petition to those without internet access.
Barbara Chandler, a leader in the Hannibal Square community who ran for a commission seat in 2019, helped start the coalition last year and reports that the petition has received signatures from residents hailing from several neighborhoods across the city. "What we are seeing is a robust demonstration of residents in Winter Park who can see that single-member districts will help to build a more involved constituency base," Chandler said.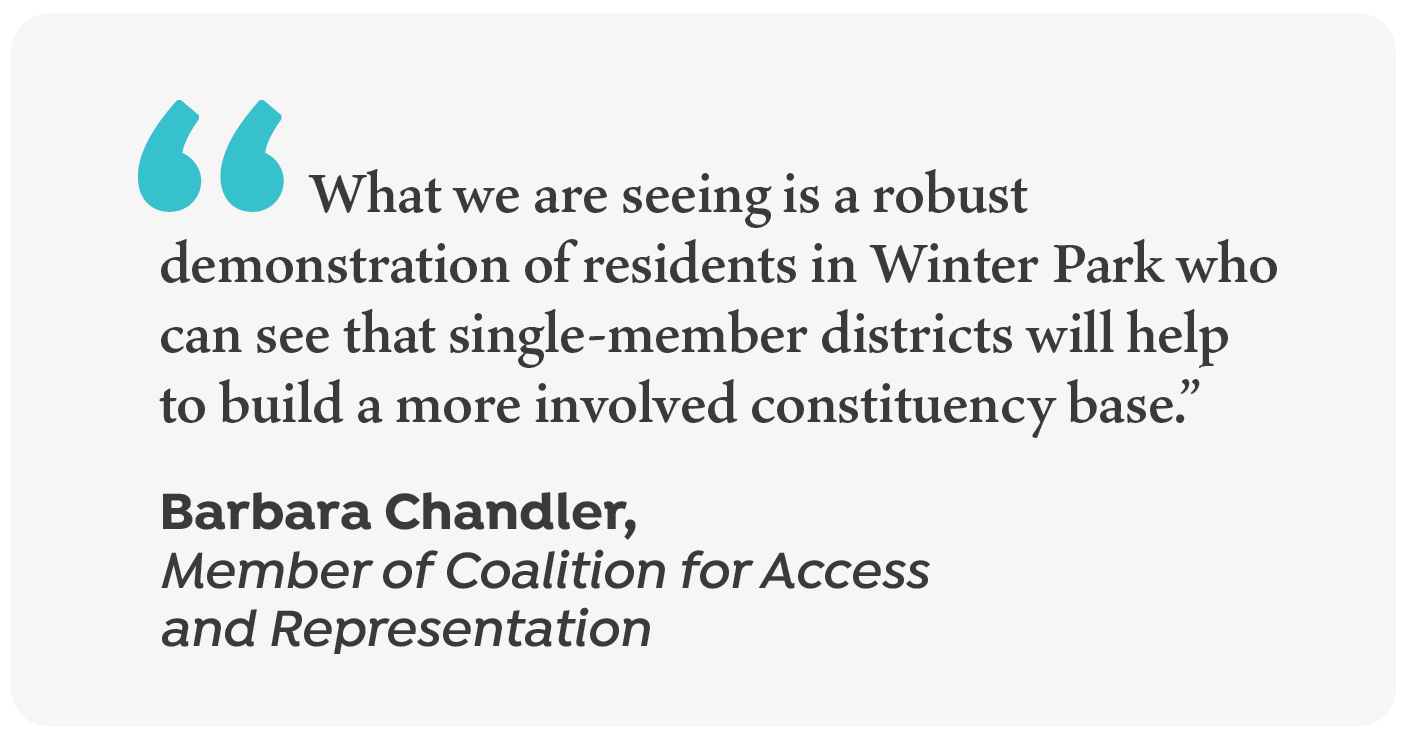 Chandler explained that the cost of campaigning for a citywide race makes running exceedingly difficult for many individuals and pointed to a "lack of resources" and "institutional support" as obstacles contributing to the under-representation of racial and socioeconomic minorities in Winter Park.
Mayor Steve Leary and Vice Mayor Carolyn Cooper, however, oppose the change, and both voted in opposition of the ordinance to draft a referendum for single-member districts in August. During the August meeting, Commissioner Cooper said, "I believe that single-member districts in a 30,000 resident community is going to create huge division between neighborhoods and competition for very limited dollars." According to the minutes from an October 8 work session, Mayor Leary said he does not feel single-member districts will "resolve some residents' perception of underrepresentation by minorities and that every resident is represented by all Commissioners equally."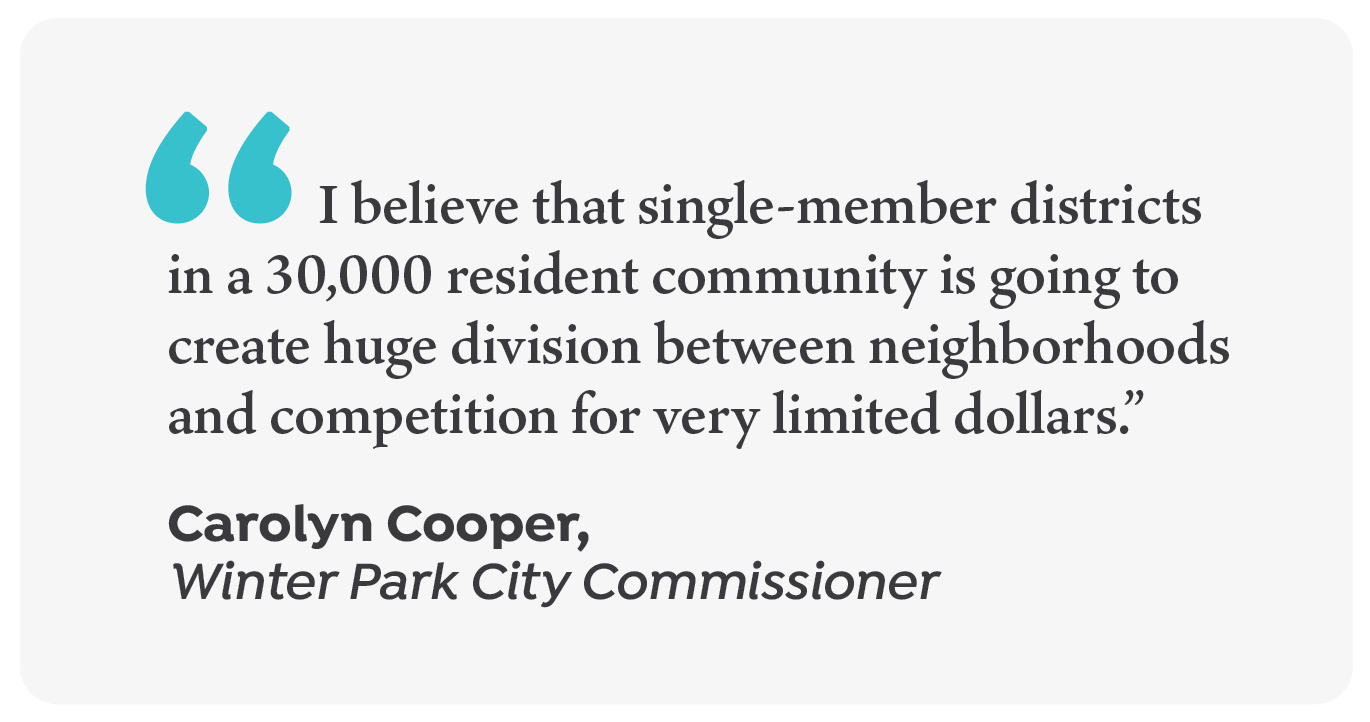 During the October 8 work session, it was decided that single-member districts, if passed, would allow for four commissioners and a Mayor, whose seat would be the only one voted on at-large, and that the district boundaries would be drawn after the referendum and release of 2020 census data. "The ordinance that would come before the Commission is written as four districts," said Randy Knight, Winter Park City Manager. "The Commission could change that, but there was consensus for four districts in the work session on this matter."
The CFAR proposed a total of seven officials who would be elected based on a combination of two at-large elects and one elect from each of five districts (as opposed to four). "What CFAR and other residents are seeking is structural change and in order for structural change to happen in creating district representation, we need five districts," Chandler said. "If we allocate to only four districts, the minority vote continues to [be] diluted."
The boundaries proposed by CFAR are based on smaller districts that focus more on neighborhoods. According to the proposal documents CFAR submitted to the City Commission, their map "moves the city toward more local/home rule by keeping neighborhoods with common interests and demographics together in the same district, in a district that is small enough to give voters a significantly better chance to elect a local representative who understands and supports their issues." Under a four-district map, the district containing Hannibal Square also stretches out to include wealthier neighborhoods from which several Commissioners have been elected over the years.
CFAR is holding a virtual public information session on single-member districts in collaboration with the Elar Institute and its educational partner, The Society Library, on November 9 at 6 p.m. Those interested can register to attend free of charge.
The first reading of the referendum is set to be held on November 11. A final decision will be made on December 9 and the ballot question must be submitted by January 19 in order to be on the March 9, 2021 ballot. Winter Park residents can register for the upcoming virtual commission meeting and submit for public comment.