As the election date for the City of Winter Park's next mayor draws closer, the field of candidates is starting to take shape. Former City Commissioners Phillip Anderson Jr. and Sarah Sprinkel have both signed up with the City to actively campaign for the position and will be included on the ballot in March 2021.
Anderson sent an email to supporters officially announcing his candidacy earlier this month. On his website, PhilforWP.com, which lists the names of more than 500 of his supporters, Anderson lays out his vision for Winter Park. His plan includes protecting the charm and character of the City, listening to residents and putting their needs first, and making decisions that keep the City financially strong and prepared for the future.
"I believe my leadership experience and finance background are important qualifications for our City's next Mayor," Anderson said in his email. "I care deeply about our residents and promise to put residents first at City Hall."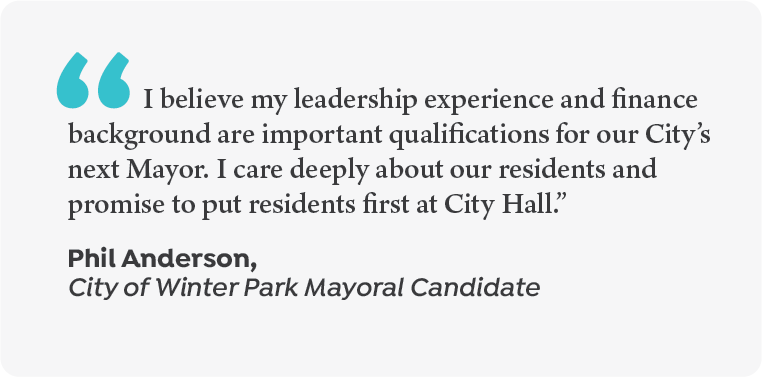 Anderson served as City Commissioner from 2008 to 2011 and has served on multiple local boards. He also has an extensive business background, having served as the Chief Operating Officer for CNL Retirement Properties, founding member and Chief Investment Officer for Bridge Senior Housing, and Senior VP at Hyatt's "Classic Residence by Hyatt" Retirement Communities.
Sprinkel, who served on the Winter Park City Council from 2011 to 2020, is seeking to become the first female mayor in the City's history. A lifelong educator, Sprinkel has experience as a teacher, school administrator, OCPS government relations consultant, and Florida Virtual School director. She has also served as the Central Florida YMCA vice president.
Sprinkel has been actively campaigning through her Instagram account @electsprinkel, on which she has posted multiple videos in collaboration with Winter Park businesses such as Bovine Steakhouse, Tugboat and the Bird, and Through The Looking Glass.
On her website, ElectSarahSprinkel.com, Sprinkel lays out her vision for fiscal responsibility without raising taxes, a focus on trees and parks and recreation, and a commitment to keep her promises.
Sprinkel is planning to officially kick off her campaign after the presidential election on November 3, as she did not want voters to confuse the municipal race with the national election. Later this month, she plans to send an announcement email to supporters, and start walking the streets to build awareness of her campaign.
"I walked the streets in 2011 [when running for city council] and it gave me a real appreciation for the city," Sprinkel said.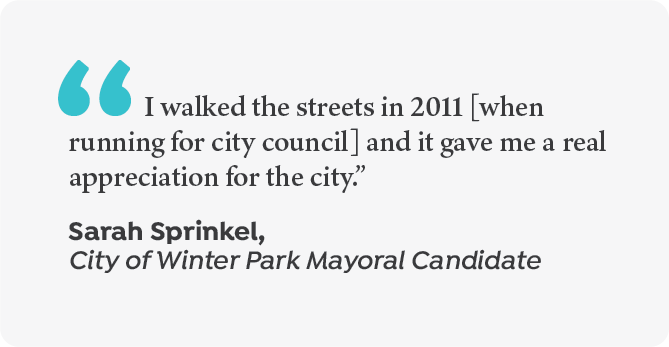 Winter Park's current mayor, Steve Leary, will be termed out in March, making him ineligible to run for re-election. Leary has been mayor since 2015.
The 2021 election will take place on March 9, 2021, and the final date to qualify for candidacy is January 19, at noon.