Curbside pickup options have become increasingly popular amid the COVID-19 pandemic. The Winter Park Chamber of Commerce, City of Winter Park and Park Avenue District teamed up to implement a Curbside To-Go Initiative that will help businesses and customers alike with increased efficiency and convenience for food and merchandise pickup options.  
Previously, temporary pickup spaces were marked by traffic cones in popular shopping and dining areas including Park Avenue, but as of Friday, August 28, shoppers can expect a robust curbside pickup system at select businesses. 
There are now numerous designated pickup zones in targeted locations throughout the city marked by branded signage featuring a white peacock and a teal painted curb, and more continue to be added. Customers are encouraged to "Look for the White Peacock" when picking up an order. Signs, referred to as kiosks, are set up to ensure these locations are easy to find. They are numbered so participating businesses can easily direct customers to the appropriate zone.
"From a logistics perspective, we set up a temporary curbside program back in March and in August we [were] still operating out of the temporary program," said Michelle Neuner, assistant city manager for the City of Winter Park. "Having this [will make curbside pickup] more readily available to customers and a little more organized for the businesses… By defining [pickup stations], we can also maximize parking spaces and make it really efficient."
The Winter Park Chamber of Commerce President & CEO, Betsy Gardner Eckbert, shared that there will initially be 24 stations throughout the city and that they intend to roll out more in a second stage. Currently, the areas that will have these pickup zones include Park Avenue, Hannibal Square, Orange Avenue, Winter Park Village, Winter Park Corners, and Aloma Shopping Center. The program will incorporate additional locations as needed.
"The businesses in this community right now are struggling to make do while we are having to follow these restricted guidelines regarding the number of people that can come in a business," Neuner said. "For us, it is important to be a partner in helping these businesses get along until we can get back to normal, whatever normal is."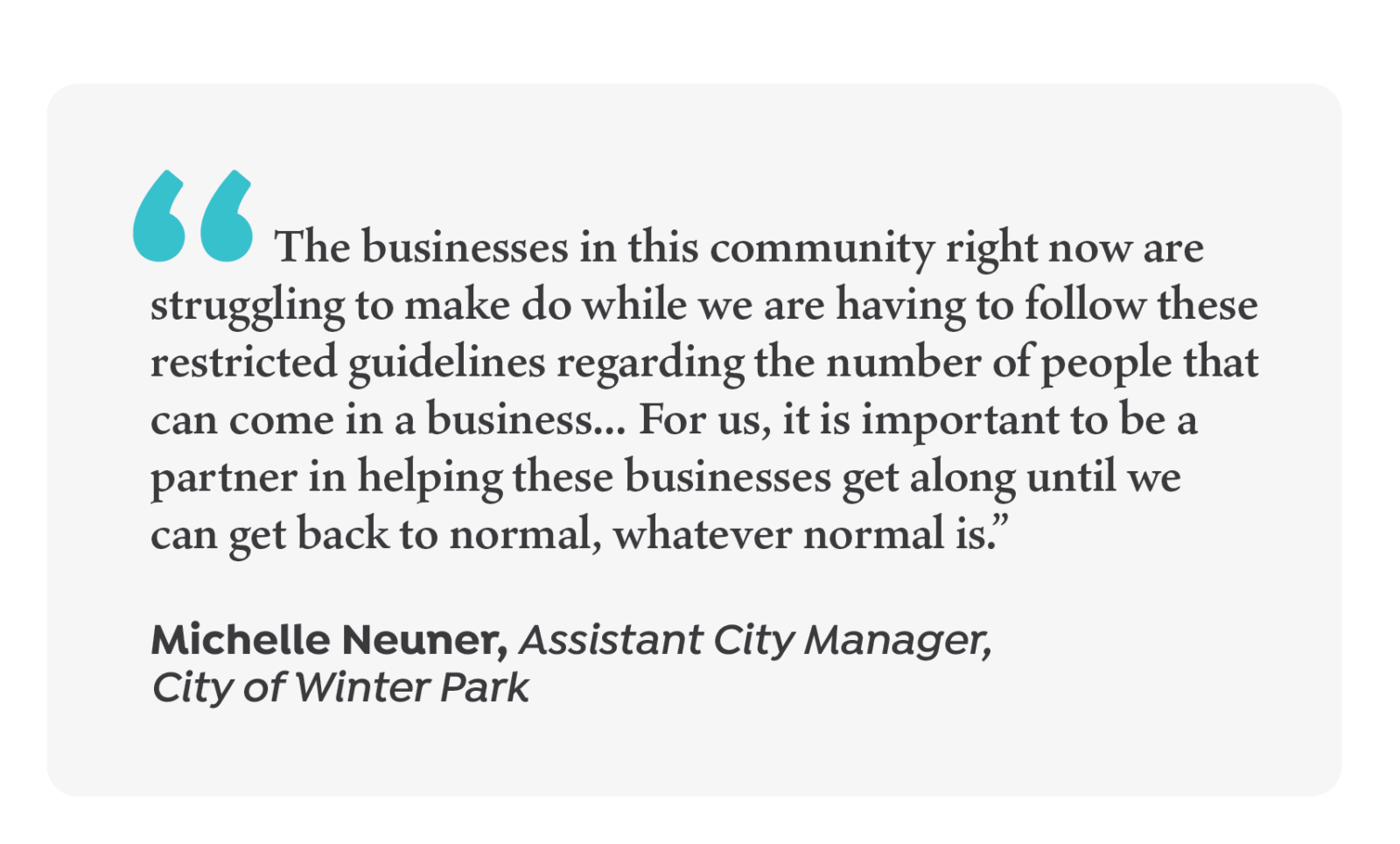 Some businesses are including branded inserts on their to-go and pickup orders to help promote the program, map out the locations of pickup zones and identify outdoor eating areas around the city's many parks and outdoor spaces.
SIX The Agency, an Orlando-based branding, creative, and public relations firm, collaborated with the creators of this initiative to develop an impactful and engaging campaign that will promote the program and drive traffic to Winter Park businesses. Michael Young, founder and CEO of the agency, shared that his team landed on the design of the white peacock on the signage by thinking through the functionality required to make a curbside sign easily visible, especially at night, as well as exploring a design that paired nicely with the uniqueness and brand of Winter Park.
"A lot of the people who own these businesses are my friends and clients," Young said. "I want to see Winter Park successful and I know times are tough, so we were flattered and honored to be able to creatively flex and do something that would potentially make a difference for these folks."