Late last week, the Sunshine State Conference (SSC), Rollins College's athletic conference, announced that all competitions planned for the fall sports season will be postponed. Per the announcement, "this includes men's soccer, women's soccer, men's cross country, women's cross country, and women's volleyball." Fall preseason games "for the spring sports of men's lacrosse, women's lacrosse, men's tennis, women's tennis, men's golf, women's golf, baseball, softball, and women's rowing will also be postponed." The SSC includes a total of 11 schools, including Barry University, Eckerd College, Embry-Riddle Aeronautical University, and Florida Institute of Technology, all of which will be impacted by the announcement.
"As you might imagine, this was a very difficult decision," said Pennie Parker, director of athletics at Rollins College. "The entire Sunshine State Conference worked diligently all summer to be sure we were making a decision that was grounded in the best interest of our student athletes' health and safety. With a heavy heart, we felt that postponing fall sports was the appropriate thing to do."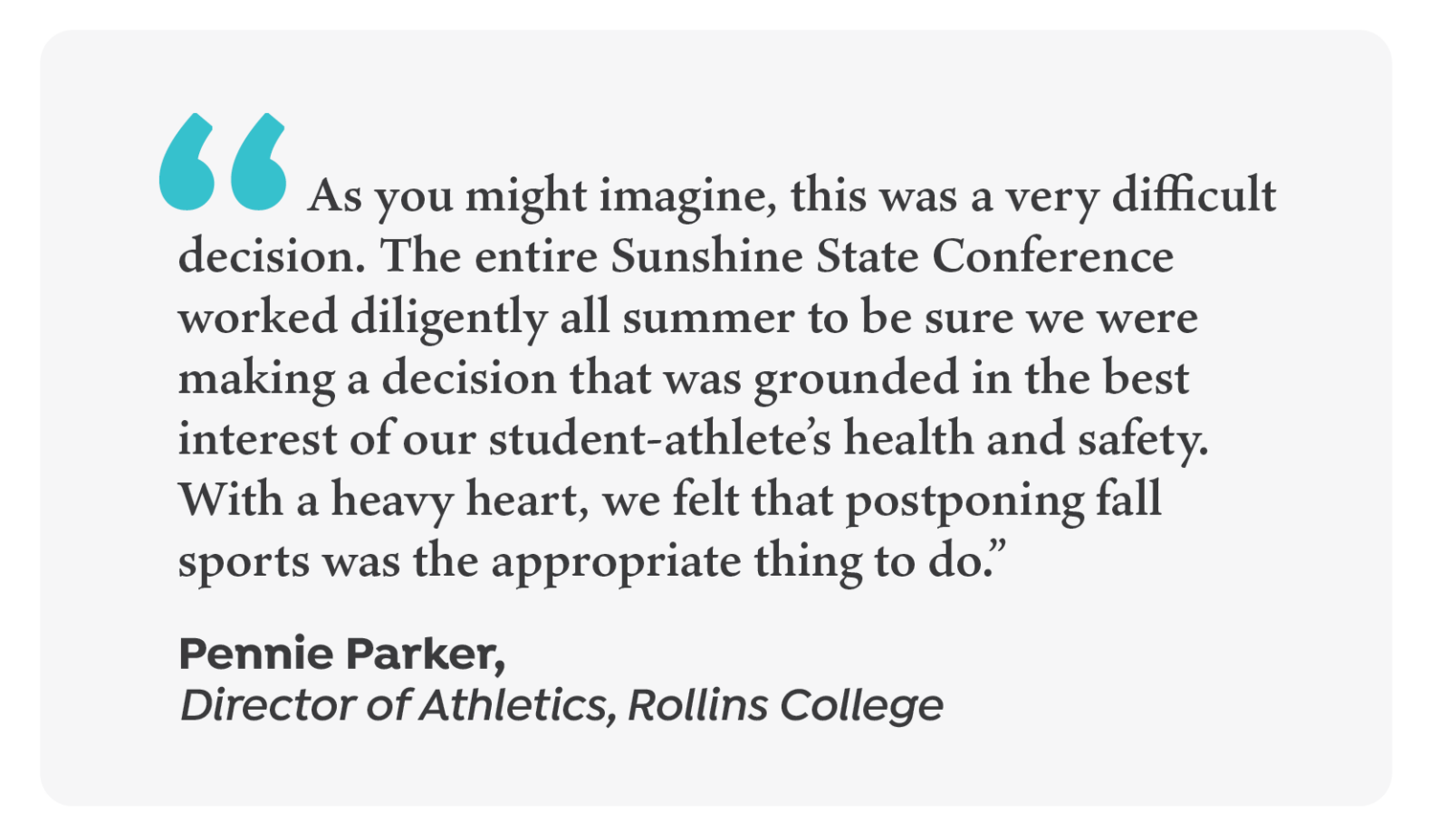 Parker explained that Rollins sports teams will also postpone practice schedules until the college and its athletics department feels it is safe to resume practices. "We will be mindful of all guidance provided by the NCAA, state and local governments as well as information available from the CDC," Parker said.
The SSC announcement also stated the conference's commitment to decide by October 1 when winter sports can commence. If it is safe to do so, the plan will be to conduct competitions for all impacted sports teams in Spring 2021 in conjunction with traditional spring sports. "Although it is impossible to predict, I am optimistic that we will be able to begin winter sports on-time, but if not, we will hopefully be able to play the sports during the spring," Parker said.
Rollins College hopes that the plan to play fall sports during the spring will allow senior athletes to still engage in their final season. The college is also committed to honoring student athlete scholarships regardless of postponements or possible cancellations.
Should fall sports also be impacted at the high school level, the Rollins athletics department will be prepared to scout and recruit future Tars in the spring should sports resume, or will consider scouting virtually by viewing recordings of past performances. "It is not ideal but nothing about this virus has been. We are all learning new ways to cope and still provide the best experience possible," Parker said.