As COVID-19 related stay-at-home orders around the country have changed the daily habits and patterns of citizens, law enforcement has noted a shift in crime. The frequency of crimes, such as traffic infractions, drug offenses, theft, robberies and DUIs, has decreased in many U.S. cities as fewer people leave their homes. While many out-of-home crimes have become less prevalent due to the pandemic, many areas report the virus has had the opposite effect on household incidents.
In a USA Today survey of over 50 law enforcement agencies in 24 states, domestic incidents appear to be up between 10% and 30% since mid-March when COVID-19 stay-at-home orders went into effect. These incidents range from noise complaints about loud music to domestic violence cases.
Crime trends in the City of Winter Park, however, differ from the USA Today survey. It appears that reported cases of domestic violence are not on the rise according to Winter Park Police Lieutenant Edwin Santos. "We haven't had a rise in domestic violence situations, which is good news," he said.
Lieutenant Santos did indicate a rise in noise complaints, however, a trend consistent with the USA Today survey.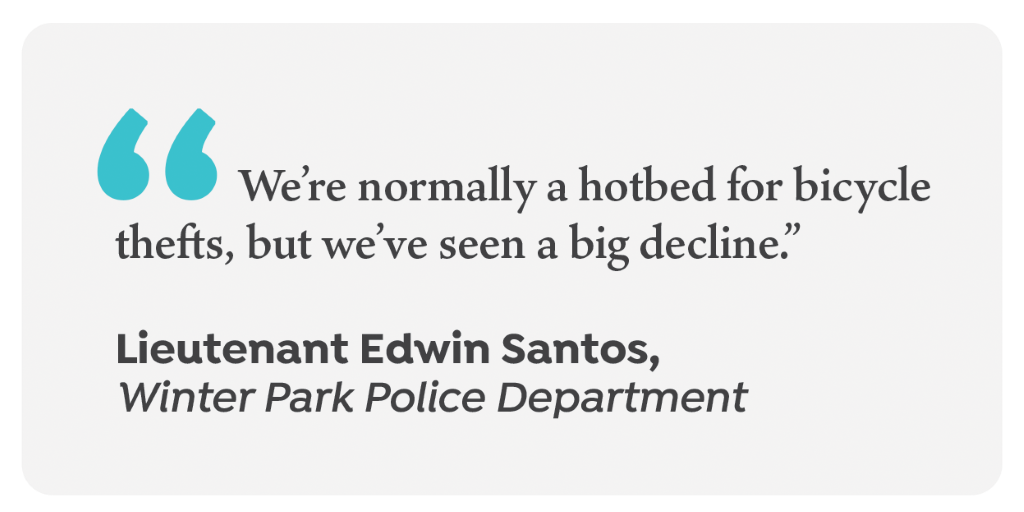 Santos, who also serves as a public information officer for the city, did report one positive trend for city crime: a decrease in reported bicycle thefts, a change that does align with the survey's findings. According to Santos, the city received 4-5 stolen bicycle reports per week prior to the pandemic, many of which are valued between $800 and $1,000. He also noted that the majority of those bicycles are ultimately recovered, citing repeat offenders.
"We're normally a hotbed for bicycle thefts, but we've seen a big decline," Santos said. Although the decrease in thefts is noticeable, the department is reminding citizens to stay vigilant and secure bicycles in racks. "People think it's Winter Park and it's secure. They use our racks but don't lock them. Winter Park is targeted [for bicycle theft]," Santos explained.
Santos credits transient traffic from outside the City of Winter Park as one factor behind the thefts. "According to a recent traffic study, approximately 300,000 vehicles travel along Fairbanks and Aloma Avenues on any given day." As more people move toward resuming a normal approach to daily life, the issue is expected to evolve.