As a result of the COVID-19 pandemic, higher education institutions nationwide expect to face lower enrollment and revenue than initially anticipated in the coming academic school year and potentially beyond. Since suspending in-person classes in March and sending students home for the remainder of spring semester, Rollins College has been developing a strategic response to this new reality.
Planning for the likelihood of fewer students, new and returning, Rollins is making financial adjustments to its budget. The $104 million budget approved by college trustees in May included $16 million in cuts.
"Eliminating $16 million from our budget will be painful, and the pain will be shared and felt throughout every corner of this community we cherish. This is an extremely difficult process that we will undertake with compassion and regret," noted Rollins College President Grant Cornwell in a recent message to alumni.
Cornwell explained that workforce reductions were made with the goal of maintaining faculty and staff levels still capable of realizing Rollins' mission and academic integrity. The student-to-faculty ratio is to remain the same, at 10.7 to 1. The Rollins leadership team decided on "across-the-board reductions in nearly every departmental operating budget; graduated salary reductions for staff and faculty (except those earning less than $45,000 a year, who will not participate in salary reductions); a temporary suspension of 403(b) match of retirement contributions (the College's 7 percent contribution will persist); and selective workforce reduction."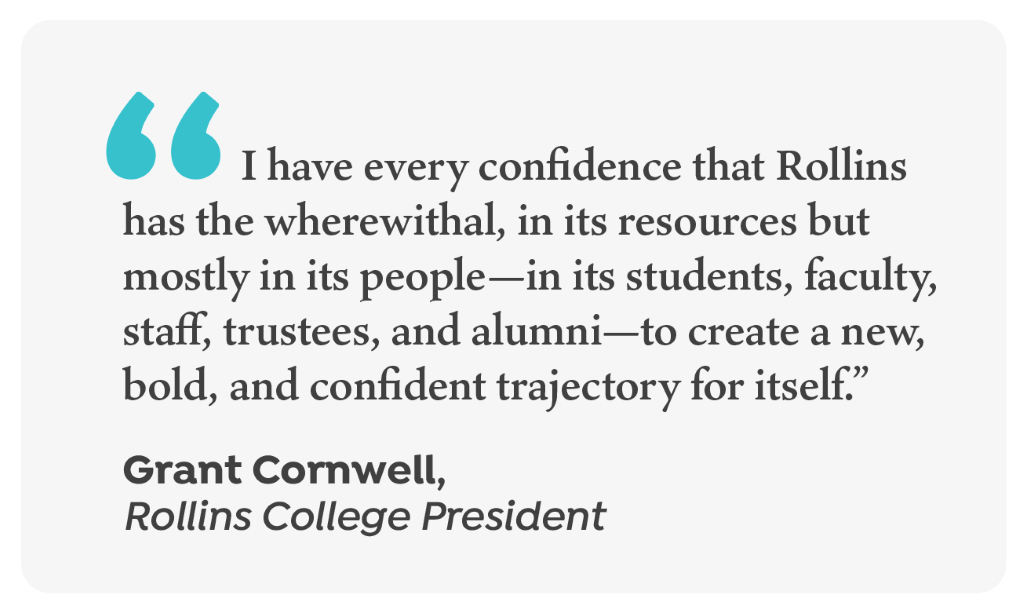 The college also suspended funding for multiple programs including the Winter Park Institute, Winter with the Writers, STARS Senior Enrichment Program, the Community School of Music, and the cross-country athletics team. Resources such as printing services will be outsourced rather than conducted on campus and spending on food, entertainment, and college-sponsored travel will be curtailed.
"As I have said, I have every confidence that Rollins has the wherewithal in its resources but mostly in its people — in its students, faculty, staff, trustees, and alumni — to create a new, bold, and confident trajectory for itself," stated Cornwell in closing.