Rollins College announced to students via an email on the evening of May 14 its intention to hold the first day of in-person classes on September 14 for the Fall 2020 semester. Rollins has yet to release information regarding when students will be allowed to move into the on-campus residential facilities, but assured students they would be provided updates as move-in day plans are solidified throughout the summer.
As a result of the COVID-19 pandemic, many college students nationally have been waiting on updated plans from their respective institutions regarding the upcoming 2020-2021 academic school year. Many colleges and universities, such as University of Texas at Austin, Harvard University undergraduate programs, Boston University, Purdue University and plenty more have announced their plans to reopen to students in the fall. Numerous schools have told students to expect final decisions by mid to late June.
Other institutions have announced in-person classes will not occur in Fall 2020, including the 23 campuses in the California State University school system and Harvard Medical School. A combination of virtual and in-person classes, rotating lectures and labs, and other alternate solutions are also being weighed.
The Rollins College Fall 2020 Task Force, established in early April by the college's president, Grant Cornwell, has worked to develop plans to ensure Rollins is ready for the coming semester. "We are driven by two main goals: to maintain the academic integrity of our programs and attending to the well-being of our Rollins community," Cornwell wrote in the announcement.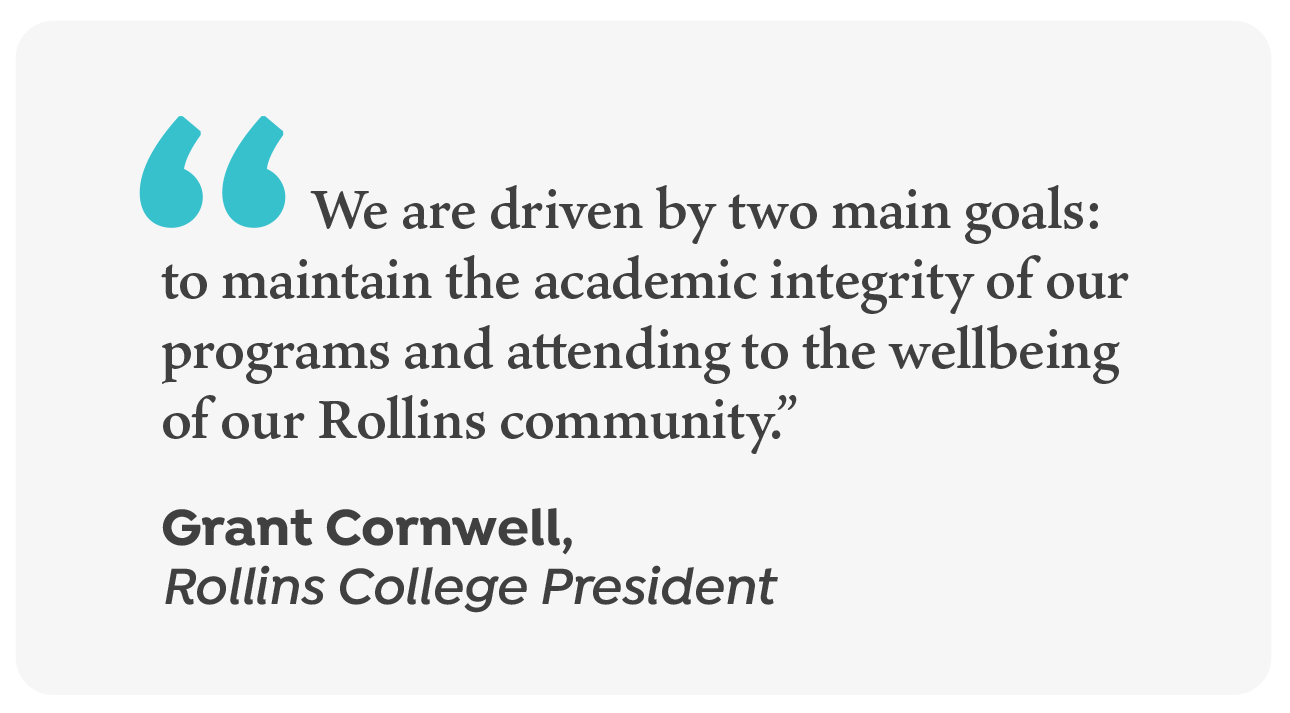 The task force is striving to implement the following:
CDC compliance at the campus wellness center, including access to COVID-19 tests and screenings.
Guidelines for wearing masks and other Personal Protective Equipment (PPE).
A reserved quarantine space should any students become ill.
Alternative learning options for high risk and international students.
Arrangements for optimal social distancing in residence halls, classrooms and dining facilities.
Cornwell also addressed in the announcement that Rollins has made some budget cuts as a result of the financial strain that higher education institutions are facing due to COVID-19. "We are re-engineering Rollins to be somewhat smaller, but stronger, and in order to position the college for long-term financial health."