The much-anticipated Mister Rogers sculpture has officially been unveiled in the Chapel Garden courtyard at Rollins College and will be available for public viewing beginning Friday, October 29 starting at 10 a.m.
The college invites locals to see the newly installed 360-degree bronze sculpture, which honors beloved Rollins alumnus Fred Rogers, and meet sculptor Paul Day and John Rogers, Fred's son. Younger visitors can also take photos with cutout display characters from "Daniel Tiger's Neighborhood."
The piece, titled "A Beautiful Day for a Neighbor," weighs over 3,000 pounds and stands over seven feet tall. It features Mister Rogers dressed in his iconic sweater and sneakers with a group of children sitting around him while he holds one of his famous hand puppets, Daniel Striped Tiger. Additional puppet characters from the show are depicted on the back of the sculpture, and lyrics from the series' theme song are carved into the base along with the show's Neighborhood Trolley.
Earlier this month, the32789 sat down with Day to discuss his artistic process and the significance of the sculpture.
"This inspirational sculpture will be a permanent reminder of the ideals and values modeled by Mister Rogers as he set out to make the world a better place," said Rollins President Grant Cornwell. "This tribute will reinforce the quest for empathy, acceptance, and kindness so needed in our society today."
The new sculpture is now the fifth stop on Rollins' Mister Rogers Walking Tour, which will be available on Friday, October 29 through November 23, from 10 a.m. to 4 p.m. Day and Cornwell will also offer a free presentation to discuss "Artistic Vision and the Public Eye" in Tiedtke Concert Hall at the college at 4 p.m. on October 29.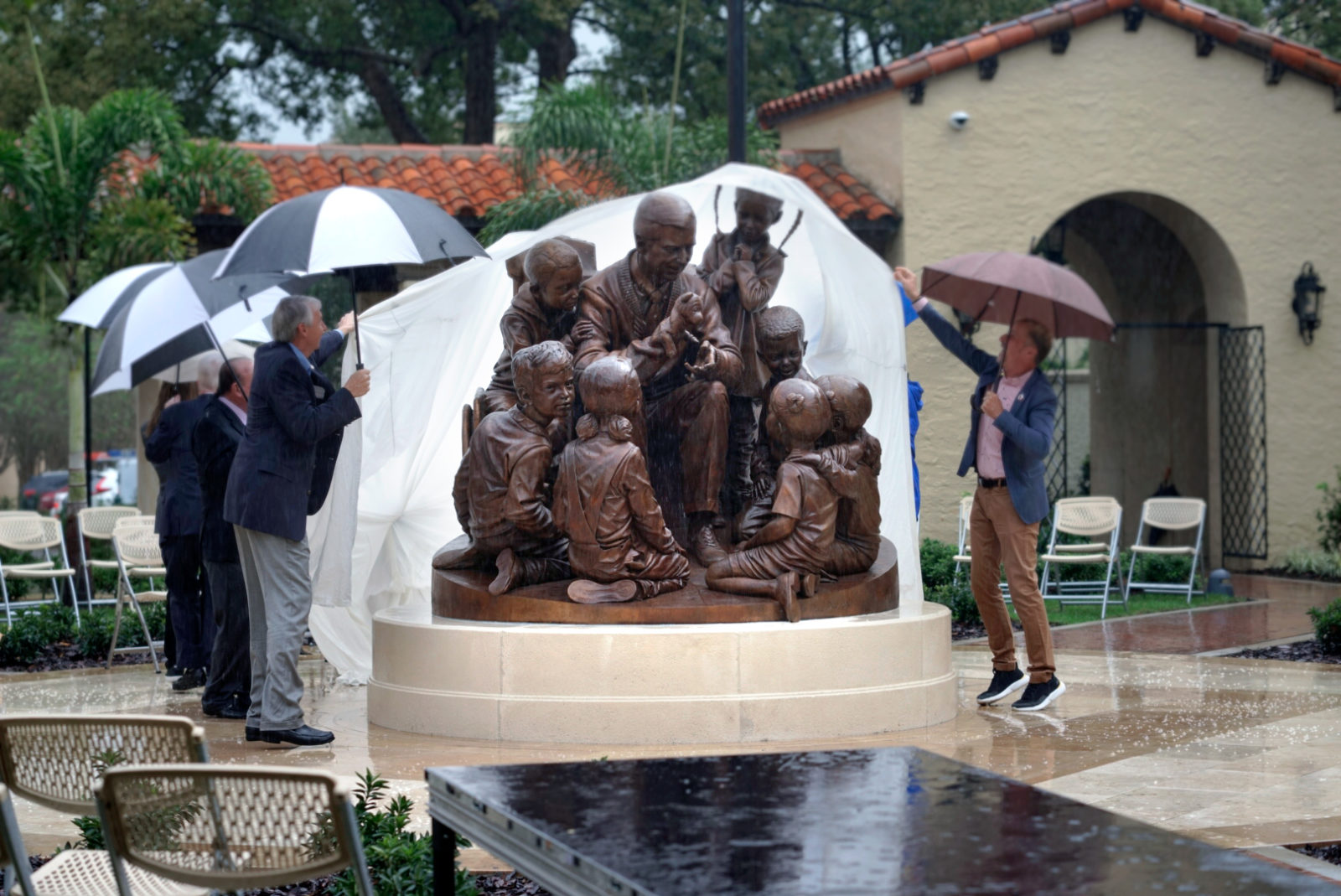 Event attendees can use the SunTrust Parking Garage across from campus or public parking.