Rollins College, alma mater to the famous and beloved Fred Rogers, best known for his popular children's television show "Mister Rogers' Neighborhood," has commissioned a sculpture to further commemorate Rogers' legacy on campus. The piece, named "A Beautiful Day for a Neighbor," was designed and sculpted by renowned British artist Paul Day and is set to be unveiled at Rollins in October 2021.
The 360° sculpture, weighing in at over 3,000 pounds and standing over seven feet tall, features Mister Rogers dressed in his iconic sweater and sneakers with a group of children sitting around him while he holds one of his famous hand puppets, Daniel Striped Tiger. Additional puppet characters from the show are depicted on the back of the sculpture and lyrics from the series' theme song are carved into the base. The sculpture was created by Day in his Burgundy, France studio and is now being cast in bronze in the Czech Republic.
Allan Keen, a Rollins alum turned trustee, had the idea to commission the piece for the college following a trip to France where he met Day by happenstance after taking a canal boat tour captained by friends of Day. Keen took a tour of Day's studio led by the captain's wife and met him over wine the following evening. Following his departure from France, Keen came across "The Meeting Place," one of Day's best-known sculptures located in a popular London railway station. While observing Day's work, Keen noticed a nearby piece of neon artwork that struck him as familiar. He discovered through an online search that the neon artist was the same artist that created the "Everything for Love" piece and other neon signs that are displayed at the Alfond Inn.
"That's when there was a click and all of a sudden there was a connection between Paul Day's sculpture and Rollins through this piece of neon art that was above it," Keen said. The coincidence of the connection sparked the idea to commission a Mister Rogers sculpture by Paul Day for the college.
Upon returning from his trip, Keen contacted Rollins College President Grant Cornwell to pitch the project, and with Cornwell's support he reached out to Day who agreed to take on the task. Growing up outside the U.S., Day was not familiar with Mister Rogers, but dedicated himself to learning as much as he could about who Mister Rogers was and the values he embodied. Day watched dozens of "Mister Rogers' Neighborhood" episodes and even made the trip to Pennsylvania to visit the Fred Rogers Center and meet his now late wife, Joanne Rogers. Once Day had learned all he could about Mister Rogers, he knew how important it was for the sculpture to show Mister Rogers doing what he loved surrounded by children as opposed to creating a lone, standing figure of him.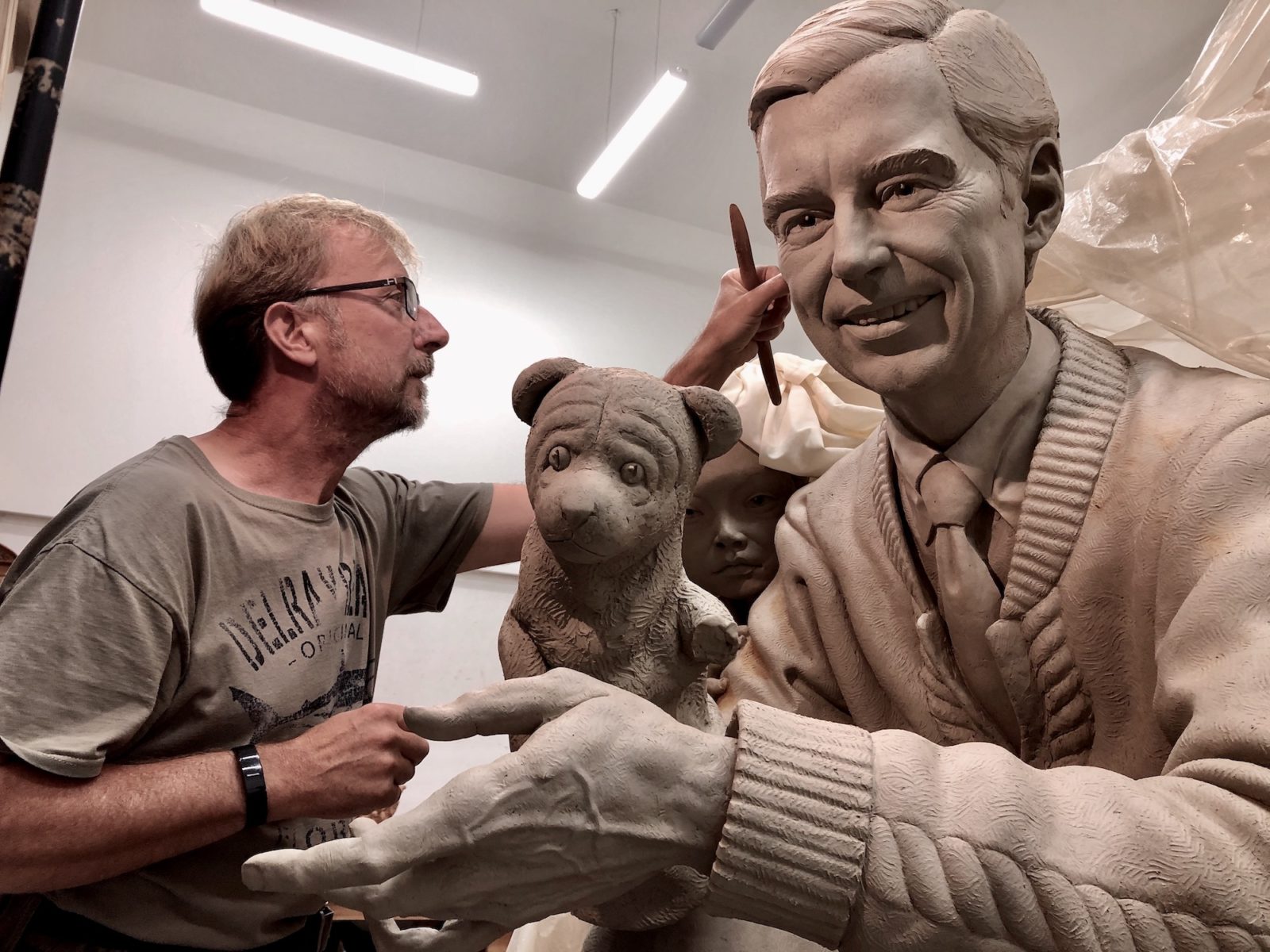 The college plans to place the sculpture in a courtyard located directly between the Knowles Memorial Chapel, where Rogers was an ordained minister, and the Annie Russel Theatre, which is representative of the time Mister Rogers' dedicated to the arts as a student and in his career.
"Fred Rogers remains a model for generations, personifying empathy, acceptance and kindness," said Cornwell. "At Rollins, his influence continues to be felt both in the spirit of service to others, as well as in physical reminders along the self-guided Mister Rogers Walking Tour. Paul Day's new sculpture will be the latest and most significant salute to our iconic graduate in his collegiate neighborhood."
Keen shared that he is "happy and proud" to have met Paul Day and been involved in this project. "Everything that Mister Rogers stands for is everything that Rollins is about, so it's the perfect connection to not just honor him but to promote the relationship between Mister Rogers' beliefs and Rollins," Keen said.