Since opening its first location in 2015, Kelly's Homemade Ice Cream has gained a loyal following and become a major Central Florida presence.
The company has opened five shops and five counters, and partnered with some equally well-known local brands. A sixth location – opening this summer – will mark its second Winter Park-based offering.
Company namesake and co-owner Kelly Seidl moved to Winter Park with her husband and business partner, Scott, in 2018 but her passion for ice cream goes back to her childhood in upstate New York.
"I've loved ice cream my whole life," she said. "I always choose ice cream over cake."
Her treat of choice became her first source of income when she worked in local ice cream parlors throughout high school, She even put herself through nursing school by serving scoops and shakes from behind a counter.
"There's always something to celebrate, whether it's a birthday or a dance recital, or a wedding," she said. "Ice cream is always part of that, it just makes people happy."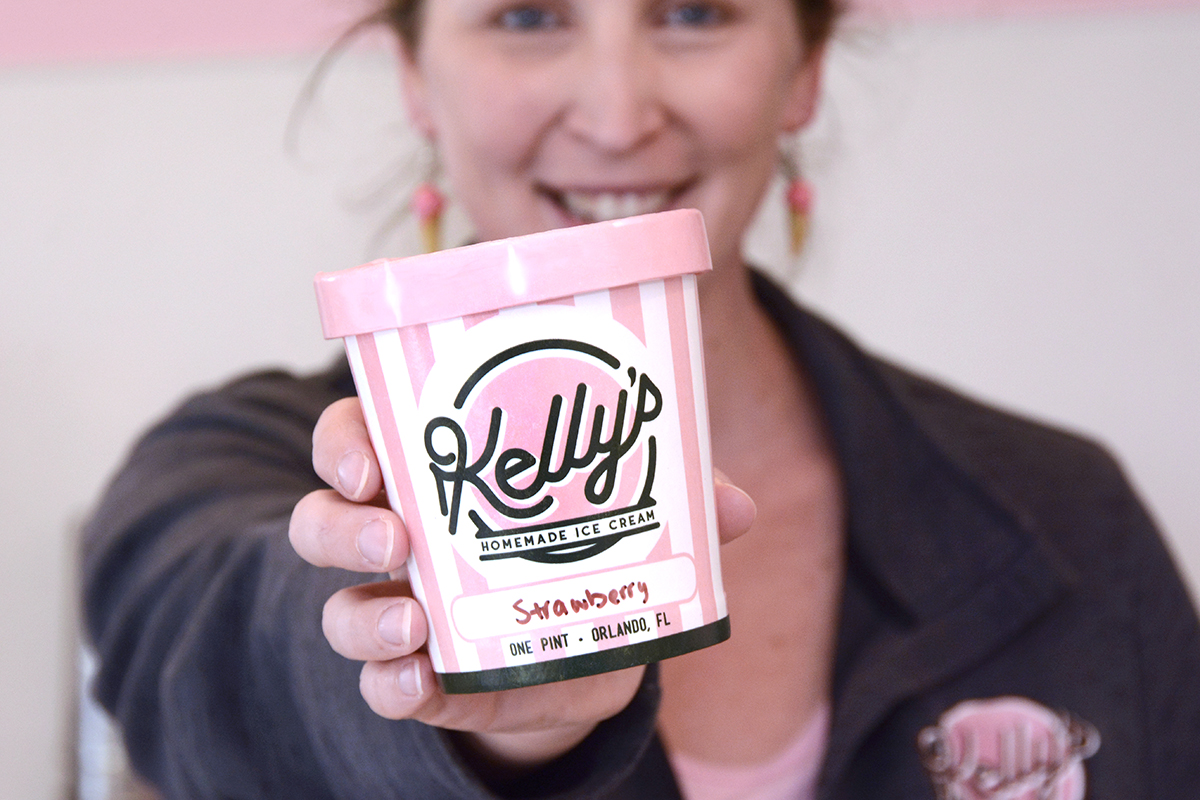 The Seidl's turned that happiness into a business venture in 2015 with their first ice cream shop at 3114 Corrine Dr. in Audubon Park. An expansion would soon follow with four additional shops, and counter spaces at five Foxtail Coffee Co. locations, including 2451 Howell Market Lane in Winter Park. A sixth shop – that will mark their second Winter Park offering – will open in the upcoming Winter Park Social House at 1282 N. Orange Ave.
"It won't be a counter, we'll have our own space," said Kelly Seidl of the upcoming location. "We're really excited to be part of the Social House and to have another spot in the Winter Park area."
Here, Seidl discusses starting a small business, the importance of giving back, and how her product earned a place on a popular Disney menu.
What inspired you to start a small business?
When Scott and I moved to Orlando, we saw there weren't many ice cream shops around. We thought there was a need in the market, and we wanted to fill it. Back in 2013, we bought an ice cream machine and started making it for family, friends and neighbors, and coworkers. In May of 2014, we sold ice cream at an event in Baldwin Park. We had a cart set up, farmers market-style with a tent, and that went really well. We sold at some other events in Orlando, and in February of 2015, we bought an ice cream truck. That was a great steppingstone to our first location in July of 2015.
What is Scott's role in the company?
His background is in accounting, so we mesh really well together. He handles all the members and the business side, and I'm on the creative side. He's worked full time with Kelly's since day one.
How do you develop new flavors?
I look at recipes for cookies and other desserts and turn them into ice cream flavors. We turned banana pudding into a flavor because of suggestions from staff and from customers. I also like to see what's trending, and I always like to see what's not in a grocery store. Because why would someone come in to get a scoop if they can get that at the store?
How many ice cream trucks do you have now, and how often do they operate?
We have one truck and two ice cream carts, and they're out almost every day for events. I'd say about 80% of our catering events are private events.
What brought about the partnership with Foxtail Coffee Co.?
They reached out to us in January or February of 2020. We talked about having an ice cream counter in one of their shops but that got tabled because of the pandemic. About a year later, I reached back out to them and that's how the Howell Branch counter happened. That worked out really well, so we were included at their locations at Milkhouse and in downtown Winter Garden at The Exchange. Our counter at their St. Petersburg location is our first outside Central Florida.
Fans of Gideon's Bakehouse know your vanilla ice cream is part of their "Hot Cookie Hour." How did that begin?
Their first location, at East End Market, is right across the street from our first location. It started with a collaboration for National Dessert Day in October of 2020 or 2021. We supplied the ice cream for a hot cookie hour, which is a hot cookie with a scoop of vanilla on top, and they loved it. Steve Lewis, the owner of Gideon's, was like, "hey, we would love you to do Hot Cookie Hour at Disney Springs." And it just kind of went on from there.
What other local partnerships have you fostered?
We've partnered with schools in Orange County and Seminole County for events. We work with Ronald McDonald House Charities, and we are working with Nathaniel's Hope this summer. We work with Make-A-Wish Foundation and, we did an ice cream for breakfast with Give Kids the World in February. This is my passion. I grew up in a really small town in upstate New York, and I always felt that giving back to the community was vital – especially to kids.