The City of Winter Park will host its annual Fourth of July Celebration, a tradition in the32789 for nearly three decades, from 9 a.m. until noon in Central Park on Monday, July 5. In preparation for the event, city officials decided to hold its celebration on July 5 due to the conflict with Sunday morning church services and because Monday is the official business, banking, and city holiday.
Mayor Phil Anderson plans to kick off this year's festivities with opening remarks and the National Anthem at the main stage in Central Park. A series of musical performances by the Bach Festival Choir and Brass Ensemble, Sean Holcomb, a country, rock, and American artist, and Orange County Public School's Top Talent finalist Elvis Avetis are planned for after the kickoff.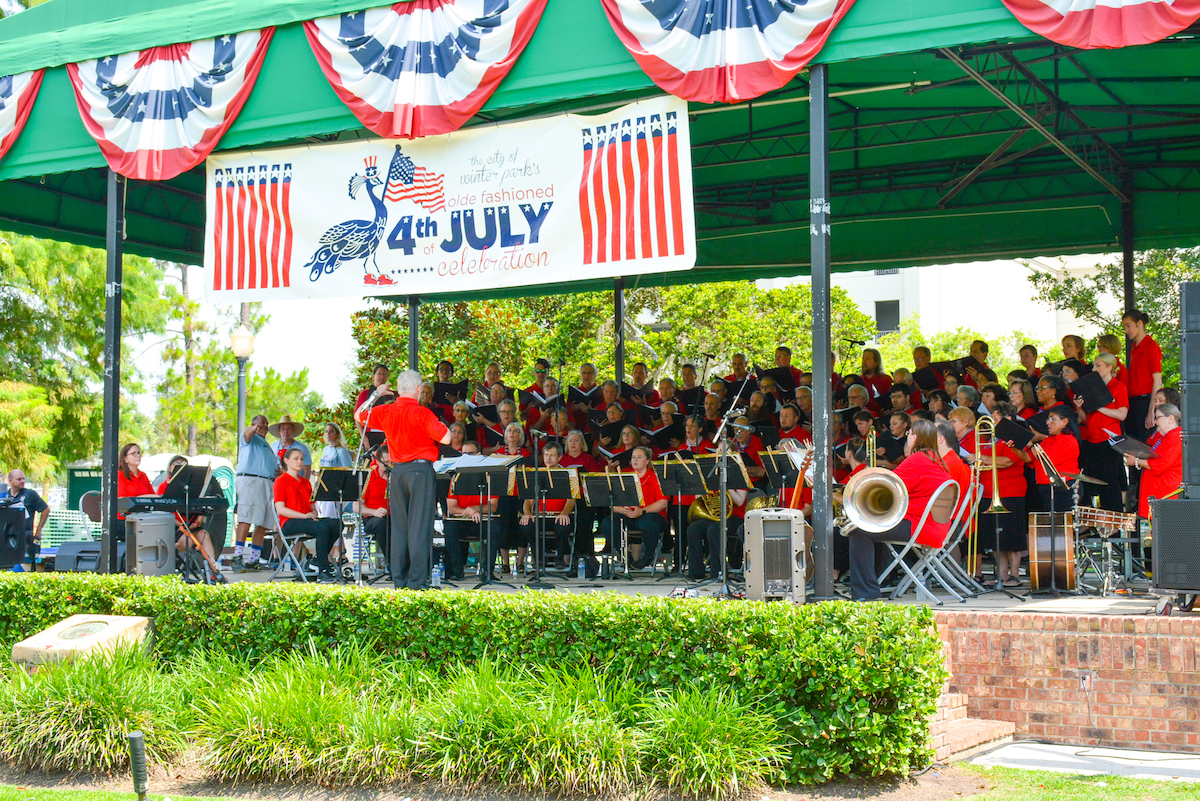 City officials also plan to bring back Winter Park's 26th annual event, which was held virtually last year, by introducing some new faces to attendees at this year's event. "We are excited to introduce nine new characters known as the 'Citizens of Yesteryear' who will be making their debut at this year's event," said Craig O'Neil, assistant director of communications for the City of Winter Park.
"The Citizens of Yesteryear are larger-than-life, fictitious citizens who will be adding atmospheric entertainment to the event by playfully interacting with attendees, performing for the guests, and creating an immersive experience," O'Neil said. "This fun enhancement is made possible with the support of the City's Community Redevelopment Agency and the Winter Park Chamber of Commerce."
The City of Winter Park Electric Utility Department will sponsor free individual American mini pies, cold watermelon, water, and a Kids Zone in Central Park West Meadow with carnival mini-games and crafts hosted by the Parks & Recreation Family Fun Program.
Before the celebration starts, the City hill also host Track Shack's annual Watermelon 5K along Park Avenue. Winter Park residents should note that Park Avenue will be closed from New England to Swoope Avenues from 3 a.m. to 10 a.m. Also, Morse Boulevard to Canton Avenue and Morse Boulevard between Park Avenue and the railroad tracks will be closed from 3 a.m. to 2 p.m.
Last year, a virtual commemoration was held during the pandemic for Winter Park locals to celebrate the Fourth of July in lieu the City's annual in-person event. Although there is no longer a mandate for this year's event, City officials have announced that visitors will still be able to socially distance.
"We are happy to bring the event back this year after COVID-19 protocol forced us to cancel last year's event," O'Neil said. "We did, however, have a wonderful virtual celebration last year."
For more information, visit the website or call 407-599-3463.