Throughout the last year, the Winter Park Economic Recovery Task Force has spent over $500,000 on various initiatives to support local businesses and stimulate the economy during the COVID-19 pandemic. On April 28, the task force presented its final report at a city commission meeting, outlining community efforts from the past year such as weekend festivals on Park Avenue, Music in the Park, Movies in the Park, a Curbside To-Go program, and the expansion of Wi-Fi in Central Park.
In May of 2020, the city commission, in partnership with the Winter Park Chamber of Commerce, felt the immediate need for a task force to help in the depths of the COVID-19 pandemic. They created the task force with 12 members representing a diverse cross section of industries including restaurant, retail, health care, education, professional services, real estate, and nonprofit arts.
From the beginning, the task force had two broad missions: first, develop and implement strategies to provide immediate relief to struggling sectors; and second, research, recommend, and start policies to maintain Winter Park's financial stability after the pandemic. "I think we lived up to protecting safety and trying to stimulate economic activity in the short term," said Drew Madsen, task force member and member of the Economic Development Advisory Board. "The process wasn't perfect. Not everything we did worked exactly as we thought it would, but on balance, I think we made a positive difference."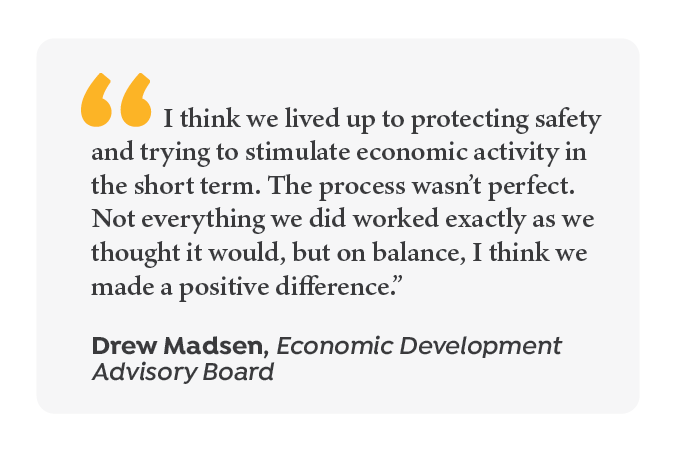 While conducting research for the project, the task force hired an outside group to study both immediate and long-term effects of the COVID-19 crisis in Winter Park and received several recommendations that the task force accepted and implemented, listed below.
Distribute 3,360 meals from local restaurants to feed front-line workers
Host four weekend festival closures on Park Avenue
Develop Curbside To-Go takeout zones on Park Avenue, and an accompanying marketing campaign
Complete 56 performances and showings for Music in the Park and Movies in the Park
Put on a "Mask Up Winter Park" safety campaign
Host West Meadow Wednesdays
Start a vacant storefront program with local artists on Park Avenue
Establish a new bollard system for road closures on Park Avenue
Expand public WiFi, especially in Central Park
Laura Haftel, owner of Tugboat & the Bird, a children's boutique on Park Avenue, said curbside pickup was a huge part of sustaining her business through the spring and summer of 2020. Like many small business owners, Haftel said she's coming into her store every day trying to figure out how to "make it happen" and keep her doors open. "Even when we reopened, so many people were not comfortable coming out in masks," Haftel said. "Many of our customers are pregnant moms or grandmothers. It was really important to have that service provided."
Local Park Avenue merchants like Tim Noelke, operating partner of Prato restaurant agreed, explaining that about 10 to 15 percent of his business remains to-go and he'll likely keep the service going post-pandemic. "We always felt Prato offered the best experience in person, but when we had to close our doors, we had no other options. We said, 'let's create a to-go friendly menu,'" Noelke said. "The programs they did in the park were great — I would have loved to see more of them. I think they were really successful to get people [to] come down to Park Avenue again."
In his report to the city commission, Madsen said one of the goals of the task force was to create an atmosphere and experience that would bring people back to Park Avenue and Central Park. That's why they held "Music in the Park" and "Movie Night in the Park" events — encouraging residents to get takeout from a local restaurant and enjoy a picnic along with entertainment by the Bach Festival Society Choir and Orchestra and other groups. "The efforts we did gave people comfort that Winter Park was putting safety first," said Betsy Gwinn, executive director of the Bach Festival Society and task force member. "Street closures and outdoor dining let me come out to have a meal with my family and see other people and friends — and to feel safe doing it."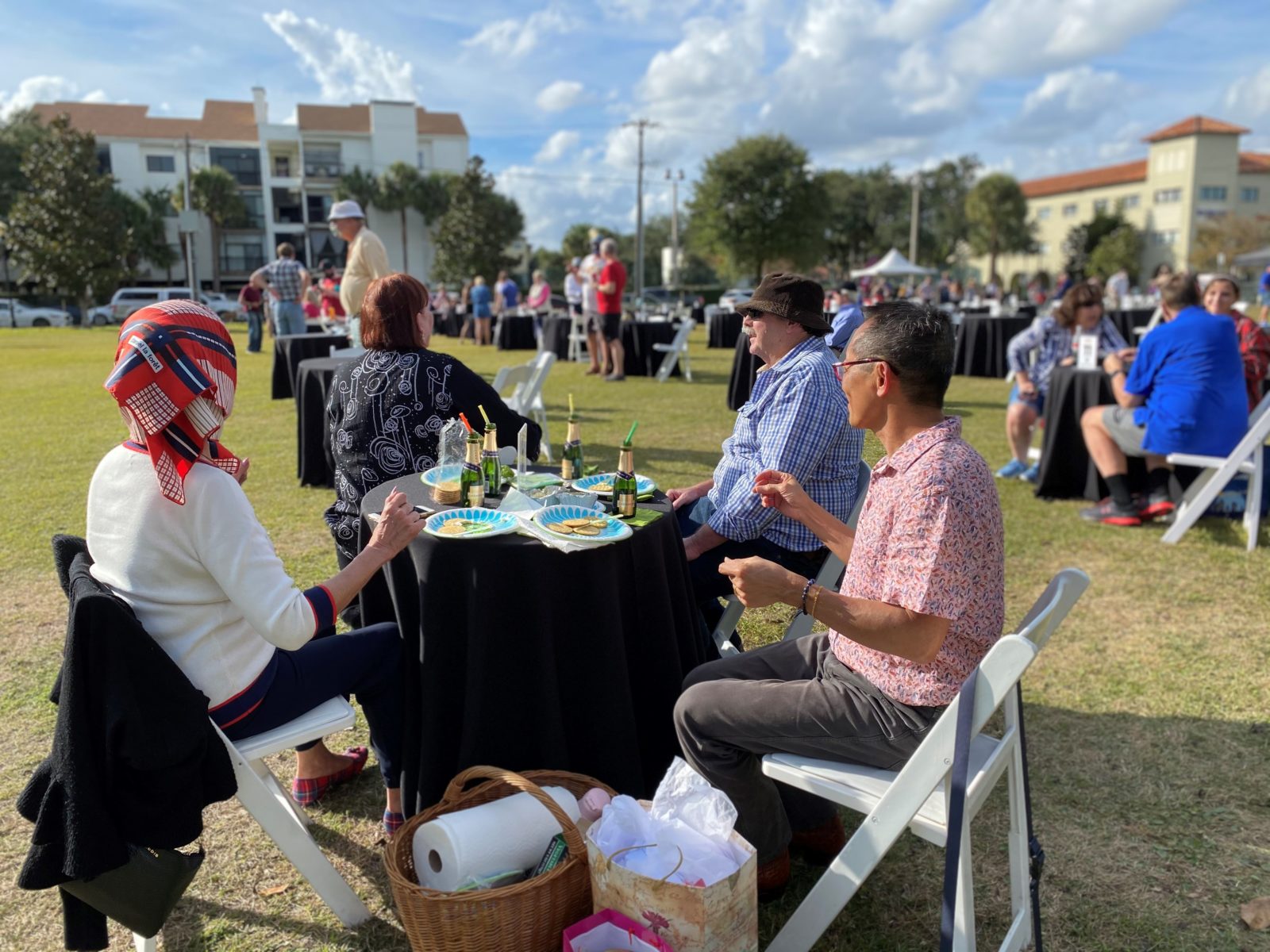 During the crisis, the Bach Festival Society worked closely with the city to present two major concerts, which are normally held at Rollins College, at the West Meadow in Central Park. "The biggest challenge last year was that nothing was known. You weren't sure when rules were going to change," she said. "With the City relationship that I developed by being on the task force, that allowed us to step forward and provide safe experiences for both our artists and Winter Park residents."
Ultimately, Gwinn felt the City and the task force really stepped up to help people. "I think it was tremendous. I have not experienced that type of cohesive effort with focus on safety and reopening in my travels across the state," she said. "We're such a dense city of arts and culture, so it was just as important to support the arts in Winter Park as it was the retail and restaurant sectors."
As part of the task force's final report, the group made recommendations for the city and the chamber moving forward. The most notable is to transition future task force work into the City's Economic Development Advisory Board.
Read the Economic Recovery Task Force's full report or watch its presentation to the City Commission for more information.