For six long months, nursing homes across the State of Florida have had to close their doors to visitors due to the risk of coronavirus. Nursing home residents are typically 65 years or older, some having pre-existing conditions, which makes the risk of COVID-19 even greater. However, The Gardens at DePugh Nursing Center in Winter Park is now allowing friends and families to visit their loved ones.
Since its move to prohibit visitors on March 12, the facility has not had a single positive case of COVID-19 among its staff or residents. Starting March 13, the center limited interaction between the residents by stopping large group activities, such as games, movie watching, and communal dining. As a precautionary measure the nursing home encouraged family members to connect with their loved ones through video chat, phone calls, texting, and social media.
When the pandemic hit, Florida Governor Ron DeSantis restricted visitation at all nursing homes for the safety of their elderly residents. DeSantis lifted the imposed ban on September 1, following recommendations from a nursing home task force that met weeks prior. The staff at The Gardens at DePugh Nursing Center had developed their reopening plan weeks in advance, anticipating the lift of the ban and ensuring they could allow visitors as soon as possible. "We saw our first visitor—the first family member to see their loved one—on September 11," said David Hunt, executive director of The Gardens at DePugh Nursing Center.
Since the pandemic is still a risk, there are specific rules and guidelines by which visitors to the center must abide. "Our family members, residents, and staff are all a little anxious about how this process is going to work," Hunt said, understanding that guidelines tend to change often; but, he is confident that comfort levels of all those involved will rise as procedures are set in stone.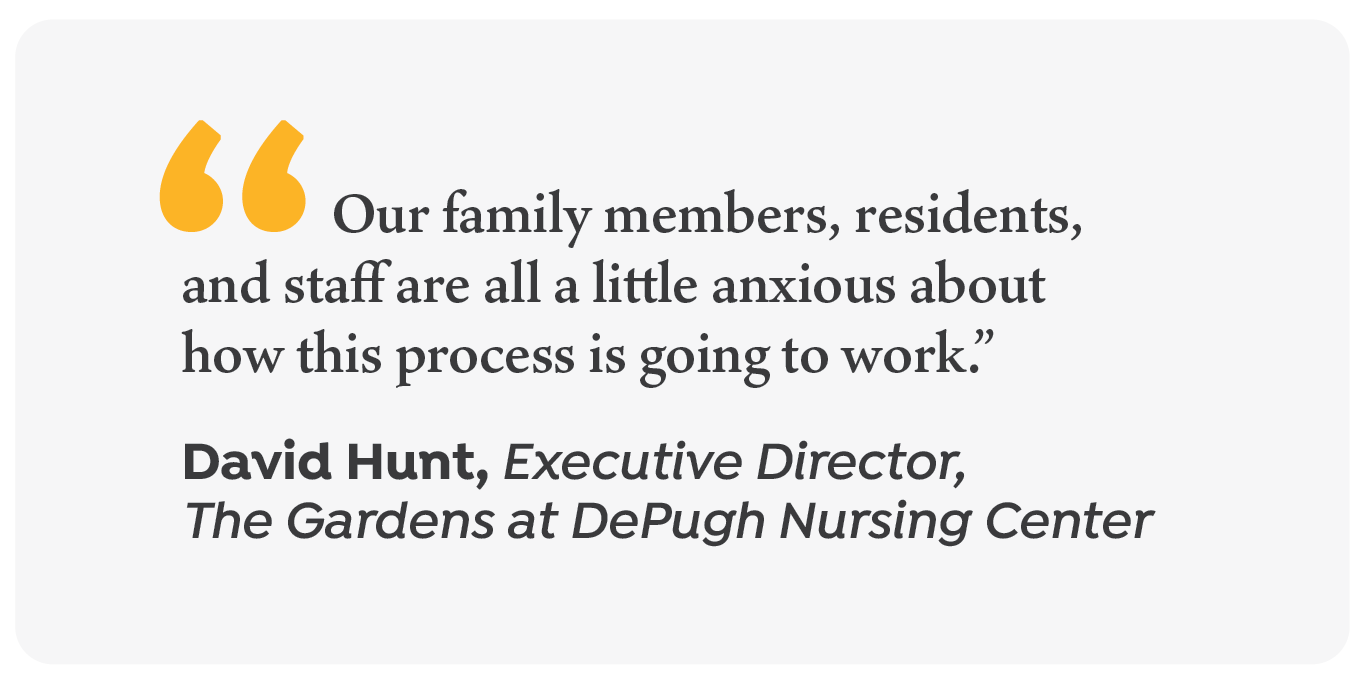 Staff at The Gardens at DePugh Nursing Center will perform screenings and temperature checks on all visitors before guests enter the building and provide education to non-essential guests regarding policies and procedures. All visitors must complete training on the nursing center's protection control and new rules and guidelines before they can see a resident. Everyone inside the center (including residents, staff, and visitors) must wear a mask. In addition, if visitors are essential caregivers, they will be required to wear gloves.
Residents and their visitors can meet indoors in the day room—which has areas within marked off to allow for social distancing— or outdoors. "We want to establish more and more outside areas in our garden," Hunt said, "which allow a little more airflow, minimizing potential cross-contamination from a family member to one of their loved ones."
According to Hunt, residents can elect up to two essential caregivers and five general visitors to be granted visitation access. Only one essential caregiver and up to two general visitors are permitted to meet with the resident at a time. Hunt also explained that there is a limitation on the age of the visitor, and that the center is not allowing visitors under the age of 18 at this time.
The Centers for Medicare & Medicaid Services (CMS) issued revised visitation guidelines September 17. These new guidelines stipulate that if there are any positive coronavirus cases in a nursing home facility, whether it's a staff member or resident, all visitation will be suspended until the facility is cleared of the potential infection. The facility must remain free of new COVID-19 cases for at least 14 days before visitation can resume.
Hunt is dedicated to ensuring that all parties who pass through the nursing center are well-educated on the virus, as well as preventative measures. "We've done a lot of education with everyone […] to give them additional information on how we're doing visitation, and what the future of that is going to look like," Hunt said. Hunt recommended the Orlando Health website as a resource for those interested in learning more about coronavirus and how to prevent infection. "Those are great resources to help [people] put things into practice at home, not just here," Hunt said, referring to staff and visitors who can put healthy practices in place in their daily lives, not just at the nursing center.
The pandemic has been a learning experience for numerous industries, and policies and procedures may be volatile for the near future. "We need to get back to normal as quickly as we possibly can, but we need to do it the right way," Hunt stated, understanding that patience is the key to opening safely. "I think most of [the] family members are understanding that this is a process, and they're going to need to be patient with us."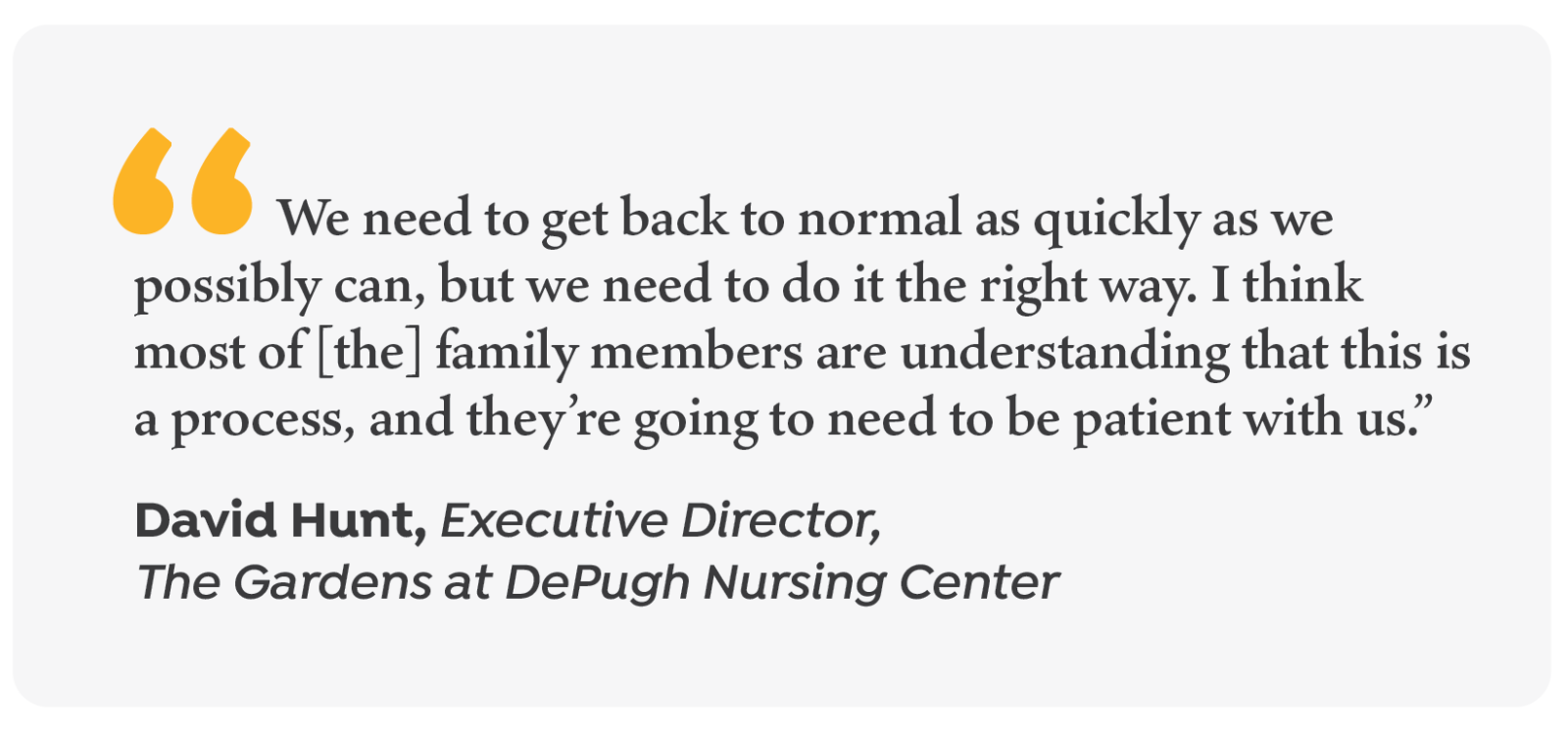 For more information, updates on visitation, and their response to COVID-19, visit The Gardens at DePugh Nursing Center website.