Park Avenue is well known as one of Winter Park's cherished gems for its high-end shopping and dining. With over 140 spaces occupied by boutiques, restaurants, a hotel, a museum, and various service-based businesses, as well as the roughly eight blocks of dedicated green space that make up Central Park, the avenue has made its mark as a well-sought-after destination in Central Florida for decades.
In the wake of the economic impact of COVID-19, many are wondering about the ability of businesses to survive the financial hardships brought on by the pandemic. Talk of how the current economic crisis and potential for evictions will impact Park Avenue has spurred in response. While there is a current state-wide moratorium on evictions and foreclosures through August 1, which was extended by Governor Ron DeSantis a few hours before its initial expiration of July 1, landlords have been able to file eviction lawsuits in advance of it lifting.
Jeff Briggs, City of Winter Park principal planner, explained that there is no way to determine exactly how evictions might impact Park Avenue overall as many tenants are working with their landlords and banks for reduced rent payments. Since these agreements are negotiated privately and there is variance in the degree of monetary impact on different types of businesses, the future of retailers, restaurants, and other service providers on Park Avenue cannot be accurately predicted. It is known that at least one lawsuit for eviction has been filed on Park Avenue against the owners of the cosmetic shop, Elevatione.
It can be said that shops on the avenue are experiencing a nosedive in business brought on by diminished foot traffic. Brian Grandstaff, a managing partner with Millenia Partners, an Orlando-based commercial real estate firm that has been involved in brokering many Park Avenue rentals, explained that in-person shopping has been impacted as Central Floridians grow more comfortable staying at home and shopping online in favor of convenience and safety during COVID-19. "I think there is going to have to be a little bit of a pivot on Park Avenue," Grandstaff said. "We are going to have to figure out how to cooperate with the fact that women's apparel and other types of retail are definitely struggling."
Grandstaff explained that implementing more health, beauty, and fitness-related merchandising on Park Avenue may be beneficial since those businesses focus more on in-person experience than some other forms of retail. He also suggested placing restaurants in presently open spaces or spaces that might become vacant due to possible evictions might benefit the avenue "because on Park Avenue what does appear to be successful is food and restaurants." However, converting current retail spaces to restaurants is not a viable option at the moment under a parking ordinance passed in 2018 by the Winter Park City Commission, which states that food service establishments in the Central Business District are required to have one parking space designated for patron use for every four seats. This code exists to prevent a worsened parking deficit in the Park Avenue area.
It is relevant to note that the avenue did celebrate the opening of a new restaurant, BoVine Steakhouse, just last month on June 17. Millenia Partners represented both the landlord and tenant in the deal, which filled the space formerly occupied by another restaurant, Park Plaza Gardens. Since the location was previously an established eatery on the avenue, it already met the guidelines of the parking ordinance.
Kyle Dudgeon, City of Winter Park assistant division director for economic development, pointed out that retail is facing headwinds at the hands of COVID-19 nationwide. "One of the attributes that Winter Park has had with all our small specialty stores is that you can find merchandise that you can't find on the web," Dudgeon said. "When you do your window shopping, you are finding unique things in these stores and that's what brings people to Park Avenue." Briggs concurs, stating "regardless of changes in economic vitality of retail, it is its uniqueness that has allowed Park Avenue to thrive."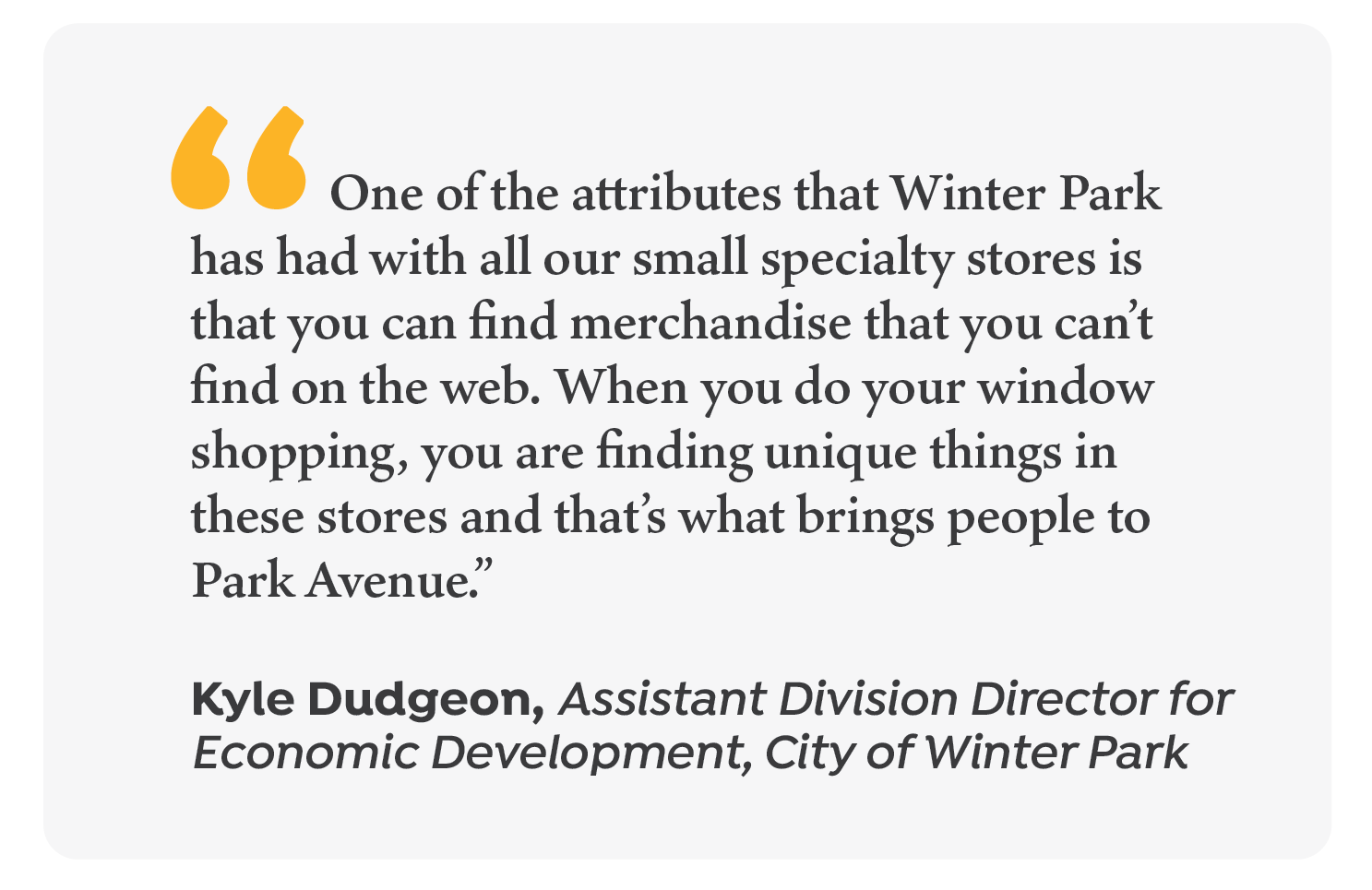 Despite the effect the pandemic has had on retailers and other businesses, the City is confident that Park Avenue will survive current hardships and come out the other side still a strong business district. "With the boutiques and mom-and-pop stores that we offer unlike other shopping districts, we will be able to recover well after COVID," said Clarissa Howard, director of the City of Winter Park communications department. "We have been able to support these businesses with different programs, grants, and assistance through COVID, and we certainly will be there for our businesses after COVID as well."
Although Grandstaff foresees some changes needing to be made on Park Avenue, he agrees that it has an advantage in being distinctive from other shopping and dining districts. "What Park Avenue has done over the last hundred years is create something you can't find anywhere else in Central Florida … and that is a true walkable, experiential, restaurant and themed retail destination," Grandstaff said. "There is some value that will still be established for Park Avenue even through the worst recession, through the scariest pandemic, people will still want to connect, people still want to go out and have experiences and they are willing to pay for that."