It's safe to say that Winter Park Resident Steve Goldman is a parks guy. Quick to point out that the word "park" is in our City's name, Goldman has a vision for an expansive park on the site of a controversial piece of land. While other residents see real estate development opportunity at Progress Point, a City-owned piece of land at the intersection Minnesota, Denning, and Orange Avenues, Goldman sees a park — a big one.
Goldman recently presented the idea to the City Commission and floated a rather extensive series of ideas to friends and neighbors, including a 3-D rendering on YouTube of what a park might look like. Progress Point is at the center of the Orange Avenue Overlay conversation, a controversial topic bringing to a head a diversity of opinions on commercial development. Goldman's presentation includes multiple "frameworks" for how buildings and programming might accompany the park, much like residents and visitors experience on Park Avenue. "It makes sense to have buildings there to enhance the experience," Goldman explains.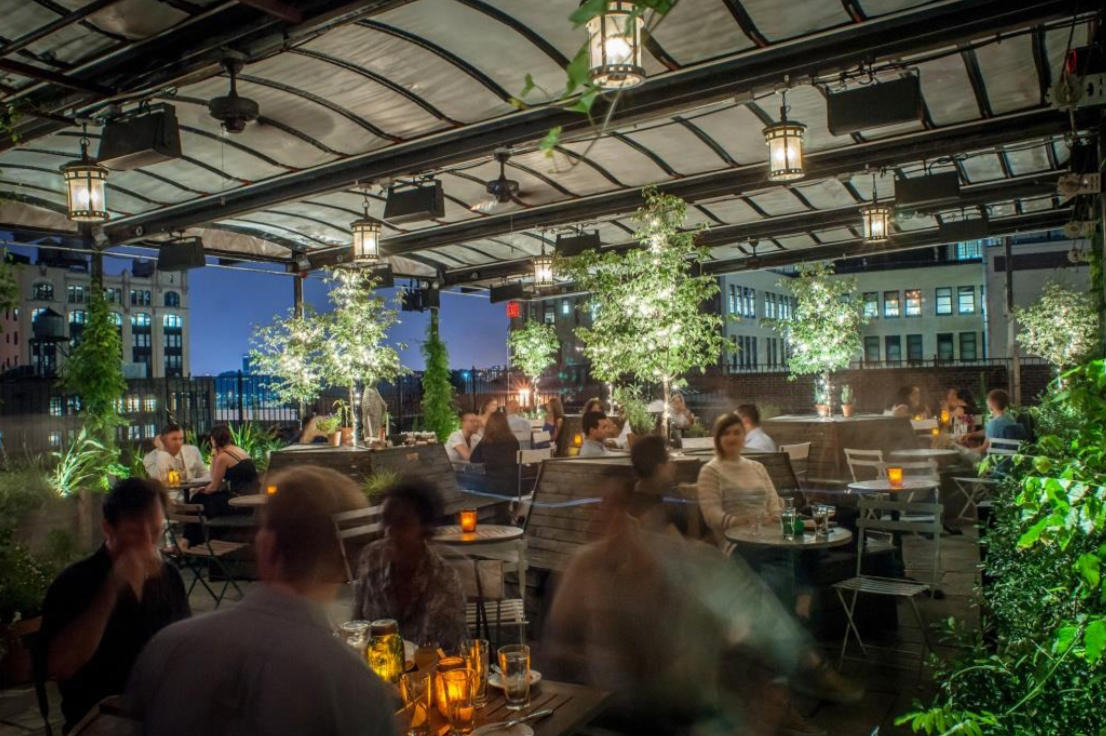 Goldman, who also serves as board of trustees chair for the Winter Park Land Trust, is quick to share credit with others who have helped in the conceptualization of the ideas. "Most of the work was done by the architects. I was more of a facilitator, really," Goldman said. Larry Adams, Scott Webber, David Miller, and Jack Rogers all contributed to the "sample design concepts," according to Goldman.
Local Rollins College professor of environmental studies, Bruce Stephenson has also played a prominent role in developing the ideas shared by Goldman. Stephenson's analysis, conducted with a student group, suggests that a park at this location could be part of a ring of greenspace reminiscent of Boston's Emerald Necklace. Stephenson also points out that the park would be ideal for self-reflection, small gatherings, and outdoor activities like yoga classes.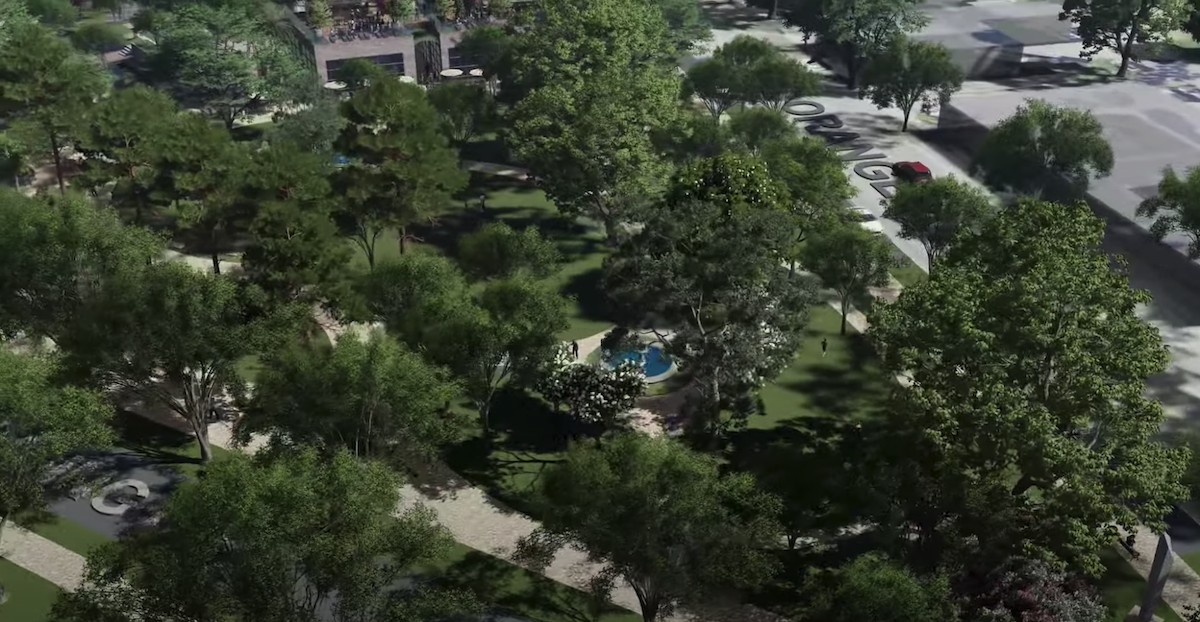 However, some question whether allocating that much space for a park is prudent when it comes to the economic interests of the City of Winter Park. Former Winter Park Vice Mayor Pete Weldon believes that there are better alternatives to an expansive park at Progress Point. Weldon thinks the land is ripe for a land-swap to expand an existing park, relocate the post office, or sell some portion or all of the property. Funds could be used to create a disaster fund or improve nearby Mead Garden. Weldon thinks neighborhood residents would favor an improved Mead Garden to Goldman's idea, "Why would I go [farther] to Orange Avenue when I have Mead Garden nearby?"
Weldon is quick to compliment Goldman on his efforts, characterizing him as "a very bright guy," but questions the residential density near the proposed site, "I know the area generally and it's mostly single-family homes," unlike those around Park Avenue where the area has more multi-family, multi-story homes and feels more walkable. The proposed site is near an awkward intersection of three roads including the highly trafficked Orange Avenue. "I'm not arguing against Steve's plan if the City would approve the residential density in the Orange Avenue Overlay."
Goldman maintains there are plenty of homes around his proposed site and thinks that the area also holds promise for commercial and cultural activity. "There are some really cool businesses there and we want that … It would be naïve to just fill [the entire space] up with buildings." Goldman also thinks that the City is better off maintaining ownership of the land (which some have estimated to be worth between $5-7 million) than selling it. "You don't trade a long-term asset for a short-term one. We're pretty much out of space for creating anything like a park," Goldman warns.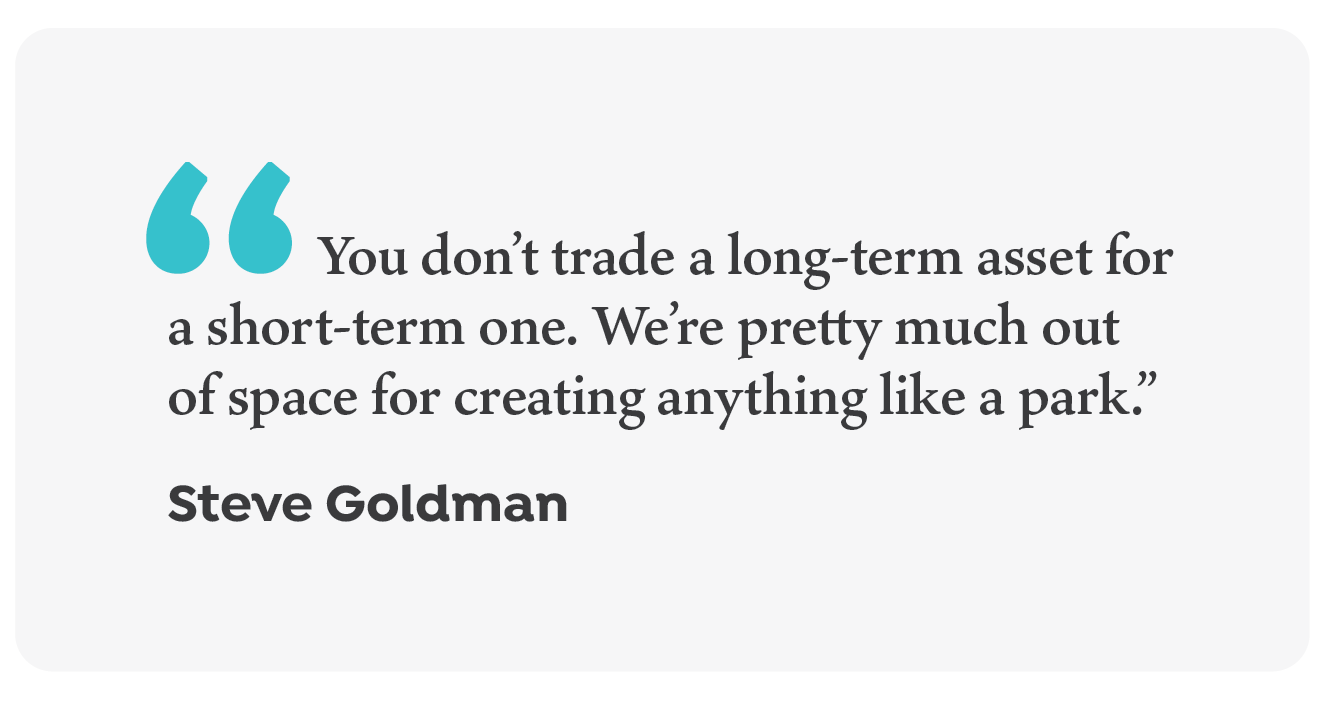 Goldman contends that more ideas need to be explored, but envisions development opportunities for restaurants, coffee shops, and even film screenings. He also shared an idea of creating a non-profit entity to house and dictate the structures and programming of buildings, "the City would dictate what [the buildings] would look like, control the design, and what goes in them," presumably to ensure that appropriate operators enrich the experience for park users. Others argue that engaging private developers in a balanced way would allow the city to hold onto the land for the long term, stimulate private enterprise, and bring commercial dollars to public projects.
While most agree that economic development is crucial to the success of Progress Point, there are varying views on how to balance greenspace with buildings and traffic. Demetree Global, a prominent landowner with interest in the site, advocates "placemaking" and collaboration when contemplating the future of the land. According to Michelle Heatherly, director of strategic development for Demetree, "public spaces come in all forms and preferences, and have to be evaluated holistically." Demetree filed a lawsuit against the City over procedural matters earlier this year after the City Commission voted to rescind the Orange Avenue Overlay. Heatherly expressed agreement with the importance of greenspace, but pointed to the previous overlay process and that the initiative, since rescinded, achieved that balance. "The Orange Avenue steering committee was tasked with [placemaking] and accomplished [it]," she said.
Beyond the economic and commercial, Professor Stephenson's report also points to the health benefits of an added park, invoking a revered leader in the field of civic planning, Frederick Law Olmsted (1822-1903). Considered by many to be the father of American landscape architecture, Olmsted "believed that parks were integral to physical and mental health," said Dr. Stephenson. His report suggests that a "ten-minute walk to a park reduces the risk of chronic disease." A recent study of residents in London concluded that living within 300 meters of a park was tied to a "statistically significant" elevation in life satisfaction, worth, and happiness.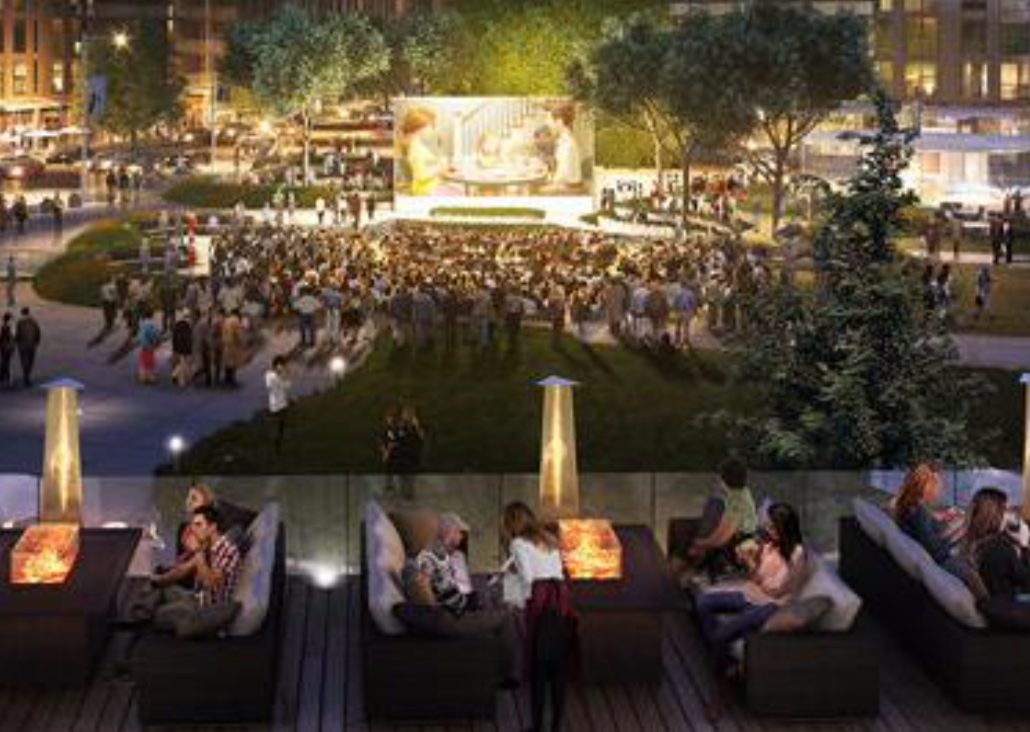 Conversations about the future of the land are expected to continue at both the citizen and Commission levels during regular meetings and work sessions. Goldman is quick to point out that his concepts are meant to stimulate conversation and point our community to a sensible outcome, "some people want no buildings and others want all buildings. Let's put everything on the table and see what's best."