As Winter Park residents prepare for the holiday season, the city will partner with Waste Pro for its Annual Fall Cleanup. Beginning Thursday, Nov. 2., residents can dispose of furniture, appliances and other large items that are no longer useful.
Items must be placed curbside after 5 p.m. on the evening prior to their second regularly scheduled household trash pickup day. The Fall Cleanup pickup schedule is as follows:
North of Fairbanks/Aloma avenues: Thursday, Nov. 2 or Friday, Nov. 3
South of Fairbanks/Aloma avenues: Thursday, Nov. 9 or Friday, Nov. 10
Residents living in apartments, townhomes or condos that do not provide curbside service can contact Waste Pro for large item pickups, fees may apply.
For more information on the Annual Fall Cleanup, contact the Natural Resources & Sustainability department at 407-599-3479 or Waste Pro at 407-774-0800.
The City of Winter Park Sustainability Division is also hosting a household hazardous waste drop-off for chemical products, textiles and electronics at Cady Way Park on Saturday, Nov. 11, from 8 a.m. to noon.
Only household items from city residents will be accepted. Contractors are not permitted to use the drop-off for businesses-related waste. Participants must bring a driver's license or utility bill statement as proof of city residency.
Waste Pro will be on hand to dispose of household hazardous waste. Acceptable items include the following:
fertilizers & pesticides
pool chemicals
gasoline and used engine oil
wet latex or oil-based paint
non-alkaline batteries
The following is a list of acceptable E-waste items that will be taken by A1 Assets, Inc.:
computers
VCRs
stereos and CD players
televisions
DVD players
FAX machines
American Textile Recycling and the Recycle Sneaker Project will accept the following textile waste items:
clothing and hats
purses
belts
shoes
towels, bed linens and curtains
Residents must bring proof of city residency in the form of a driver's license or utility bill statement, and should enter via the Cady Way Pool parking lot and proceed to the drop-off location as shown on the map, below.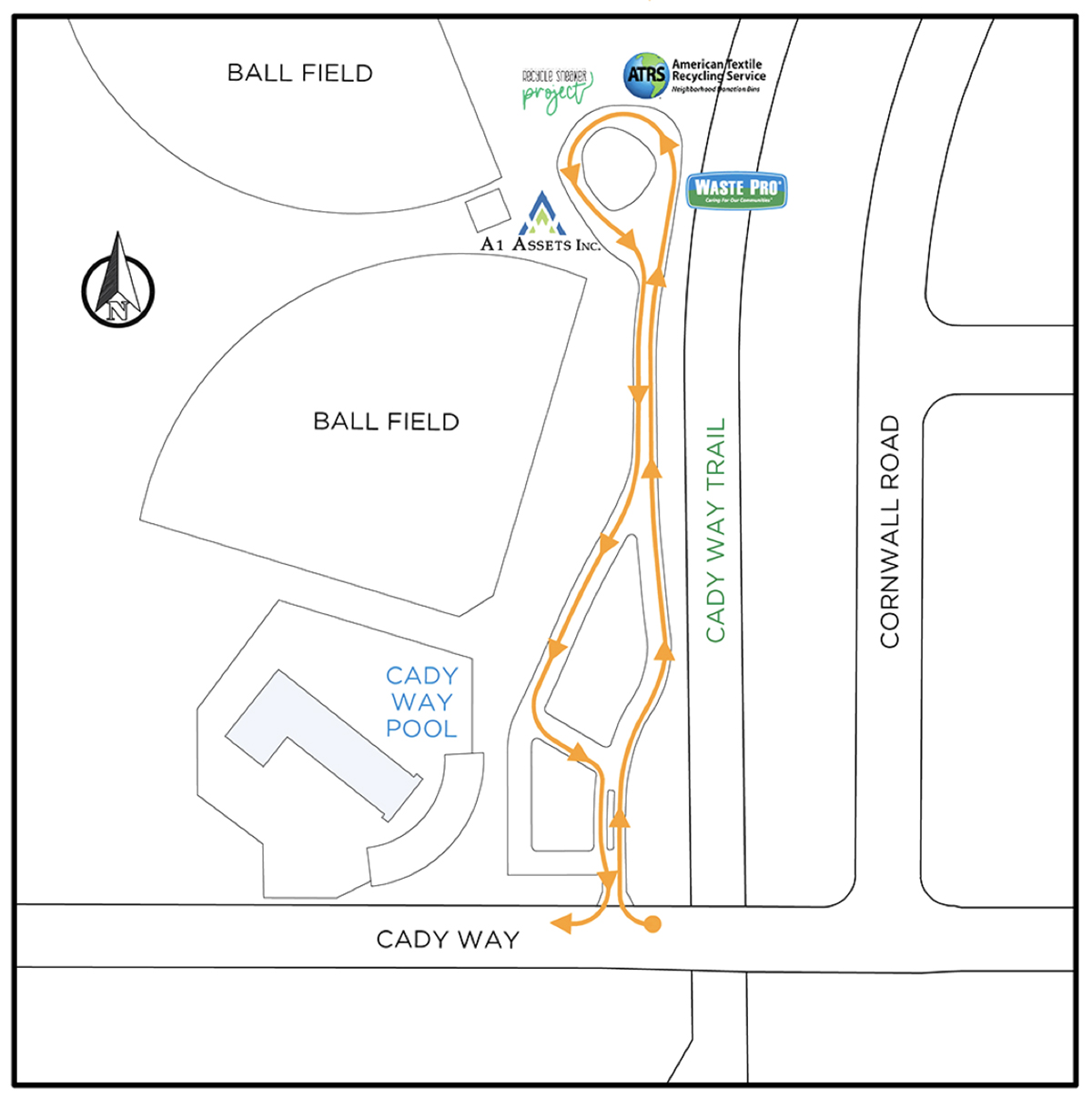 Prescription meds are not accepted at this event and must be dropped off at the Public Safety Facility, located at 500 N. Virginia Ave., Monday through Friday between 8 a.m. and 5 p.m.
For more information on the household hazardous waste drop-off, access cityofwinterpark.org/sustainability or call 407-599-3364.