Florida's seasons may seem to run together but Winter Park will continue its tradition of welcoming fall with the 50thAnnual Autumn Art Festival, Oct. 7 and 8 at Central Park.
Hosted by Winter Park Chamber of Commerce, the event is the only juried fine art festival to exclusively feature Florida artists. The list of 187 exhibitors will be accompanied by food vendors, kids' workshops presented by Crealdé School of Art, and special event promotions and participation by Park Avenue retailers and restaurants.
"The Autumn Art Festival is one of our premier events each year," said Winter Park Chamber of Commerce President and CEO Betsy Gardner Eckbert. "It draws more than 150,000 visitors, many of them from outside our region, which gives us an opportunity to show off our boutiques, bistros and the dynamic experience of visiting Winter Park."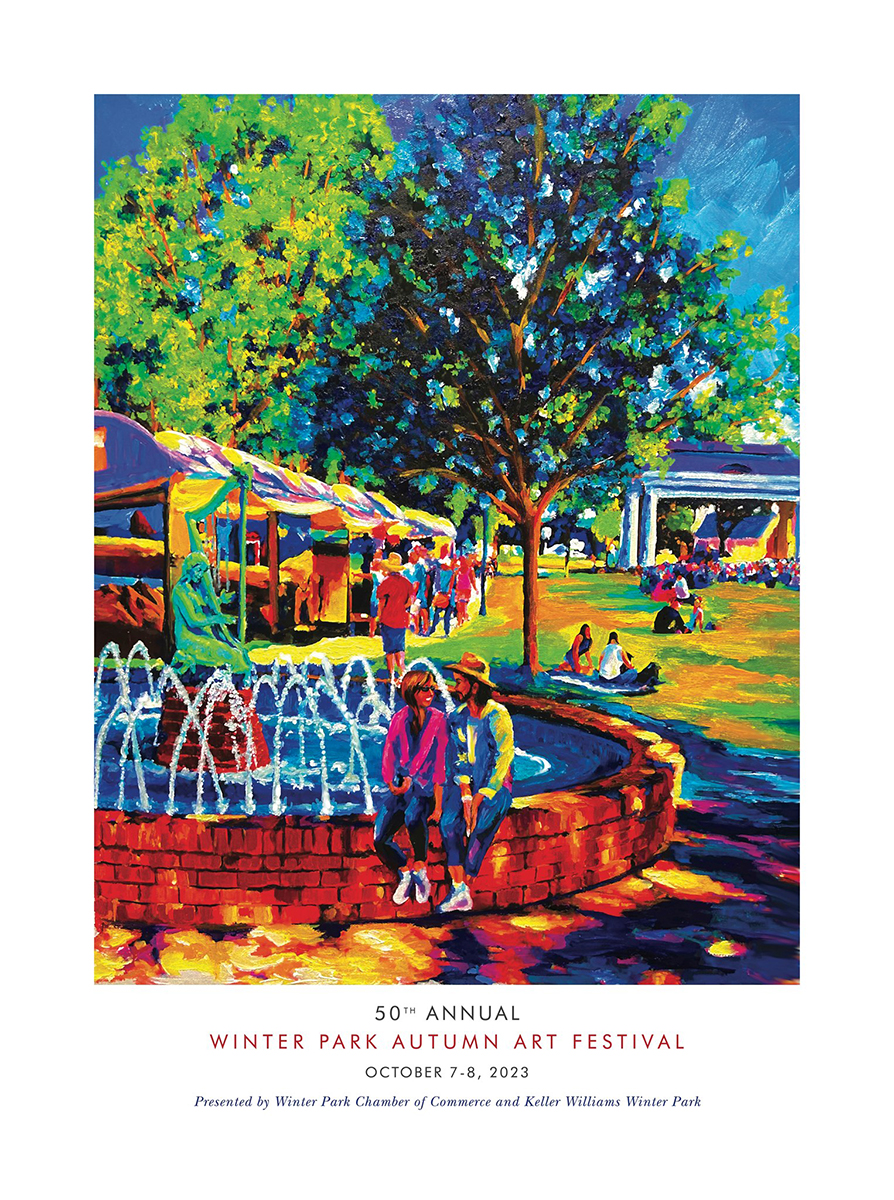 Festival hours are from 9 a.m. to 5 p.m. each day and feature live music at the Central Park Stage. The performance schedule is as follows:
Saturday, Oct. 7
9:00 a.m.- 9:50 a.m. – Orlando Children's Choir
10:00 a.m.-10:50 a.m. – WPHS Jazz Ensemble
11:00 a.m.- 11:50 a.m. – Orlando Magic
12:10 p.m.- 2 p.m. – UCF Jazz Band
2:10 p.m.- 3:10 p.m. – Mike Petrovich Duo
3:30 p.m.- 5 p.m. – Daphne & Jazz Tastings Band
Sunday, Oct. 8
9:00 a.m.- 9:50 a.m. – Winter Park Music Academy
10:00 a.m.-10:50 am.- Jacquay Pearce
11:00 a.m.-12:10 p.m – Logan Belle
12:30 p.m.-2 p.m. – Sweet Fleet – A tribute to Fleetwood Mac
2:15 p.m.-3:10 p.m. – Sean Holcomb
3:30 p.m.-5:00 p.m. – The Buzzcatz Band
Admission is free, but special packages are available on the event page of the Winter Park Chamber of Commerce website.
To accommodate the festival, the following road closures will begin at 3 a.m. on Oct. 7 and last until 8 p.m. on Oct. 8:
Park Avenue: closed between Lyman and Canton avenues
Morse Boulevard: closed between New York and Knowles avenues
New England Avenue: closed between the railroad tracks and Center Street
Restaurants within the road closure area that would like to offer expanded outdoor seating during the event must fill out an application by Wednesday, Oct. 4. Click here for a link to the city event permit page.
Retail businesses are approved to have a choice of one outdoor merchandise table or one rack without a permit. Additional racks or tables will require an application.
Click here for more information on the festival, artists and sponsors. Click here to view photos from last year's festival.