Brycyn Smith is balancing her MBA studies with the real-world experience of starting her own business. The Crummer Graduate School of Business student is launching The Winter Park Bike Tour with Winter Park-based travel and hospitality professional Jeff Noonan.
The partnership began at a garage sale where Noonan was selling a Walking Bike – an electric vehicle that employs a six-gear treadmill in place of pedals.
"I had a property in College Park where I used to sell them," he said, "but had to shut down in 2018 and I've had the bikes in storage ever since just waiting for an opportunity like this."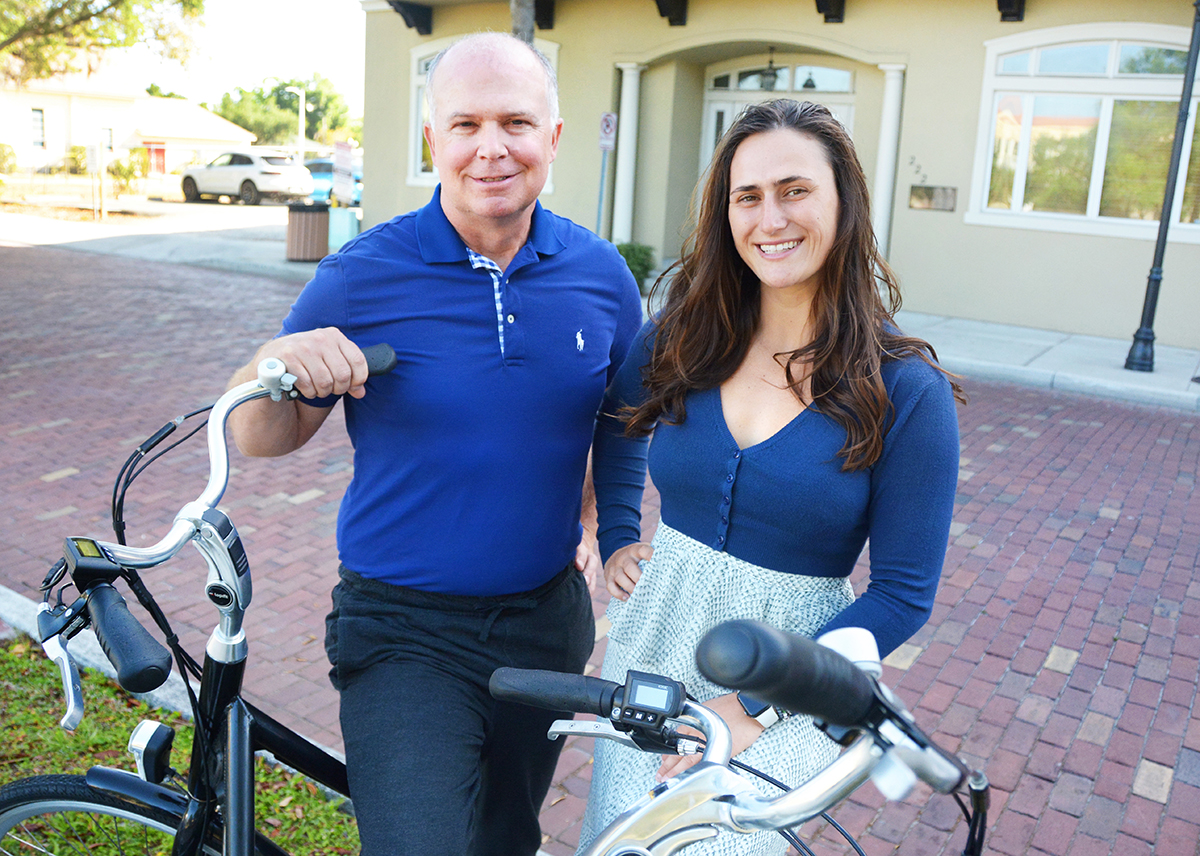 Smith, an avid garage sale shopper, noticed the curious contraption in Noonan's driveway and the ensuing conversation blossomed into a business idea. "I enlisted help from my professors and – since the project is part of my MBA requirement – we were even allowed to operate on Rollins-owned land during our pilot program," said Smith.
In addition to a unique biking experience, the business offers a 60-minute guided tour of local neighborhoods and historic properties. The four-week pilot program began on March 24th at a pop-up location by the corner of South Interlachen and East New England Avenues. Smith and Noonan are hoping to secure a permanent location, either through Rollins or the City of Winter Park.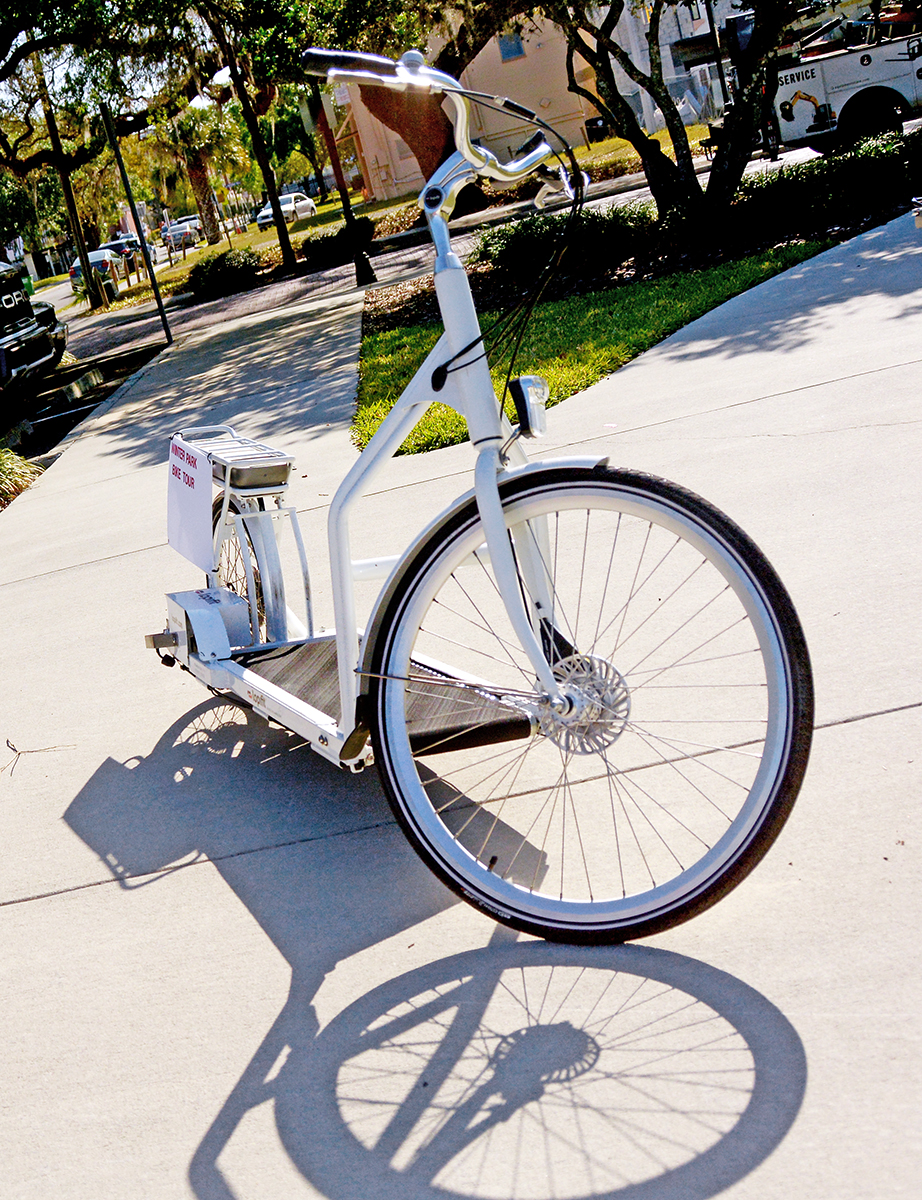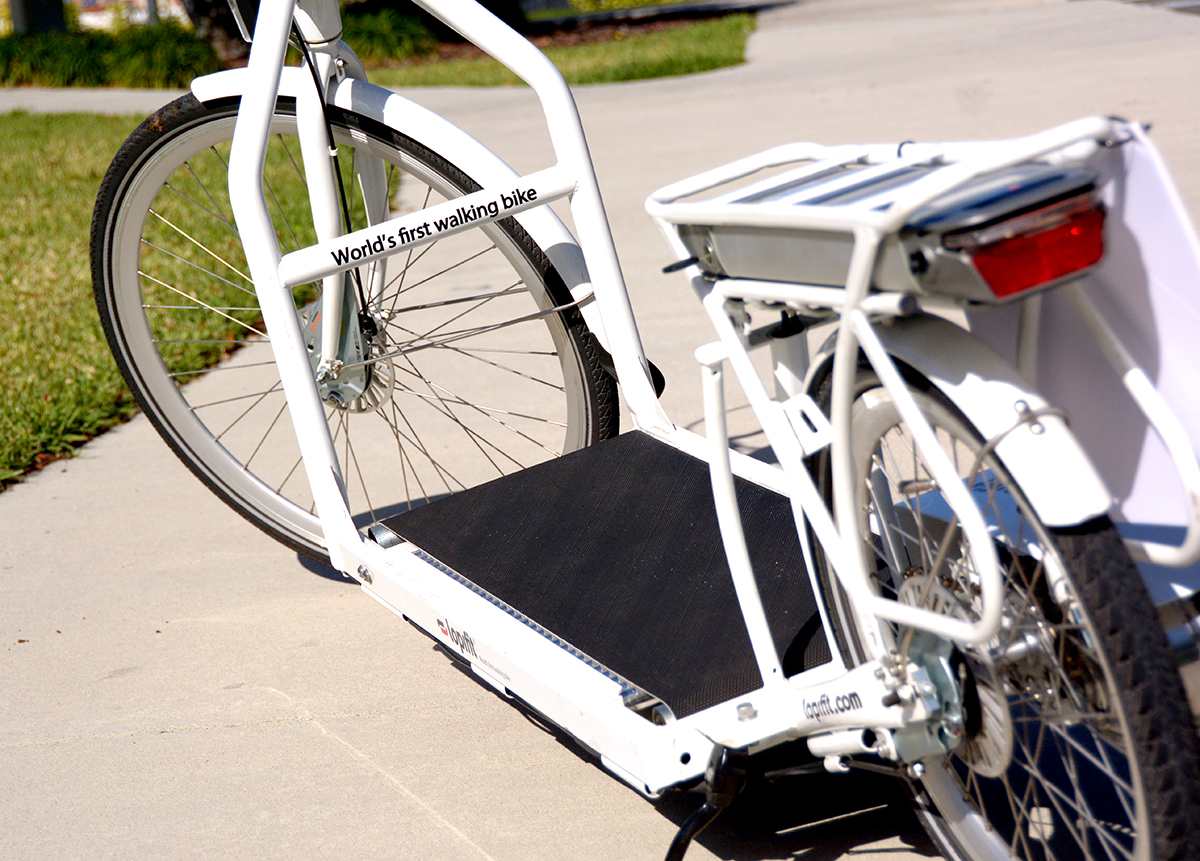 "We don't need a storefront," said Noonan. "We can operate out of a trailer with just a few parking spaces-worth of room for a quick training lesson before the tour begins."
Here, Smith and Noonan discuss what it took to evolve their business from a casual conversation to Winter Park's next attraction.
What can guests expect during the 60-minute tour? (Noonan) The route starts next to the Alfond Inn, goes across Fairbanks Avenue to Rollins College and follows a path adjacent to Lake Virginia with a great view. The route takes riders along the west and south sides of the lake through neighborhoods and secret little pathways. On a good riding day, we might see where the peacocks come out from the south end of the Genius Preserve. The route features many publicly accessible secret jewels of Winter Park.
(Smith) We're also going to provide a few stopping checkpoints where we can talk about the history of Winter Park, anecdotes about some of the people who live in these neighborhoods, and fun facts about our city. Jeff and I will be the main tour guides, along with fellow MBA candidates and friends who are interested in volunteering.
What kind of safety measures do you have in place for customers during the tour? (Smith) By law, riders 16 and under are required to wear a helmet, which we will provide. For those over 16, we highly encourage the use of a helmet, but it's not required. We've carefully selected a route with very little traffic, smooth roads, and enough space to ensure our customers are safe. In addition, we're going to provide all customers with training before the tour. Because this is a new bike, the time to learn to ride can range from seconds to maybe three to five minutes. We'll provide space and time for them to become familiar before setting off on a tour.
(Noonan) The bikes have a front and a rear roller brake, which are the drum brakes in the middle of the hub. There's also a brake on the motor itself. When you brake with the handlebars, you're stopping the motor from generating power and you're stopping the movement. Bike riders sometimes have a fear of catching the front brake and flipping over, but it's nearly impossible to do this on the Walking Bike due to its low center of gravity and the brake in the front hub. You are about six inches from the ground, as opposed to having to throw your leg over a top-to-bottom bike, and getting started is so much easier than having to worry about needing training wheels because falling is a minimal risk. It's important to note, those who weigh less than the bike (103lbs) might have a slight disadvantage while riding.
Have you done any test marketing or received any feedback on the business so far? (Smith) Yes! Jeff is like my personal marketing man. He just got back from walking up and down Park Avenue visiting hotels and pitching them our business. We've ridden the bikes to hotels to present our business idea and we've received great feedback. Some of the hotels have even posted our fliers in their lobbies. Just two days ago, there was a couple from Philadelphia visiting Winter Park for a wedding. They were staying at one of the hotels we visited, and they asked the concierge, "What is there to do in Winter Park?" The concierge gave them our flyer, and we ended up booking our first private tour. They were only in town for one day and wanted to do something fun and interesting, so they called us. It was very exciting! We've also been getting calls from organizations, such as the Winter Park Country Club, that want to show support and book an outing for their team. The response so far has been very encouraging.
What was the most challenging part of starting this business? (Smith) Every part of this has been challenging, but for me it's the time commitment. I'm in a full-time MBA program, working 30 hours a week for Siemens, plus working two on-campus jobs. Finding the time for marketing and figuring out behind-the-scenes logistics has been a lot to get squared away. However, most of the time-intrusive stuff has passed and we're now focused on getting our name out to the public.
(Noonan) For me, the most challenging part was getting approval to do the business as a pop-up location. We had to arrange to block off parking spaces, have the bikes in a container, and work on staffing schedules.
How did you go about financing the business and have you received any small business grants? (Smith) This venture has been personally financed by both Jeff and me. There's been little investment in the actual startup since Jeff already owned these bikes from a previous venture. But as far as permits, all of them have been personally financed by us.
(Noonan) As far as small business grants, we need to do more research on the options available to us. Overall, we're trying to do everything without taking out any loans or giving up a share of equity in the company to investors.
What has been the most rewarding part so far? (Noonan) The most rewarding part has been seeing the public's reaction. I'm not famous, but I feel like a celebrity when I ride the bike – it's amazing. Everyone wants to take your picture. They want a video while you're riding. They want to slow the car down to check out what you're doing. Most people have never seen a machine like this before, and they think it's the coolest thing.
How do you see the future of The Winter Park Bike Tour and do you have plans to expand? (Smith) Thanks to Rollins College we currently have a location to operate from. They've granted us a four-week pilot program to gain community engagement and get our feet wet, which we couldn't be more grateful for. Though this has technically been my school project through the Crummer School of Business, we'd like to work with the city on a permanent location.
(Noonan) We're fulfilling a need in the community for visitors who want to explore more of Winter Park than just Park Avenue. Our goal is to mimic the success of the Winter Park Boat Tour. We aspire to reach that level. We're hoping to build some strategic alliances with businesses to help sponsor us, such as local breweries for a start and stop point to enjoy the obligatory beer at the end of a tour.
What advice would you give to someone looking to start a new business in Winter Park? (Smith) Use your connections as much as you can. You never know the connections that someone else has, so it's important to talk about your ventures and don't be afraid to ask for help. I have talked to a lot of my professors about this and have reached out to many news outlets in Winter Park and Orlando to spread the word. Use those connections as much as possible.
(Noonan) Know your area and know your town. Winter Park doesn't have roller coasters. We have Rollins College and Park Avenue, which we want to embrace. These two spots alone drive interest for people to visit our city, and we're also trying to bring light to the hidden views Winter Park has to offer.
The Winter Park Bike Tour operates Friday-Sunday and can be booked directly through the website. Bookings for private weekday group tours and corporate team building are available with advanced notice.