Halloween is known as the "spooky season," but for Adam DeLancett and Whitney Hays, spooky is a year-round business with their curio/coffee shop Promethius Esoterica, located at 3744 Howell Branch Rd.
"We've both been collecting stuff like this in one way or another for our whole lives," said DeLancett. He and Hays grew up with a fascination for history, science, and mythology that forged their partnership in business and in life. "It's kind of what we talked about on our first dates."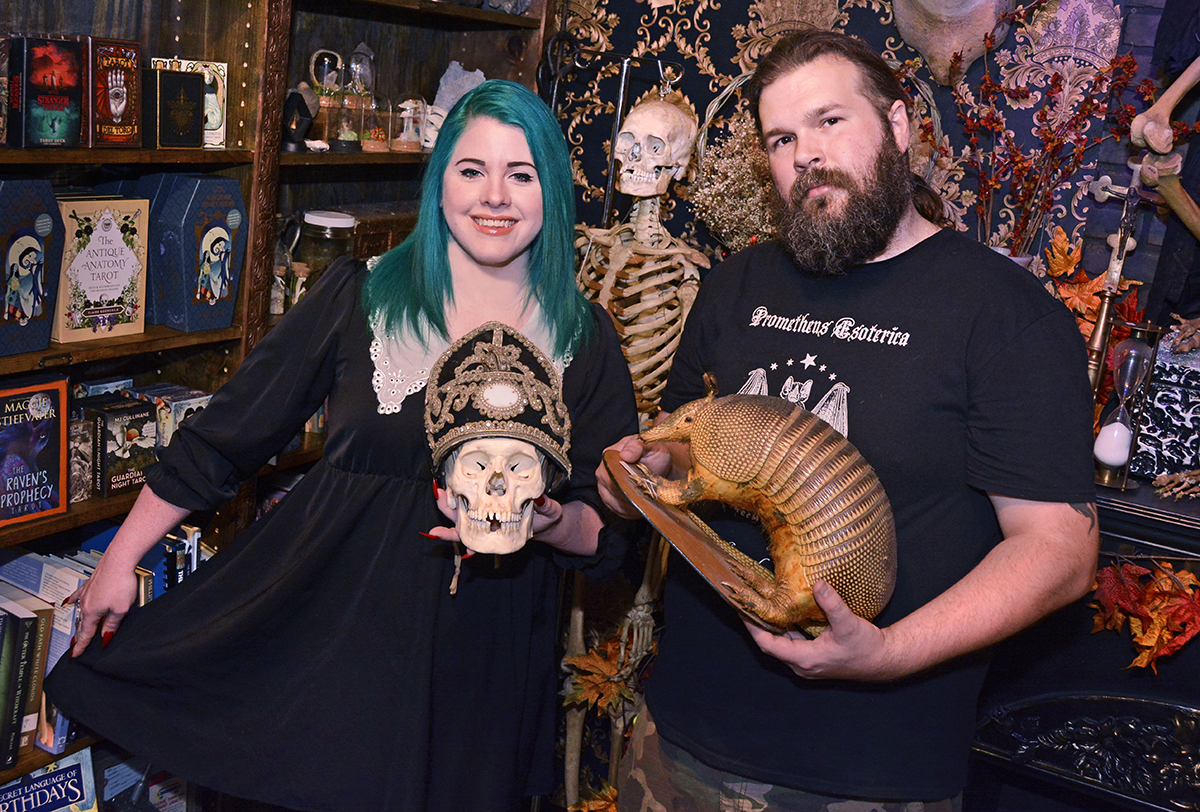 "My grandma loved spooky things and loved to play tricks on us, so I grew up loving all that sort of darker aesthetic," said Hays. "And when Adam and I met we were like, 'okay what if we make our own little spooky shop.' And just kind of went from there."
DeLancet and Hays travel the country to attend estate sales, meet with collectors, and seek out objects to compliment their collection. Inventory ranges from costume items and vintage photographs to civil war-era medical instruments and roadkill taxidermy.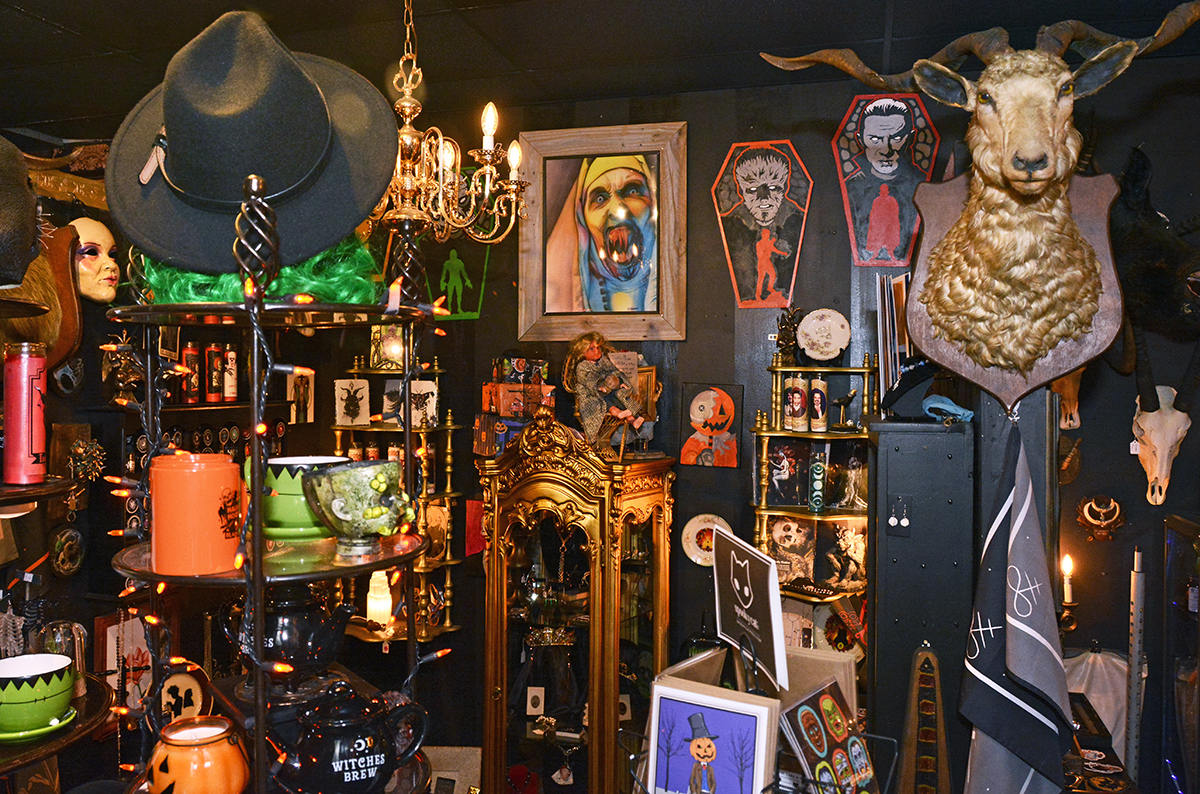 "All of our taxidermy comes secondhand, so we don't ever work directly with importers or hunters," said DeLancett. "We work with a lot of local artists who focus on roadkill salvage and natural death specimens. We really have had to study the industry itself to make sure what we're offering is sustainable and ethical and legal."
Their collaboration with local providers goes beyond macabre artifacts and art with an extensive selection of coffees and teas by Monteverde-based Coffee Shop of Horrors. Customers can sip on a wicked brew as they shop, or buy a bag to serve at home.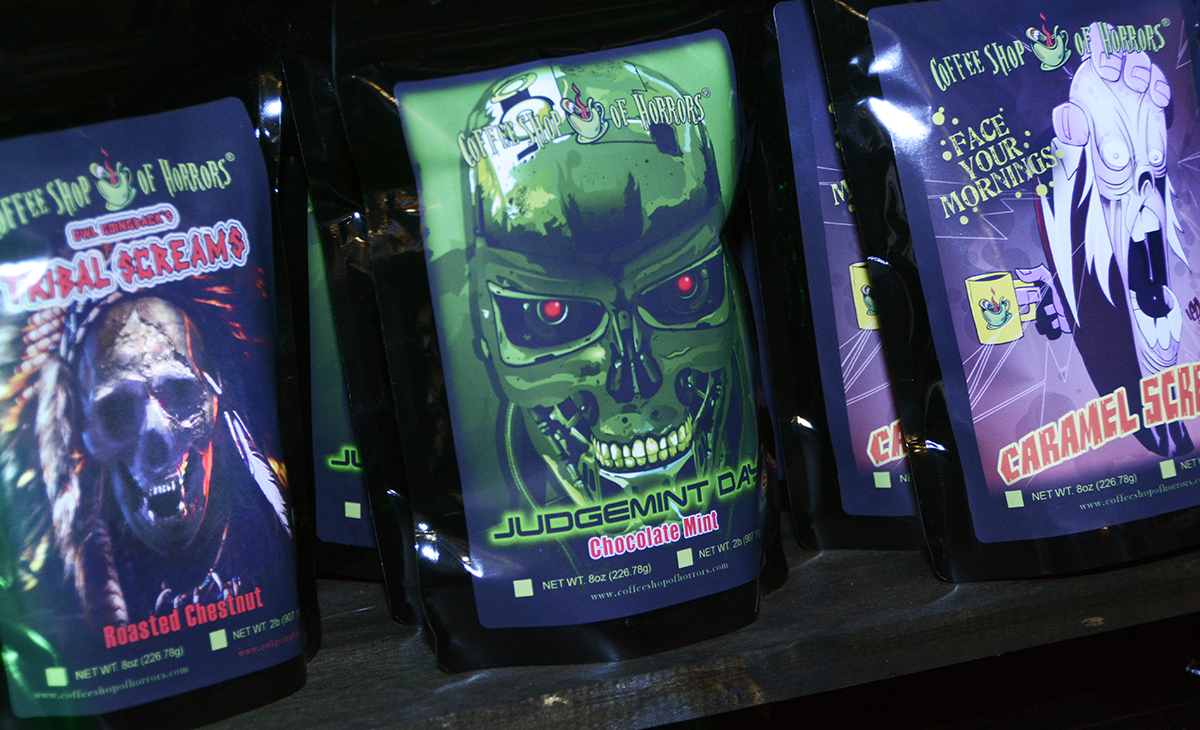 Halloween is a busy time of year at Prometheus Esoterica, but it's not the only one. Seasonal open houses include creepy Christmas displays in winter, and a tiki event in the summer. The shop attracts locals, vacationers, and travelers from as far away as France, Egypt, and Bulgaria. Social media is used strictly for promotion and all sales happen in person.
"When you're selling this kind of product, you're also selling an experience," said DeLancett. "You can go on Amazon.com and buy a cool witchcraft book, but wouldn't you much rather buy it from the creepy shop with all the coffins and antiques? It gives everybody the Harry Potter experience of going into the old curiosity shop and finding a treasure on a dusty shelf. That's what we're all about."
Prometheus Esoterica is open Wednesday and Thursday, 11 a.m.-6 p.m., Friday and Saturday, 11 a.m.-7 p.m., and Sunday, noon-5 p.m.