If you have noticed sports television and radio personality Dan Patrick strolling down Park Avenue from time to time, there's a particular reason why.
The Emmy Award-nominated sports talk show host, widely known for his work on ESPN SportsCenter and cameo appearances in over a dozen Adam Sandler movies, is not here just to take in the charm of Winter Park. Patrick hosts one of the most prominent syndicated talk-shows on any subject, The Dan Patrick Show, while educating the next generation of sportscasters. His namesake program, the Dan Patrick School of Sportscasting is celebrating its fifth year of operation at Full Sail University in Winter Park.
The curriculum, developed by Patrick in collaboration with Full Sail University, aims to provide students with real-world experience both on-camera and behind the scenes. Through the degree program, students learn the foundations of sportscasting including interviewing, voice work, writing, storytelling, newsgathering, reporting, multimedia communication, and more.
"I remember when we tried to get this started and we were in Grand Central terminal trying to come up with the curriculum," recalls Patrick. "I'm sitting with Josh Mora from Full Sail and it's like, 'This is never going to get off the ground. How's this possible?' And then, all of a sudden, they came back and said, 'All right, we got the curriculum. Now we're ready.'"
The school is directed by Gus Ramsey, an alumnus of Rollins College who worked with Patrick for years at ESPN. Ramsey was a producer of SportsCenter, the network's flagship program. That wealth of experience enabled him to guide students through a variety of unique challenges, most notably the COVID-19 pandemic.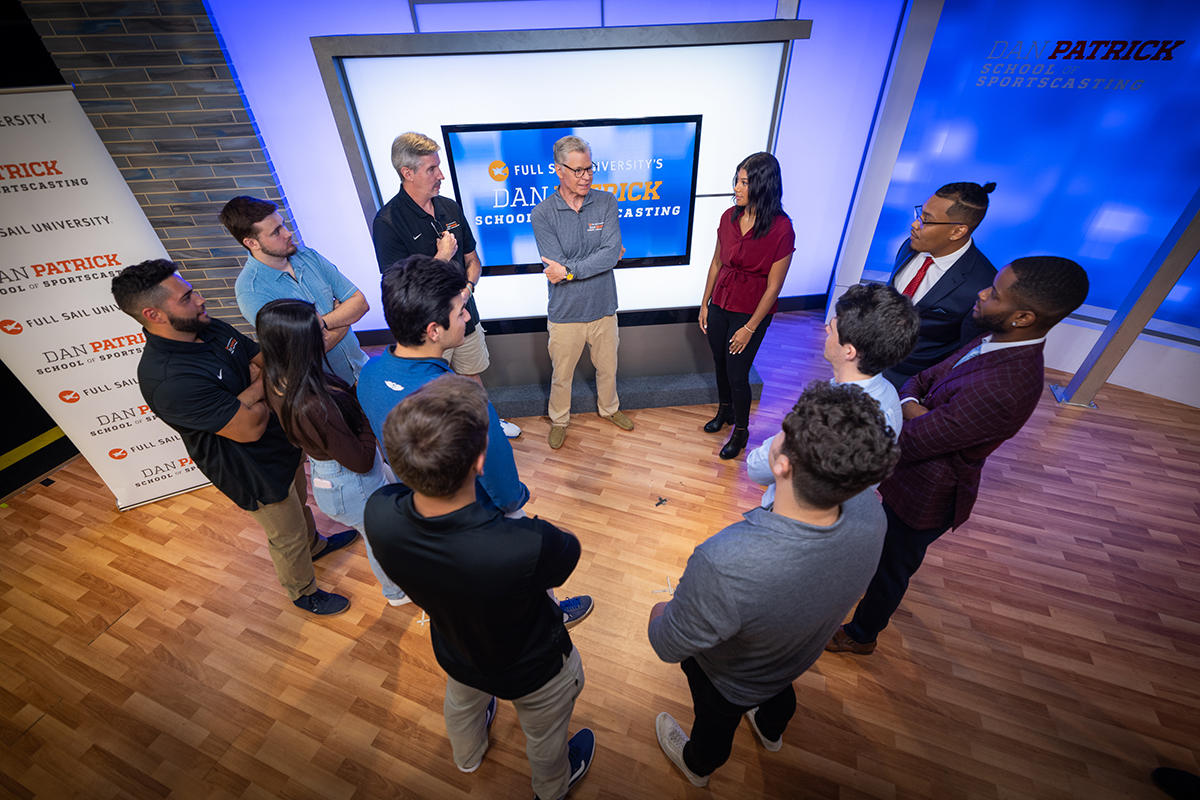 "We could say, 'Turn on your television, you're seeing people broadcasting from their living rooms,'" said Ramsey. "That's what the industry is currently demanding, and this is going to happen to you all the time. Things will change in the industry, and you've got to roll with it. So, it was a really great, real-time learning experience for them."
Patrick agreed. "We always tell the students that you've got to make the best of whatever happens. Well, this school, Gus, and the faculty had to make the best of what was happening. So, it was a true testament to what we're asking these students to do."
Patrick, who regularly broadcasts his show from Connecticut, educates students virtually, but conducts in-person classes during his regular visits to Full Sail's Winter Park campus.
He seems fond of his time in Winter Park, settling into the atmosphere of the town, including a recent round at the Winter Park Golf Course adjacent to Park Avenue's shopping district.
"When I get to Winter Park, I stay at (The Alfond Inn), and I love to just walk around the neighborhood," said Patrick. "Like I'm in a Greenwich, Connecticut type of feel. The big trees, the houses, and just walking downtown kind of trying to get the vibe of the people."
But he is really here to work with his students and see them succeed.
"When you get to see the students," said Patrick, "that's what's rewarding – to see the growth of not only the students, but also the faculty."
One success story involves Taylor Schaub, sports director at KGET News, the Bakersfield, California NBC affiliate.
A graduate of the Full Sail program, Schaub went from student to covering the Super Bowl in a span of just a couple of years. "That program taught me all of the necessary skills that I needed to break into this industry," Schaub shared on Instagram.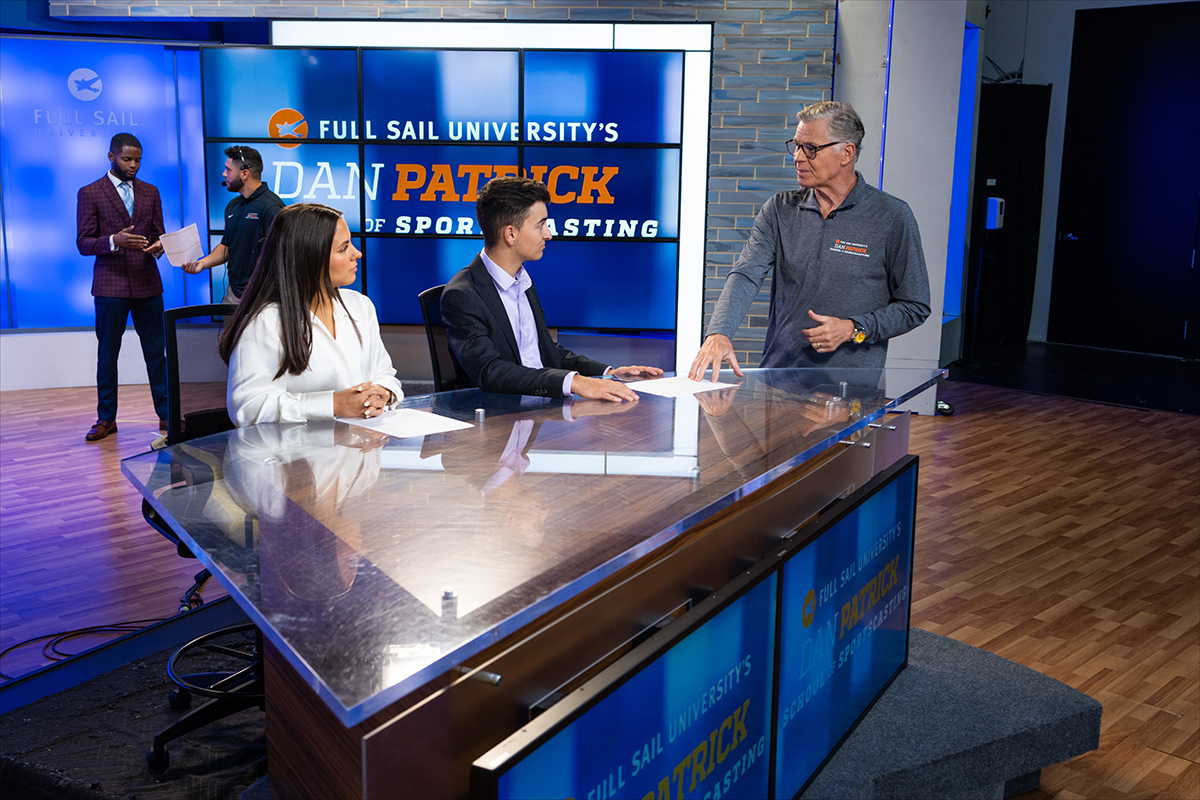 Broadcast journalism is a career which comes with a hot microphone and an audience always expecting propriety. Ramsey points to the school's focus on preparing students for an age when one misplaced word or phrase can end a career.
"We have a class called the Diversity of Modern Media – we kind of jokingly call it the 'How Not to Get Fired Class,'" he said, adding that the class provides students with industry-accepted practices and terminology, whether it's race, sexual orientation, or religious background. "There are certain ways that you are expected to say those words and all the appropriate terms, but also then to identify stories in those realms that are still good stories."
The program also includes guest lecturers including Kevin Negandhi, Mike Tirico, Bill Simmons, and Nicole Briscoe, and a variety of real-world experiences including covering Rollins College Athletics through a partnership with the college which Ramsey oversees.
"We were not planning on having play-by-play in the program. At some point, you have to try to decide what it is you can and can't fit into a program like this. But then Rollins came calling and asked us if we would broadcast their games for them. So now, we have play-by-play seminars throughout the year," said Ramsey.
The Dan Patrick School of Sportscasting has also facilitated student experiences through the NFL Pro Bowl, FOX Sports, Daytona 500, Boombah Sports Complex, and more.
Aside from reporting, the program offers unique emphasis on the notion of personal brand, a topic that Patrick addressed on his recent appearance on the Brand Narrative Podcast. During the appearance, Patrick also reflected candidly on various sportscasting topics and his own experiences, including the NCAA Name Image Likeness Rule (NIL), a question he asked O.J. Simpson which he believes was the best he's ever asked, and whether he gets nervous during interviews.
Patrick, known for challenging his guests with direct questions, says that being nervous is not an issue – it's the responses that matter.
"I'm truly interested in your answer," he said.
More information on the Dan Patrick School of Sportscasting at Full Sail University can be found on its website.