Erica Hall has shown a great dedication to service in her five years with the Winter Park Fire-Rescue Department. She was quickly promoted to the rank of engineer, achieved paramedic certification, and was recently recognized as 2021 Firefighter of the Year. However, her story began far from the community she now serves.
Born and raised in Vista, CA, Hall had dreams of a career as a pro-athlete.
"Growing up I basically lived at the track, soccer, and softball fields," she told the32789. "I always knew I needed some sort of physical aspect in my future career."
Hall earned a bachelor's degree in kinesiology from San Diego State University where she also played Division I soccer. After graduation she began a career in exercise rehabilitation therapy but moved to Central Florida in 2014 when her husband Tally Hall, who was a major league soccer player at the time, was traded to Orlando City for the team's inaugural year in Major League Soccer. However, a shared interest in public service would steer the couple on their present course.
"He was picked up for the following season by D.C. United," she said. "And then mid-season of that year, he was in contact with local police officers from Orlando, and he decided that his heart was also really in public service."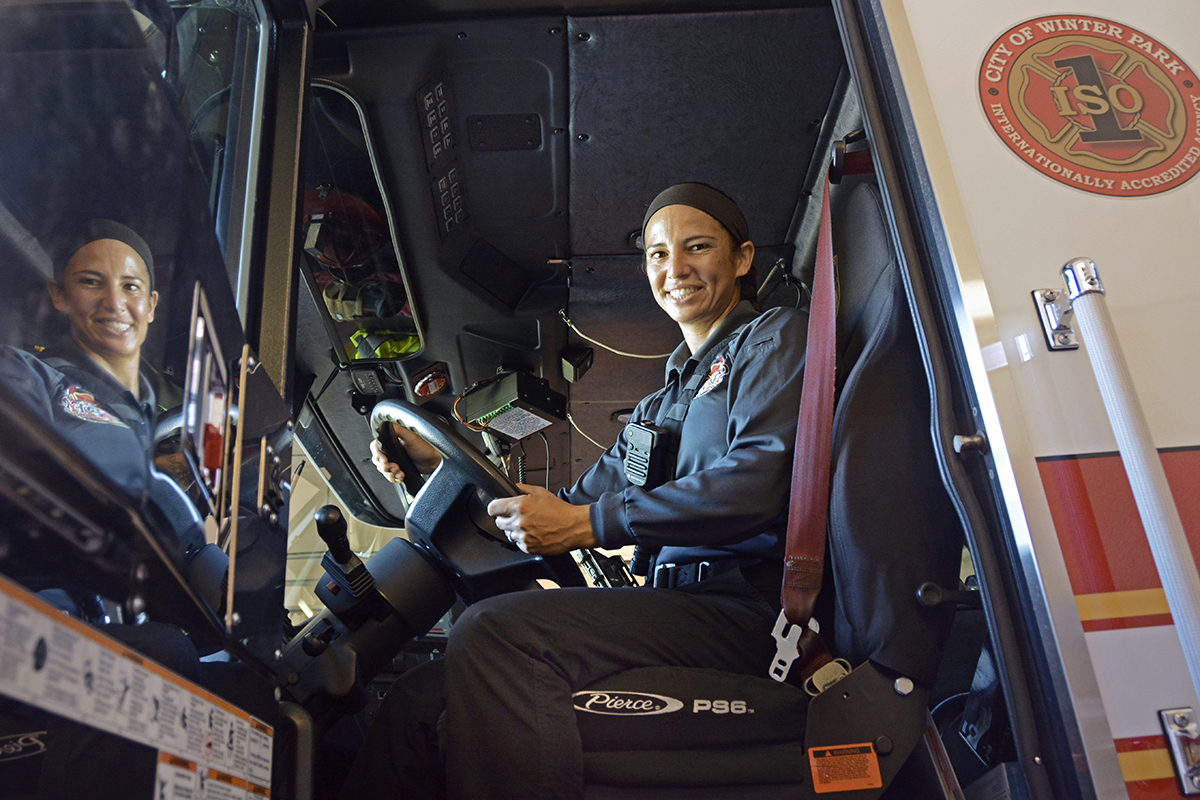 Meanwhile, she also recognized there was something missing in her career and realized that becoming a firefighter would complete her career goal as a public servant. Hall and her husband returned to Central Florida where they both started a new career path, eventually joining Winter Park Fire-Rescue and Orlando Police Department, respectively.
Here, Hall discusses her achievements, community impact, and goals during her firefighting career:
What are your day-to-day activities as an engineer/paramedic?
I like to arrive early to be prepared for shift change. Once a shift starts, I do a comprehensive check of my engine, making sure all the equipment and medications are ready for any emergency we may run into. Then throughout the day, as a crew, we will do scenario-based training, and refamiliarize ourselves with protocols. Since our shifts are 24 hours, we treat our crews as a second family. We typically go grocery shopping and have dinner together. Of course, no matter what we are doing or what time it is, we respond to emergency calls whenever we are needed. That's one of the best parts of being a firefighter; every day is unlike another.
Which of your professional achievements has been most important to you?
My most important achievement professionally is being promoted to engineer. I spent a lot of time away from my family doing training and studying. To be promoted to engineer was extremely rewarding because of how much work I put in.
Which of your personal achievements has been the most significant?
Getting hired with the Winter Park Fire Department is my most significant personal achievement. Working for WPFD has allowed me to pursue my dreams of working with a team to help people.
How have you seen your service to the department impact the community?
These past couple of years I have been fortunate to be part of a team that reaches out to the community and provides them with fire safety presentations. It has been very rewarding to see the citizens' response, especially when I hear stories about when they were able to utilize the information we provided to keep themselves and their families safe.
What is your greatest challenge as an engineer/paramedic?
The greatest challenge is always being prepared for whatever situation may arise. My crew's life depends on how much hose, water, and water pressure they have. It is my responsibility as an engineer to make sure they have what they need to get the job done.
What is your favorite part of being an engineer/paramedic?
Driving the fire engine! It can be difficult at times when the traffic is heavy but there is something very exciting about driving with the emergency lights and sirens when you go to a scene.
What do you like to do in your spare time?
I love to spend time with my husband, three kids, and two dogs. We enjoy doing lots of outdoor activities like mountain biking, hiking, and camping.
What are your goals as part of the Winter Park Fire-Rescue Department?
My goal has always been to help people, and there are so many opportunities in the department to have a positive impact on my fellow coworkers and the citizens we serve.
If you could achieve anything during your career, what would it be?
I want to remain at the forefront of making sure we continue to save lives and assist people in getting better. With so much medical and technological advancements becoming available, there is so much opportunity to be on the leading edge of what a fire department can provide.
What advice do you have for people interested in fire rescue?
Work hard and stay positive. This can be a very rewarding but very challenging career. A positive attitude and a hard work ethic will help you lead a successful career serving the community.