May is National Water Safety Month, but Jon and Gina Thomas have made life-saving skills their business as the owners of the Goldfish Swim School in Winter Park.
Jon Thomas graduated with a telecommunications degree from Indiana University. His wife, Gina, studied dance and earned degrees from the University of Texas, and Ohio State University.
The couple has lived in several states, including Louisiana, Indiana, and New York. While in New York, Gina met Jon through his sister, who was also a dancer, and the duo got married two years later. The Thomases have two children and look forward to celebrating their 19th wedding anniversary later this year.
After many Florida vacations, Jon and Gina eventually moved to Winter Park in 2017, where Jon's family has lived for more than 50 years.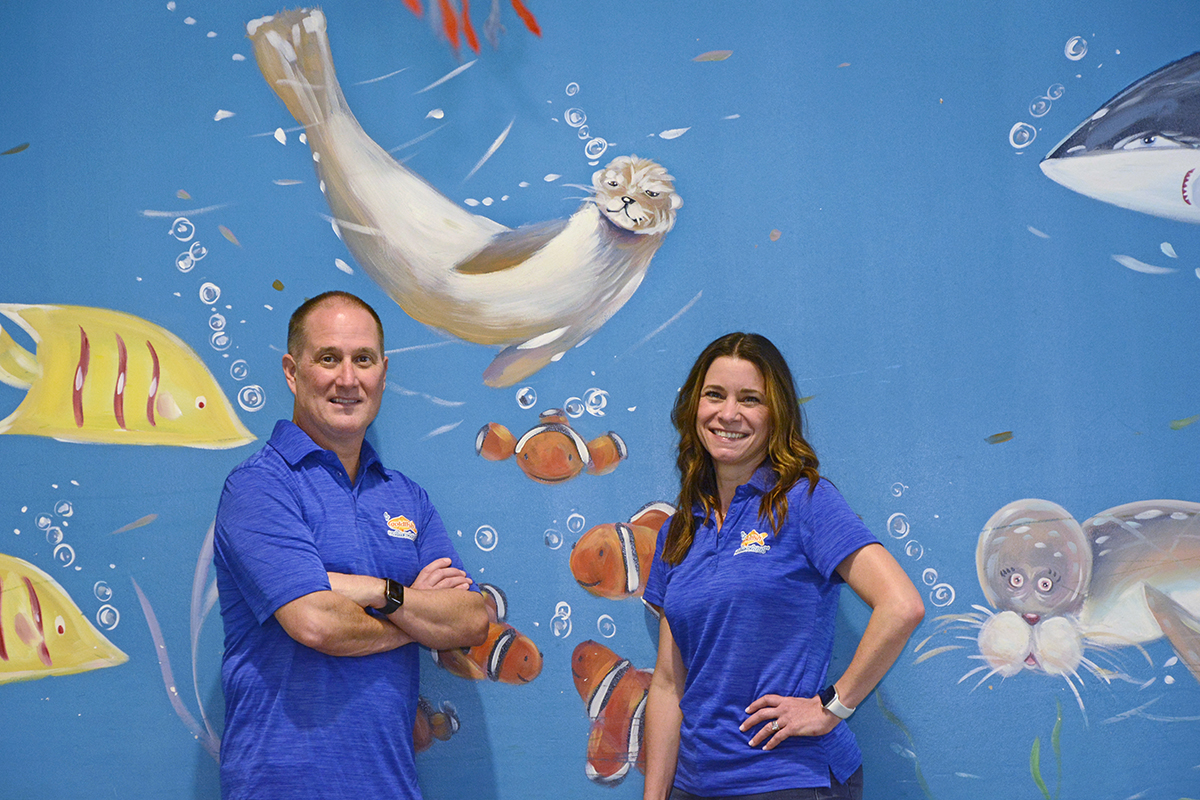 Here, the Thomases discuss their journey to opening the school and their visions for the future:
What led you to open Goldfish Swim School?
Gina: Growing up, I was that screaming kid on the pool deck who was terrified of the water, so it was important to me and Jon that we get our children in to swim lessons as early as we could. They both started around six months old in a program very similar to Goldfish, so we'd seen first-hand the benefits of enrolling kids early in swim lessons. I was ready to retire from dancing and looking for a new career path that would merge my diverse career experiences of movement education, project management, customer service and marketing. But I knew I wanted to find a career that gave back to the community. We had friends that had opened a Goldfish location in Pennsylvania and the mission of the company struck a chord.
Jon: I grew up around the water, swimming at our community pool and on a lake, back home in Indiana. I was on a swim team until I got to high school, lifeguarded in high school and college, and taught swim lessons. I also worked as a camp counselor, and at Disney World while I was in college. Both Gina and I love kids. We have two of our own, and often volunteer to coach or act as team parents. I had worked in the medical industry for many years because I wanted to make a difference. Goldfish offered us a chance to work in a family environment, helping to make a difference by teaching a valuable life-saving skill to Central Florida families.
How do you get families involved in their children's water safety and swimming skills?
Gina: In addition to our swim lessons, we encourage families to come to our open swim times to practice their skills and enjoy the water as a family. But we also spend time throughout the year placing an extra emphasis on water safety education and sharing important tips to families that go beyond swim lessons, including ways to be safer in and around the water when they're not at Goldfish.
What is the biggest challenge you face in teaching water safety?
Gina: I'd say our biggest challenge is not being able to reach as many families as we'd like, but we do try to get out in the community with free water safety presentations to spread water safety awareness and drowning prevention education to families who might not have access to swim lessons. It's important to remember that while swimming is a vital life-saving skill and considered a childhood developmental milestone like walking or talking, it's not something children instinctively know how to do. It's a physical skill that takes practice and repetition.
What is the most rewarding part of teaching?
Gina: Seeing the pride on students' faces when they've accomplished something they didn't know was possible or have been working hard towards for a while. It's priceless.
In what ways have you seen your water safety presentations impact the Central Florida community?
Gina: We've heard stories from current or former members who have shared moments when their children have found themselves in an unsafe situation around water and been able to get out of the pool by themselves, and these stories are so powerful to us. We've had children approach us at events to show us the things they remember when we attended water safety presentations at their school, and it's so cool to know that what you've taught students has stayed with them.
How do you stay motivated in your day-to-day responsibilities?
Gina: We have an incredible team at Goldfish who are passionate about what they do, so it definitely helps me stay motivated. Being on the pool deck and watching swimmers work on their skills helps keep me centered. And of course, seeing our adorable mini lesson swimmers with their parents is a bright spot of my day.
What do you enjoy doing in your spare time?
Gina: I am active as a volunteer at our kids' school. I also love to tap into my creative side when I have time to tinker with photography or crafts. We have active kids who participate in sports at their school, so we can often be found watching them do what they love. As a family, we love hitting the local theme parks, hanging with friends,, and, of course, swimming.
What are your long-term goals for the swim school?
Gina: We'd love to expand within Orlando to be able to offer Goldfish swim lessons in other areas of town to help our community become safer in and around the water.
What advice do you have for practicing everyday water safety?
Gina: Supervision is one of the most important things parents can do in terms of water safety, as drowning is silent and quick, and most drownings occur when there is unanticipated access to water or when kids aren't expected to be swimming. Swim lessons are just one component in the layers of protection for water safety and drowning prevention, so make sure you have barriers around your pool at home that separates the house from the pool. Learn CPR. And practice water safety skills like back floats, turning around to find the closest exit point should you fall in and knowing how to climb out of the pool safely and independently.