An ensemble of young composers is in the spotlight thanks to the efforts of a former technology entrepreneur and life-long music lover.
After a two-year hiatus due to COVID-19 restrictions, the National Young Composers Challenge (NYCC) is returning with its live performance, at noon on April 10, at the new Steinmetz Concert Hall at the Dr. Phillips Center for the Performing Arts.
Composers ages 13 to 18 were selected from a national competition to have their original pieces performed and recorded by the Orlando Philharmonic Orchestra and Maestro Chris Wilkins. The event – dubbed a composium – is made up of two sessions:
The winning chamber ensemble compositions are performed, and each composer is interviewed by Maestro Wilkins.
After an intermission, the winning orchestral compositions are reviewed with the audience hearing an excerpt from a computer-generated score before the composition is rehearsed by the orchestra. Each session ends with a full recorded performance of the composition.
Winter Park resident Steve Goldman is the man behind the musical celebration. A well-known figure in the technology sector, he graduated the University of Florida in 1974 with bachelor of science degree in physics. Goldman founded Distributed Processing Technology in 1977, which was the first company to develop and manufacture intelligent storage controllers for the computer industry.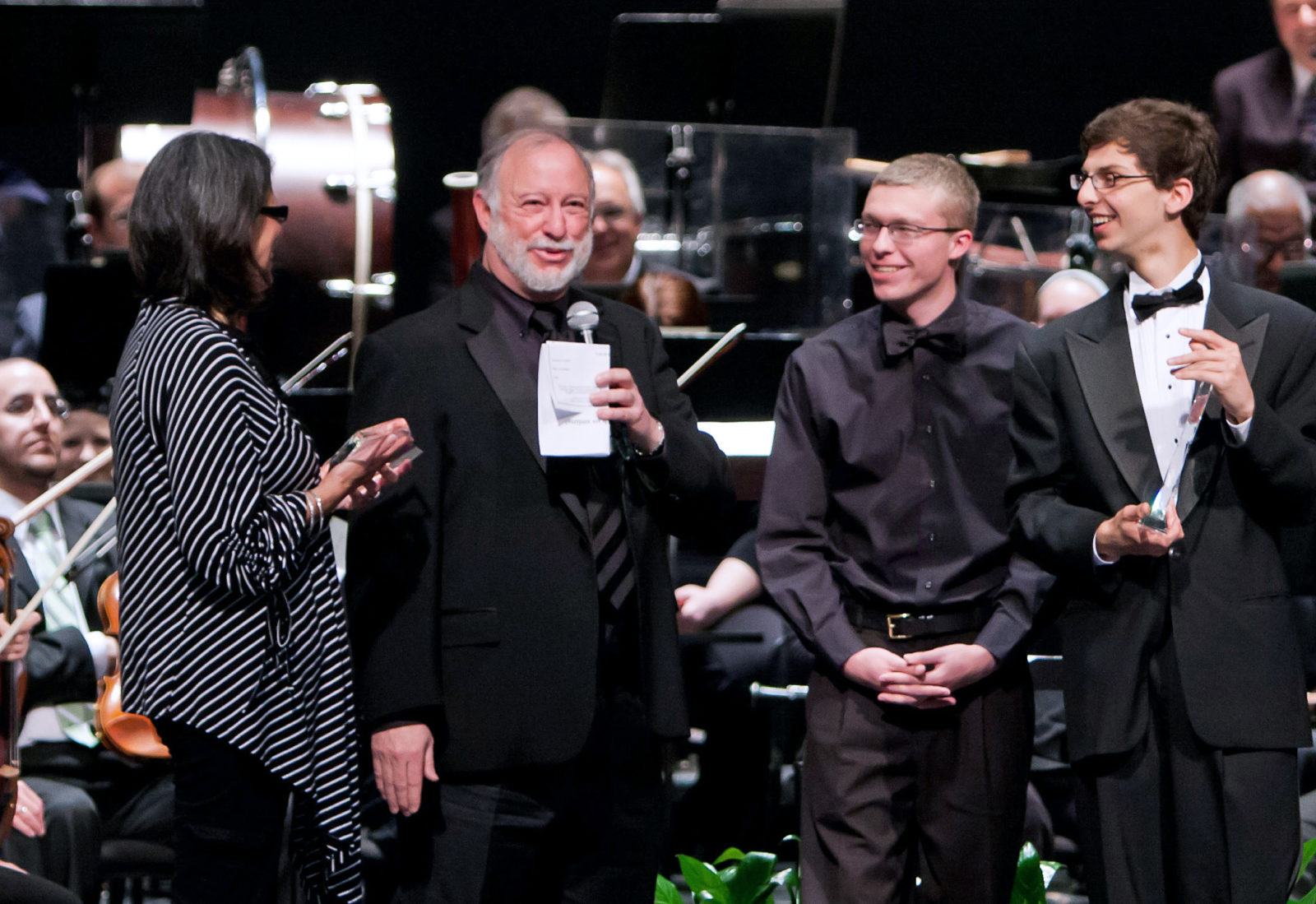 Goldman has always had a love for music, and even studied music composition at Interlochen Center for the Arts. He retired in 2000 to pursue philanthropic interests in the arts and debuted NYCC in 2005 with help from Full Sail University, The University of Central Florida, and Rollins College – all of which have continued their sponsorship.
"This year we will be performing the winning compositions for the 2021 national challenge in addition to the winning compositions for the previous two years," Goldman said, noting the difference between what students can achieve today and what was possible when he was in school.
"Music notation software and computer sound sample libraries are readily available, and anyone can experiment in real-time with different musical ideas and orchestration techniques, and quickly develop a high level of skill without access to an actual orchestra.
Here, Goldman gives the32789 some behind-the-scenes information on the NYCC:
When did you first become interested in music?
I've been interested in music as far back as I can remember. Music has an ability to communicate feelings. It can take you on a ride that can be beautiful, or exciting, or moving, or sad, or disturbing.
What was the growth process that led NYCC to what it is today?
It started in 2004 as the Central Florida Young Composers Challenge, and its purpose was to get local music students interested in music composition and orchestra music. The first year, just a handful of scores were received and judged. But as the word about the competition spread, scores started to be submitted from all over the southeast, then from all over the country.
How can a young composer enter the challenge?
Entering the challenge is easy. Just go to the website and click the registration key. You must be between the ages of 13 and 18 when you submit your composition, which can be either for full orchestra, or an ensemble of 2 to 6 orchestra instruments.
How many entries does NYCC receive and how are the judges chosen?
The NYCC currently receives between 70 to 100 entries each year. This year, the NYCC received eighty-five scores from all over America. Judging requires many sessions spread over several weeks. The NYCC is fortunate to have always had a very dedicated and knowledgeable group of judges who generously contribute their time and expertise. Since the beginning, NYCC judges have included professors of music and composition from the University of Central Florida, Rollins College, and Full Sail University.
Do you keep in touch with any of the winners? Where have their musical aspirations led them?
Over the years, the NYCC has given many young composers a tremendous boost to their musical careers. Many NYCC winners have gone on to study music composition at top universities and conservatories. A number of past winners now write scores for orchestra performances, or TV and movies. Some NYCC winners now direct orchestras or other musical organizations, both domestically and internationally.
Click here for more information on attending this year's National Young Composers Challenge Composium.
If you know a Winter Park resident who contributes to the community and has an interesting story, please let us know at news@the32789.com.