The Winter Park City Commission, during a three-hour discussion at its Jan. 12 meeting, offered opinions on a proposal for a new church building and subdivision on 760 Lakemont Ave.
The proposal, which will require multiple approvals in at least two phases, seeks to split 6.4 acres of land currently owned by Winter Park Christian Church. A new church building will be constructed on 1.15 acres at the Lakemont Avenue side of the property while 5.25 acres at the opposite end will feature a residential development with 13 single family homes and 12 townhomes with two-units per building.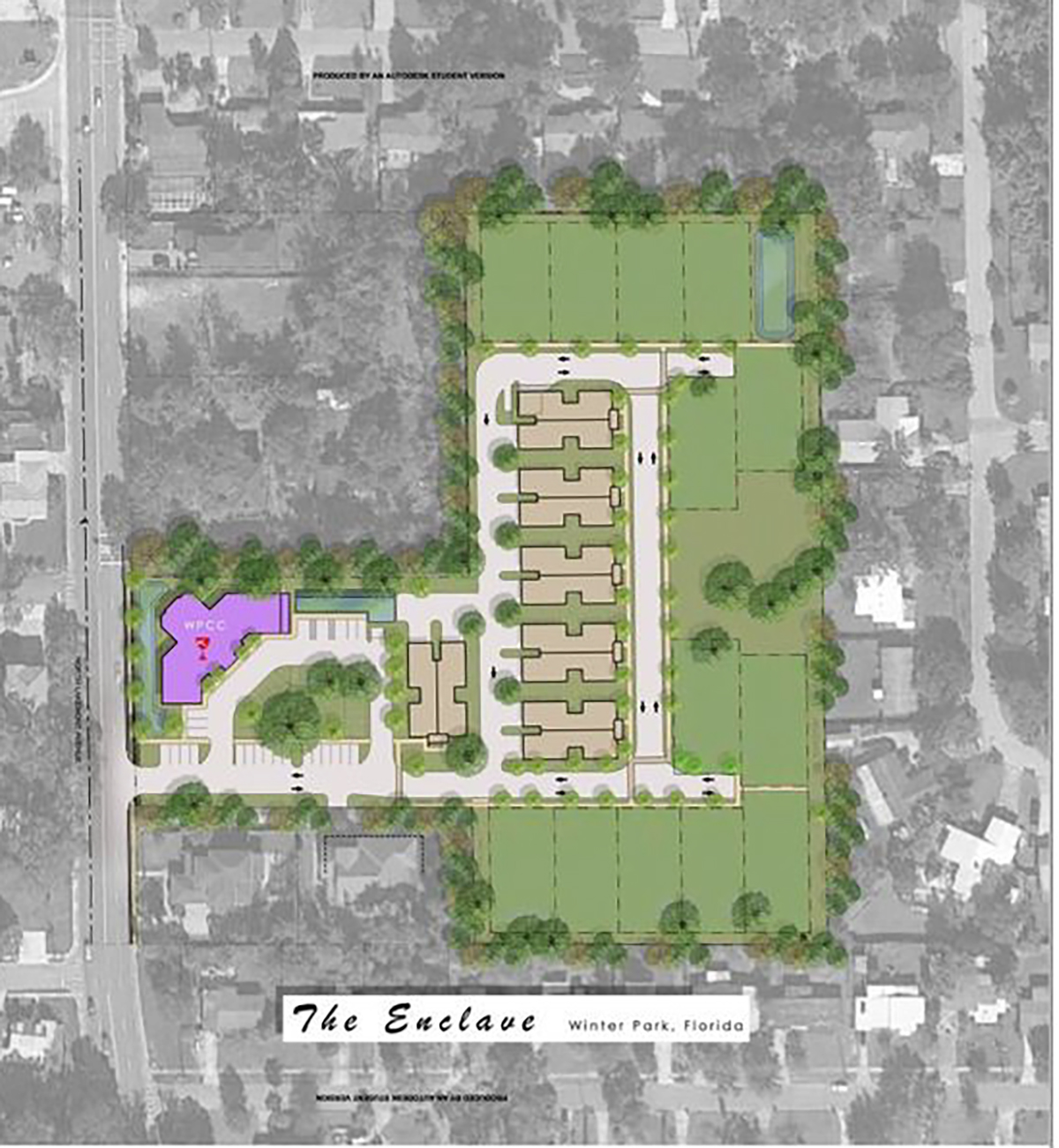 According to Jeff Briggs, the City's principal planner, buildings are in disrepair and church membership is declining. "The church has been on that spot since the 1950s, and the last major renovation was in the 1970s," he said. Since the church does not have the funds for necessary improvements, it partnered with developer Michael Halpin of Creative Neighbors, LLC., who is also a member of the church.
Halpin explained the sale and development of the 5.25 acres would provide the funds to construct a new church building. He also presented examples of the townhome designs and explained the City's tree department will help save 95% of the more than 100 trees on the property.
Several commissioners expressed concerns with the density of the project. "The lots are pretty small by comparison with the surrounding lots," said Commissioner Todd Weaver. He went on to propose the removal of two single home lots and one townhome building.
"I have great respect for the existing development in the area," said Commissioner Marty Sullivan. "The lot sizes need to be comparable to the neighbors to the north, east, and south." He also remarked that duplexes are out of character for the neighborhood since the rest of the development is single-family homes.
Halpin requested permission to share land from the church property in order to meet density requirements. City Attorney Kurt Ardaman stated the difference of future land use designation—institutional for the church and residential for the subdivision – posed a problem. All five commissioners agreed.
The meeting also included comments from five neighbors who voiced concerns with the possibility of increased traffic on Lakemont Avenue, and that the development plan was too dense for the area.
"Not everyone wants a Baldwin Park scenario, and I'm not suggesting that this be a Baldwin Park," Halpin said. "But it is an area ripe for some creative use that may not be feasible across the street where you can build million-dollar houses."
The commission voted unanimously to continue the hearing to Feb. 23, 2022.