Coco Indigo, a new store featuring apparel and home goods, opened last week at 433 W. New England Ave. in a space formerly occupied by Design Studio 15. According to owner Elisabeth Dupee, her mission was to "get the world to look and feel fabulous again" following a tumultuous few years.
The store's private label features unique fashion and accessories, including exotic baroque pearl jewelry sourced from the South Seas and handmade by Italian artisans, along with woven hats, bags, sandals, scarves, and cashmere. Coco Indigo also offers one-of-a-kind home décor, including table lamps, picture frames, knit throws, and more, that evokes the "blended aesthetic of relaxed elegance, timeless sophistication, and free-spirited bohemian."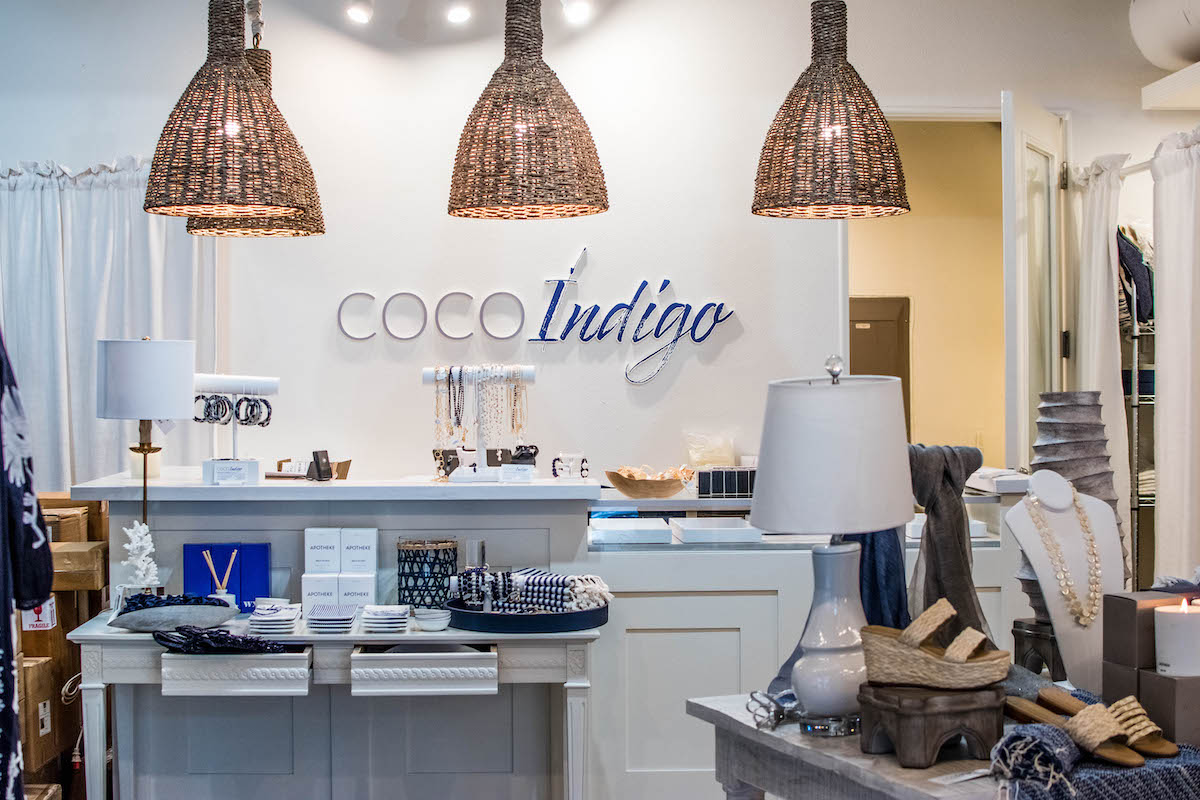 "I was inspired by the luminescent and seductive shades of the Mediterranean Sea and the playful elegance of the 1950s Riviera life along the Côte d'Azur," Dupee said. "It was all about impeccable manners and style, along with irresistible charm and romance. So, I wanted to recreate the same … lifestyle [by] offering both home and fashion in a Mediterranean palette of deep rich blues, crisp whites, and sandy neutrals."
Dupee aims to bring those same Mediterranean vibes to Winter Park with her elegant collection of clothing and home décor. Her team even includes talented dressmakers who worked for Valentino, an Italian luxury fashion house, for 20 years and have "amazing experience with incredible attention to detail."
In addition to her role as store owner, Dupee was also involved in remodeling the store's interior, which included removing the flooring to add sisal rugs, painting the walls white, replacing the windows, and adding well-lit dressing rooms with LED mirrors, which customers can adjust based on their lighting preferences.
After living in London for the past five years, Dupee found herself on this side of the Atlantic when COVID-19 hit. In the months following, she fell in love with Winter Park after her husband's company moved its headquarters to Orlando. Dupee, who had worked for a decade as a partner-owner at Coco Blanca, a similar concept located in Washington D.C., Maryland, and Virginia, was then inspired to open a shop in the area.
"After moving to London, I missed Coco Blanca tremendously, and my passion for starting another lifestyle business kept growing," Dupee said. "So, when 2021 rolled in, I decided to start fresh and immediately went to work designing my own label and business plan for Coco Indigo."
Dupee continued, "Winter Park reminds of where I grew up on Skaneateles Lake in upstate New York, as well as where my mother grew up in Lucerne, Switzerland. It's such a happy place where people are incredibly friendly, helpful, knowledgeable, and genuine."
Coco Indigo invites locals to attend a grand opening party on December 17. While the website is undergoing updates, locals should visit the Coco Indigo Instagram for more information.