As another holiday season quickly approaches, the themed finish team at AOA is hard at work creating various holiday decorations that will adorn downtown Winter Park in a few short weeks. The decorations include five life-sized, interactive holiday cards and beautiful faux-glass peacock feathers for the Winter Park Christmas Tree in Central Park.
Thanks to funds from the American Rescue Plan Act, Winter Park City Commissioners hired AOA to design and fabricate a new, comprehensive holiday decorations plan. The total cost will be approximately $125,000 for decorations that the City of Winter Park will be able to reuse for years to come.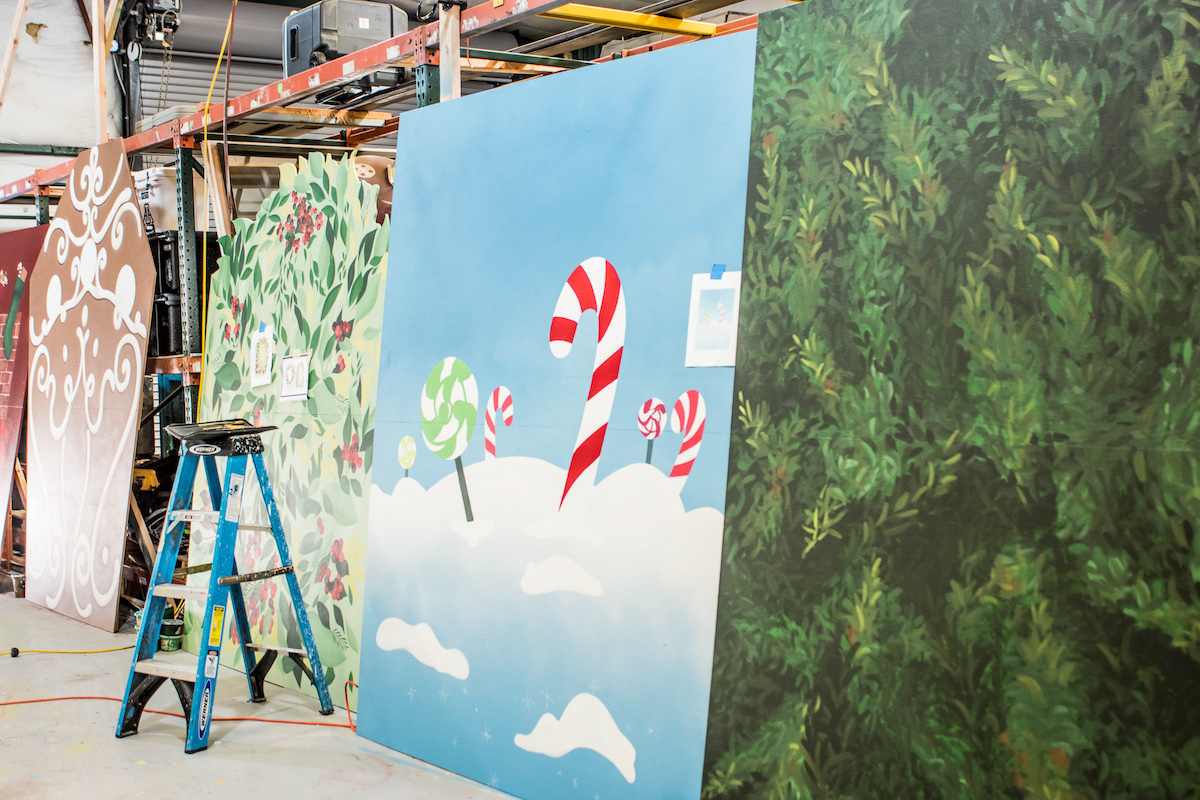 AOA is a local immersive experience design firm founded by two former Walt Disney World Imagineers. Working with the City, they came up with the idea of life-sized holiday cards that families, couples or singles can jump inside for a unique picture and memory. Artists created the designs in-house at AOA, which are then either projected onto the wood or painted freehand by specially trained artists. Each card will incorporate the Winter Park peacock and will take between 60 to 80 hours to paint by hand. They include a plaid present, a wreath, a snow globe, a gingerbread house, and a fireplace with traditional greenery.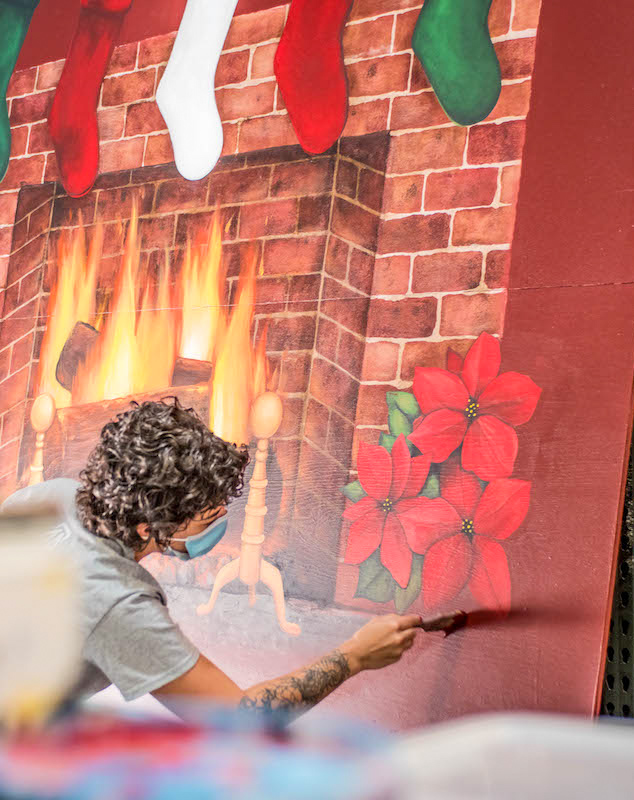 "When we got the concept images, we worked to make sure there would be enough room for a full family to be in there," Amara Freshour, manager of the themed finish team, said. "We tried to take into consideration people's height differences. That's why the gingerbread house is more open at the bottom; if you've got little kids, you can all fit in there."
"We wanted the public to be able to interact with our decorations — not just see them, but be part of them," said Winter Park Communications Director Clarissa Howard. "So, this is the Instagrammable moment. Hopefully, it's something people will be able to use for their holiday cards."
Aiming to create a 360-degree design, artists will paint the back of each card a solid color and a graphic that combines the City of Winter Park and AOA logos. AOA also designed each card to stake into the ground to accommodate people of all mobility ranges.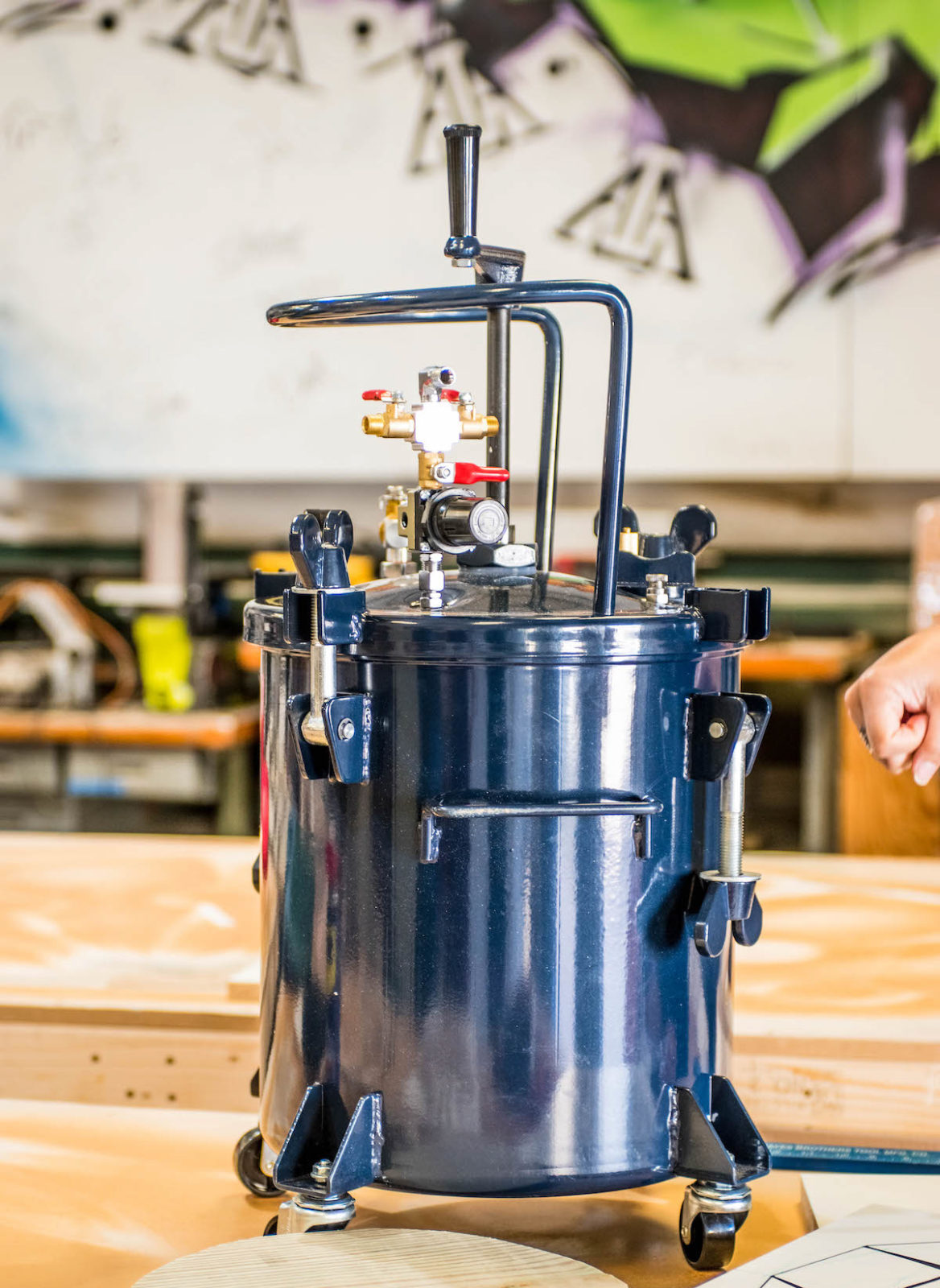 Passersby who want to snag a photo will be able to find the wreath, snow globe, and fireplace cards installed in Central Park in early December. The gingerbread house and present will appear in Shady Park and Martin Luther King, Jr. Park, along with other more whimsical decorations.
Additionally, the AOA team is working on decorations for the traditional Winter Park Christmas Tree. This year's design will include warm globes of light, banners made of red and gold lights cascading down the tree, and a topper made from peacock feathers. Artisans create each feather by hand from modeling clay, which is used to form a mold, then use a clear resin to cast the feather. Finally, AOA will string warm lights threaded throughout the creation so the feathers will glow.
Freshour explained how AOA is creating a framework that will gently attach to the tree (likely with soft ties), but the framework will bear all the weight from the decorations. Since the new tree is so young, the city arborist wants to ensure the decorations don't damage it.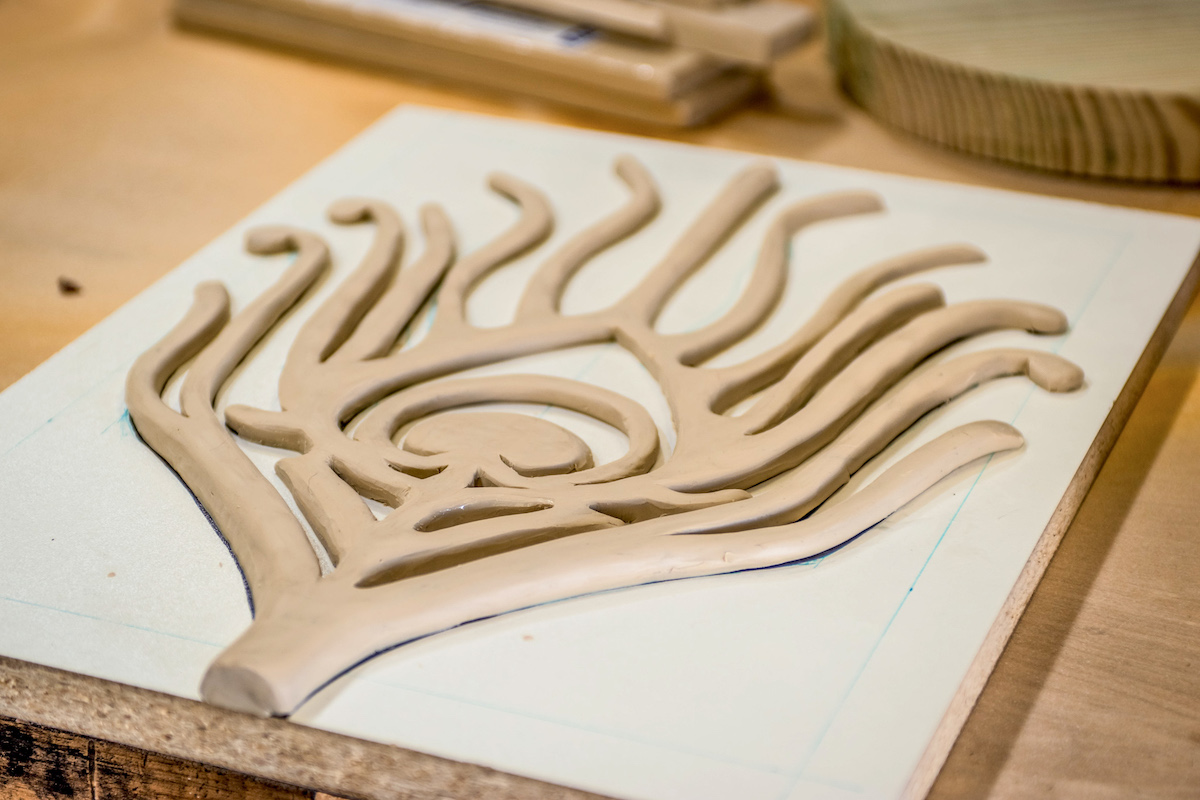 Even though these decorations are still in the creation stage, city workers have already begun the task of transforming Park Avenue and the Downtown District into a Florida Winter Wonderland. Locals can already find warm globes and strands of lights in the trees, and workers are planting, potting, and hanging poinsettias from the streetlights.
Merchants are encouraged to participate in the City's window decorating showcase, and some have already started adding to their windows along Park Avenue. The City of Winter Park's holiday event schedule is listed below:
For more information, visit the website.