Restaurants around the country have been plagued by a labor shortage for months now, and establishments in Winter Park are no exception to this challenge. As the local economy continues to recover from COVID-19 impacts, eateries are being forced to operate in a new reality in which labor is hard to secure, while grappling with the fact that things may not return to normal anytime soon.
As workers wrestle with the decision of whether to return to work at a low-wage job or stay at home and collect unemployment assistance, restauranteurs are stuck in a difficult spot. With many restaurants already operating with thin staffs and reduced revenues, many owners are not in a position to incentivize workers with higher pay or more flexible work schedules.
Brian Certo, owner of Eden's Fresh Co., expressed that this new reality marks a shift in power "It's harder to hold employees accountable when they hold so much power… You can't afford to lose anyone, so it puts the power in the employees' hands… You have to learn to let things slide that you wouldn't normally."
With the lure of unemployment benefits keeping many would-be workers out of the workforce, restaurant employees who continue working are often dealing with more stressful situations on the job. With added safety precautions, and the polarizing repercussions of self-imposed mask requirements, restaurant workers are now finding themselves in more challenging situations than before.
"The mask, no-mask, vaccinated, unvaccinated climate has created a dialogue between customers and food service workers that is much sharper than it ever has been, and I think that people are choosing not to subject themselves to that level of stress," Certo said. "It used to be that people were upset about a salad that wasn't delivered fast enough, but now they are upset about the sign that says 'we suggest you wear a mask inside' or the fact that for a while we didn't have indoor seating." In a recent report, Black Box Intelligence – a suite of restaurant analytics and insight products – found 62% of current and former restaurant workers cited "disrespect from customers" as a factor in the current labor shortage.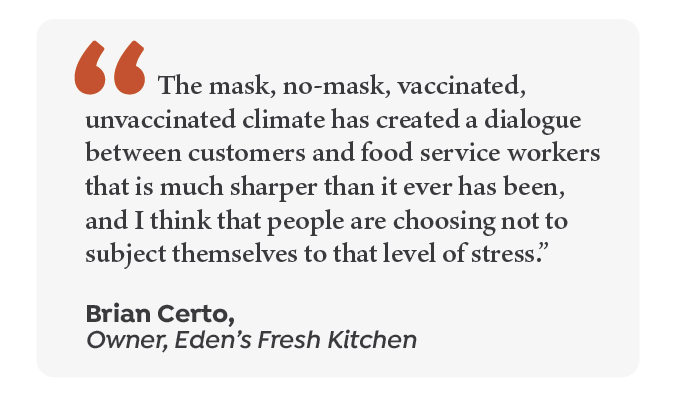 "With all the difficulties COVID has presented, not being able to hire is the one that hurts the most," Certo said. "Working in a restaurant is [already] stressful enough… The people who are working these jobs right now have a level of grit and toughness that is to be admired."
Lucky Cortez, general manager of JM Hospitality, the group that owns 310 Park South, blu on the avenue, and BoVine Steakhouse, has similar views on the current shortage, and recognizes that staying flexible and agile will be key in the continued operation of his restaurants.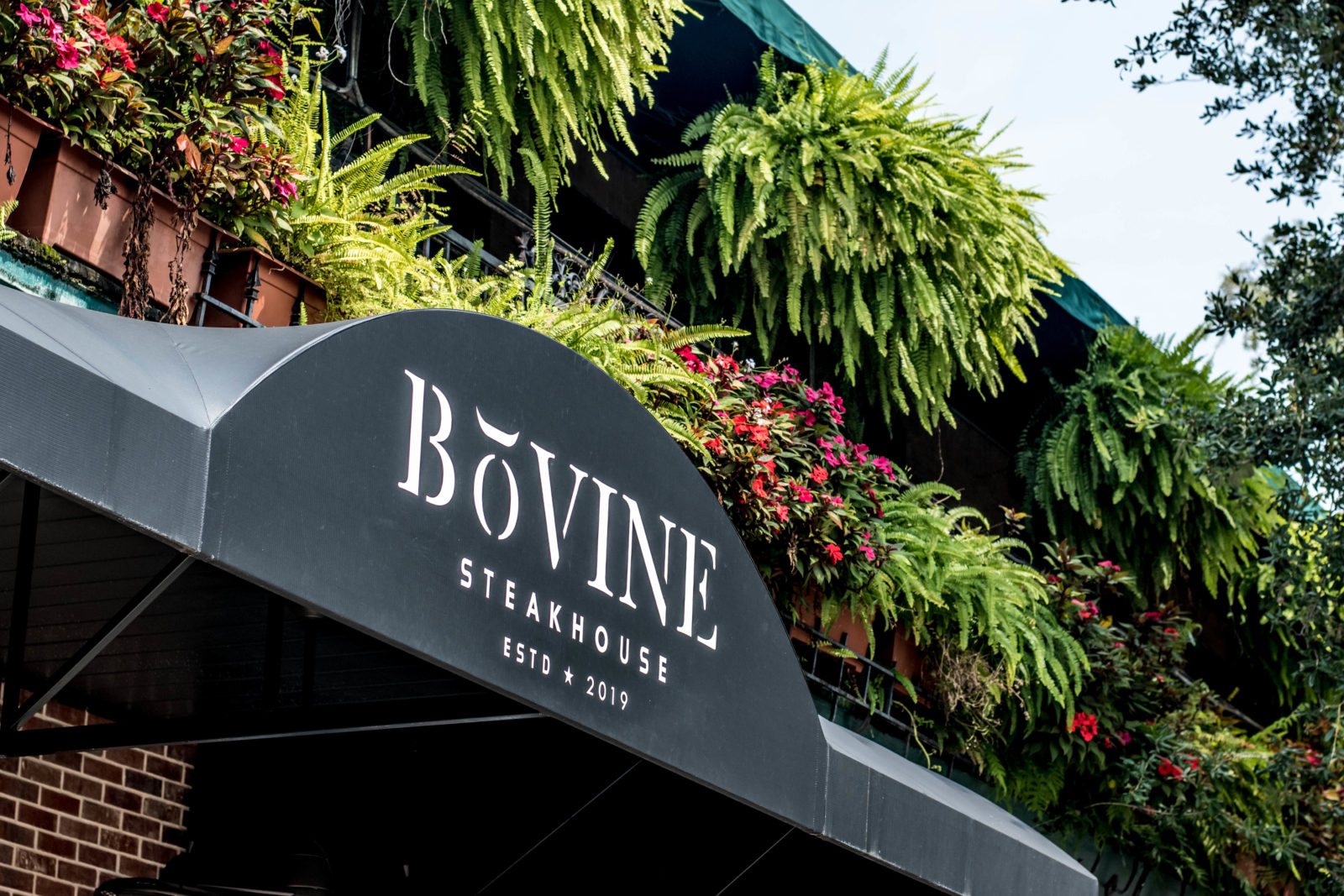 "[Hiring right now] is the hardest in the 40 years I've been doing this," said Cortez. He went on to say that there are multiple reasons why people are not returning to work, adding that some employees don't want to return due to COVID, some because they are still collecting unemployment, and some because they have left the profession altogether. He also expressed that it's been tough to find good, qualified candidates. "The caliber [of employees we've been seeing] has been very slim pickings… We still have to be selective; we can't lower our standards, and we don't want to."
Despite the challenges caused by the shortage of labor, Cortez has kept a positive attitude. "I've felt like a cheerleader for the past year and a half trying to keep everyone motivated," he explained. In addition, he began cross-training employees for multiple positions and across multiple restaurants, allowing for more flexibility while labor was scant.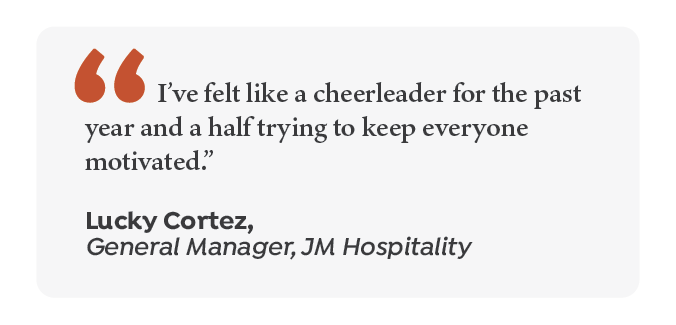 "You have to be fluid, you have to be able to change [and] think outside the box for new things," said Cortez. "I'm optimistic.… There's only one way to go, and it's up right now… We have to continue to remain positive."
Cortez also said that the Biden administration's recent mandate for companies of 100 or more employees to require vaccination or regular negative COVID tests will affect the company's future.