Last month, Gerber officially selected Winter Park's very own 5-month-old Zane Kahin as the recipient of the 11th annual Photo Search contest winner, recognizing him as the 2021 Gerber Spokesbaby. Accompanying his title, Zane will also serve as the brand's first-ever Chief Growing Officer (CGO) on the Gerber Executive Committee.
Now, baby Zane's parents and Winter Park locals Erin and Michael Kahin are adjusting to life in the spotlight while focusing energy on their son — a blessing the couple wasn't sure they would ever receive.
Erin Kahin was 27 years old and single when she started her battle with breast cancer, a diagnosis that doctors said could significantly affect her ability to have children naturally due to the aftermath of chemotherapy, radiation, and a double mastectomy.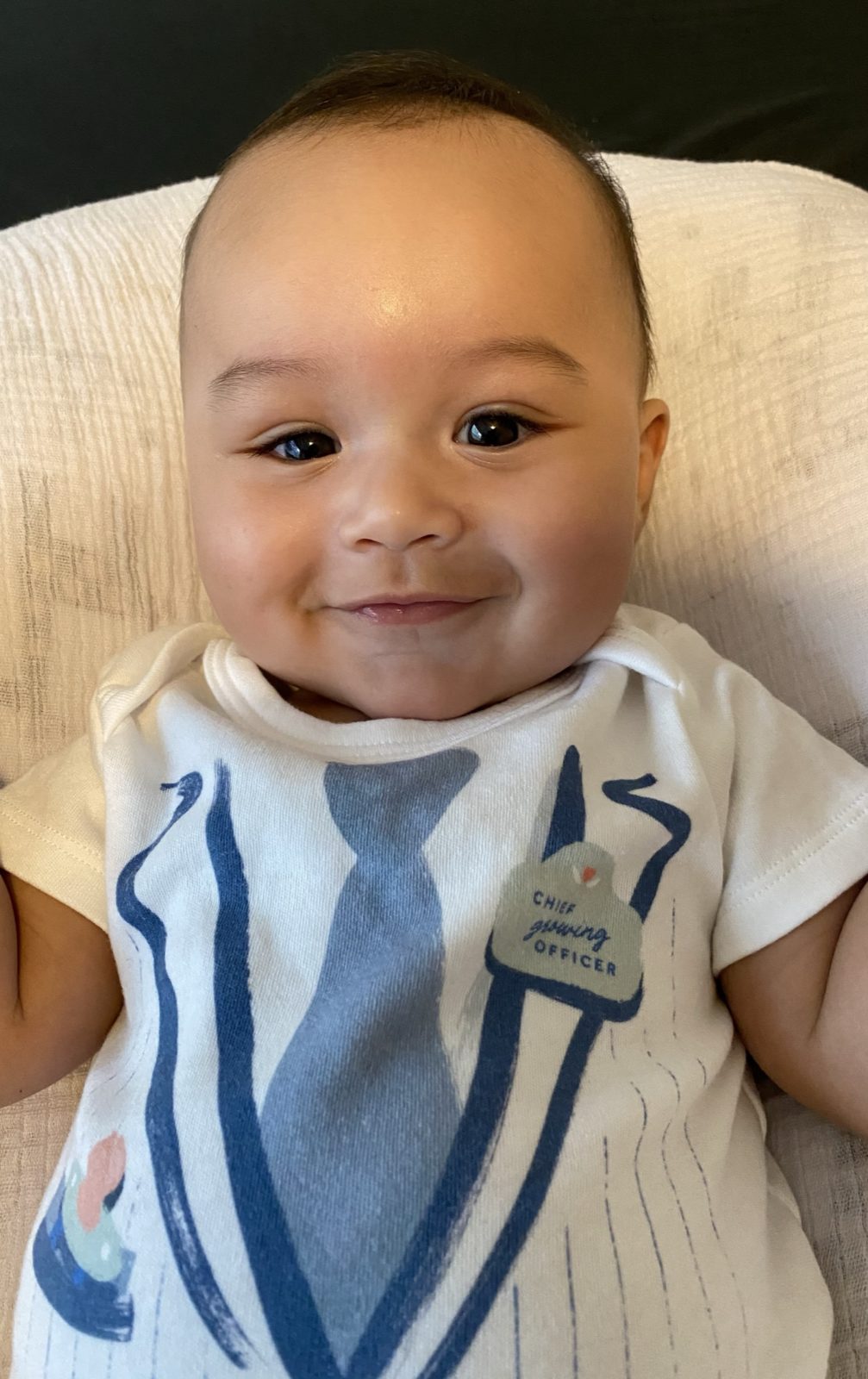 Shortly after her diagnosis, Erin and Michael Kahin married and, much to their surprise, conceived naturally and had a near-perfect pregnancy. The newlyweds then moved to Winter Park in 2020, where they had their soon-to-be Gerber baby, Zane, on February 3, 2021. "Our family continues to enjoy every moment and look at life with appreciation and a sense of humor," Erin Kahin said.
"Zane has completely changed our lives by simply making us parents and being the biggest blessing that we ever could have received, especially when we weren't sure if we would be able to start a family naturally after the treatment Erin received after being diagnosed with breast cancer," Michael Kahin said.
According to the Kahins, choosing Zane's name came easily. "We didn't really have any other front-runners for a first name, but we were sold on Zane when we learned of one of its meanings," the couple said. "Zane — 'God's gracious gift' — is the specific and special meaning for our family because that's how we truly feel about him entering our lives."
Since earning his overnight celebrity baby status, the media coverage surrounding Zane has erupted online and on social media, something the couple was not prepared for considering they submitted photos and videos of Zane just a few days before Gerber's deadline. According to Gerber's recent announcement, baby Zane caught the judging panel's attention "with his cheerful attitude, infectious giggles and a playful smile that can light up any room" as well as "his family's story of perseverance and hope."
Gerber launched its annual Photo Search contest in 2010 after receiving an overwhelming number of photos from families with dreams of seeing their little ones on the iconic Gerber baby logo.
"I remember seeing last year's winner who is super cute," Erin Kahin said. "I saw the post from Gerber on social media and jokingly mentioned it to Michael, who was very convincing on the fact that we should enter Zane. He really wanted to know whether people meant it when they told us that Zane was cute. Now everyone knows that we officially have a really cute baby!"
While the couple had high hopes for the newborn's chances in the contest, they didn't officially find out about the degree of Zane's recognition until watching an interview on the Today Show. "We were so shocked but couldn't be more thrilled," Erin Kahin said. "The biggest thing I've learned about this is the extent and impact it has had on our lives in the most exciting way. The reach of the news has spread not only in Central Florida but also nationwide."
During his tenure as Gerber's 2021 Spokesbaby, Zane will work with the brand to help the next generation of babies grow. According to Mohini Joshi, vice president of marketing at Gerber, Zane will be the first baby to receive the Chief Growing Officer title for the year in honor of the program's 11th anniversary.
"The Gerber family is delighted to welcome Zane as this year's Gerber Spokesbaby and first-ever Chief Growing Officer," Joshi said. "By recognizing that every baby is a Gerber baby, we celebrate the diversity of families — whether that's where we're from, who our parents are, or the circumstances in which baby came into the world."
Zane will also serve as official Chief Taste Tester, reviewing new baby goods and products to give the Gerber executive team "advice" about what babies need for the future. Zane will also guest star as Gerber CEO for a day to help make exciting business decisions that will foster growth for the company and all Gerber babies.
As they consider Zane's future, Michael and Erin do not have immediate plans to place Zane in any modeling roles but look forward to staying focused on spending time with their son and his current opportunity with Gerber. "We are glad to share our family's story and hope that it may serve as inspiration for a family who may be in a similar circumstance," Erin Kahin said. "We are also just really proud of Zane and can't wait for the year ahead!"
To learn more about Zane, visit the Gerber website.