Construction on a new luxury home development, Vilasa Homes, is officially underway in Winter Park. In 2022, the development will offer a collection of 12 new townhomes and two single-family residences located on Canton and Swoope Avenues. Brokered by the Jenni Sloan Team of Kelly Price & Company, the townhomes will start at $875,000 and offer new owners several luxury amenities, including easy access to Park Avenue.
Bringing this project to life are Ted Maines Interiors working on design, Nasrallah Architectural Group, Jordan Homes leading construction, and Ravi Gandhi as lead developer. "My team and I were fortunate enough to be interviewed and selected by the developers early on," Sloan said. "I was attracted to the vision and focus on a dream team of builders, architects, and designers."
The members of the "dream team" have close ties to Winter Park and are invested in crafting a top-notch development project. Last week, the team broke ground on the development during an official ribbon cutting ceremony and a "community celebration" with the Winter Park Chamber of Commerce.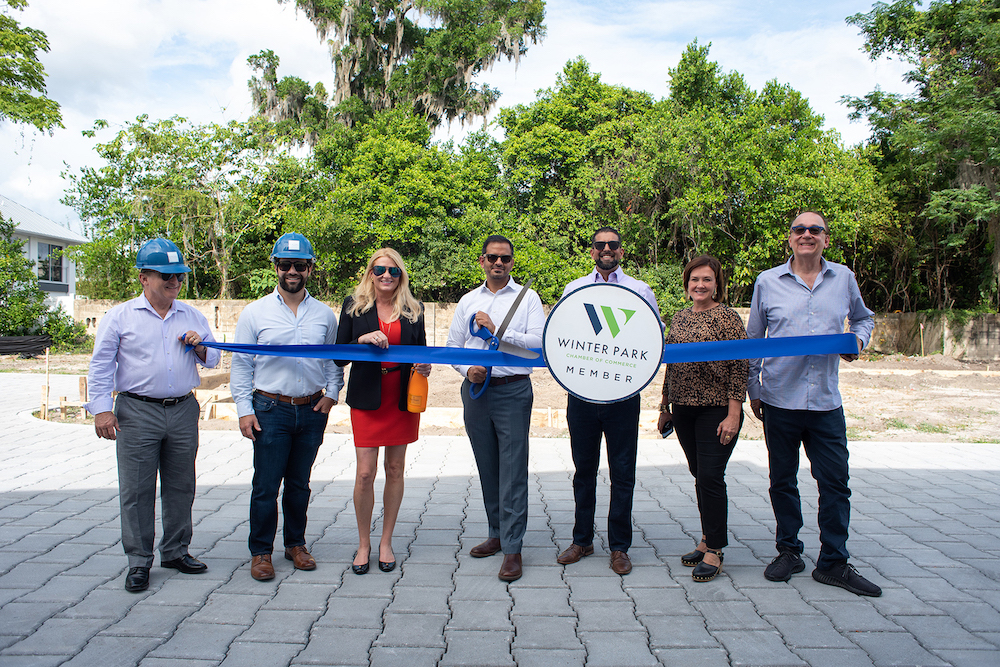 Vilasa Homes is the result of a unique, middle-of-the-market opportunity for home buyers in the Winter Park area, according to Sloan. "We feel that there is a large gap in the market," Sloan said. "We have older, subpar townhomes in less [desirable] locations or very expensive townhomes in A+ locations. This is the first opportunity [of its kind] in Winter Park that has existed in a very long time."
Ranging between 2,300 and 2,700 square-feet, each of the two-story townhomes will be a three-bedroom, two-and-a-half-bath residence with metal roofing, outdoor patios, green space, and a private two-car garage. The 4,100-square-foot, single-family homes will be three-story residences with four bedrooms and three and a half bathrooms. Additionally, every home will be considered an end unit since the buildings will only contain two townhomes a piece. Each home's modern, coastal interior will feature high ceilings, walk-in closets, and stone countertops.
According to Gandhi, his interest in construction and passion for design first started with his father, a former architect, and he is excited to see his work come to fruition through the townhome project. "I live very close to this project and when I saw that Nasrallah, who is an amazing architect, was already involved I couldn't let this opportunity pass," Gandhi said. "I walk by this property all the time and feel a sense of pride building something beautiful and functional so close to my home. My father is no longer with us, but I hope to build something that he would be proud of as an architect and builder."
"I love Winter Park, and people want to be within walking distance to shops and restaurants, as well as parks and other outdoor public recreational spaces," said Ted Maines of Ted Maines Interiors. "Vilasa offers that proximity to the best of Winter Park!"
The first phase of properties at Vilasa Homes are estimated to become available starting in November or December 2021. For more information, visit the Vilasa Homes website.