A previous version of this article referred to the top three awards as ranked awards, however, the WPSAF views these unique awards individual from rank.
Last weekend, Winter Park locals and visitors from around the country descended on Park Avenue and throughout Central Park for the 62nd Annual Winter Park Sidewalk Art Festival (WPSAF). Festival organizers said they were determined to bring back the tradition this year after having to cancel the festival last year, due to safety concerns with COVID-19.
Even though this year's event was pushed back to May, straying from its usual mid-March dates, Laura Fogleman, the festival's co-president, said it was a complete success. "We are so excited with the success of the event. The artists were very happy with their sales and thrilled to be out showing their art for the first time in many months," Fogleman said. "The weather was perfect, and the crowds seemed to truly enjoy seeing the art and talking with the artists. Our board worked so well together to make this event and we are so pleased with how it turned out."
Read about some of this year's top winners below.
2021 Best in Show
Minnesota-based printmaker, Helen Gotlib, won the 2021 Best of Show, a $12,000 purchase award, for her print "West Lake Preserve II." Gotlib also won best in show at the 2019 festival with her print, "Sea Ranch Flowers II."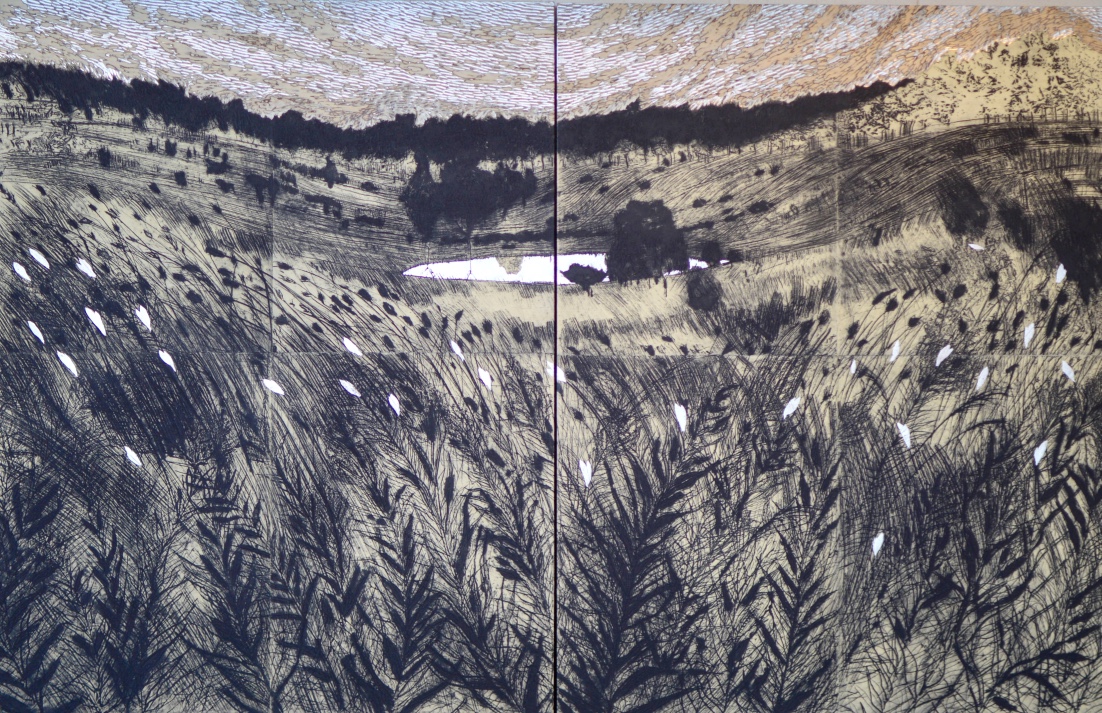 Originally from Ann Arbor, Michigan, Gotlib attended the University of Michigan Stamps School of Art & Design and Kyoto Seika University. "My primary visual concern has always been to document nature by focusing on its strengths," Gotlib said on her website. "Simultaneously subtle and overwhelming, it confounds us with its infinite system of outwardly chaotic patterns within patterns and uncannily expressive forms."
Edith Bush Charitable Foundation Art of Philanthropy Award
North Carolina-based sculptor and woodworker, Mark Gardner, received the Edyth Bush Charitable Foundation Art of Philanthropy Award. Originally from Cincinati, Ohio, Gardner first found his passion for woodworking after attending Arrowmont School of Arts and Crafts in 1996.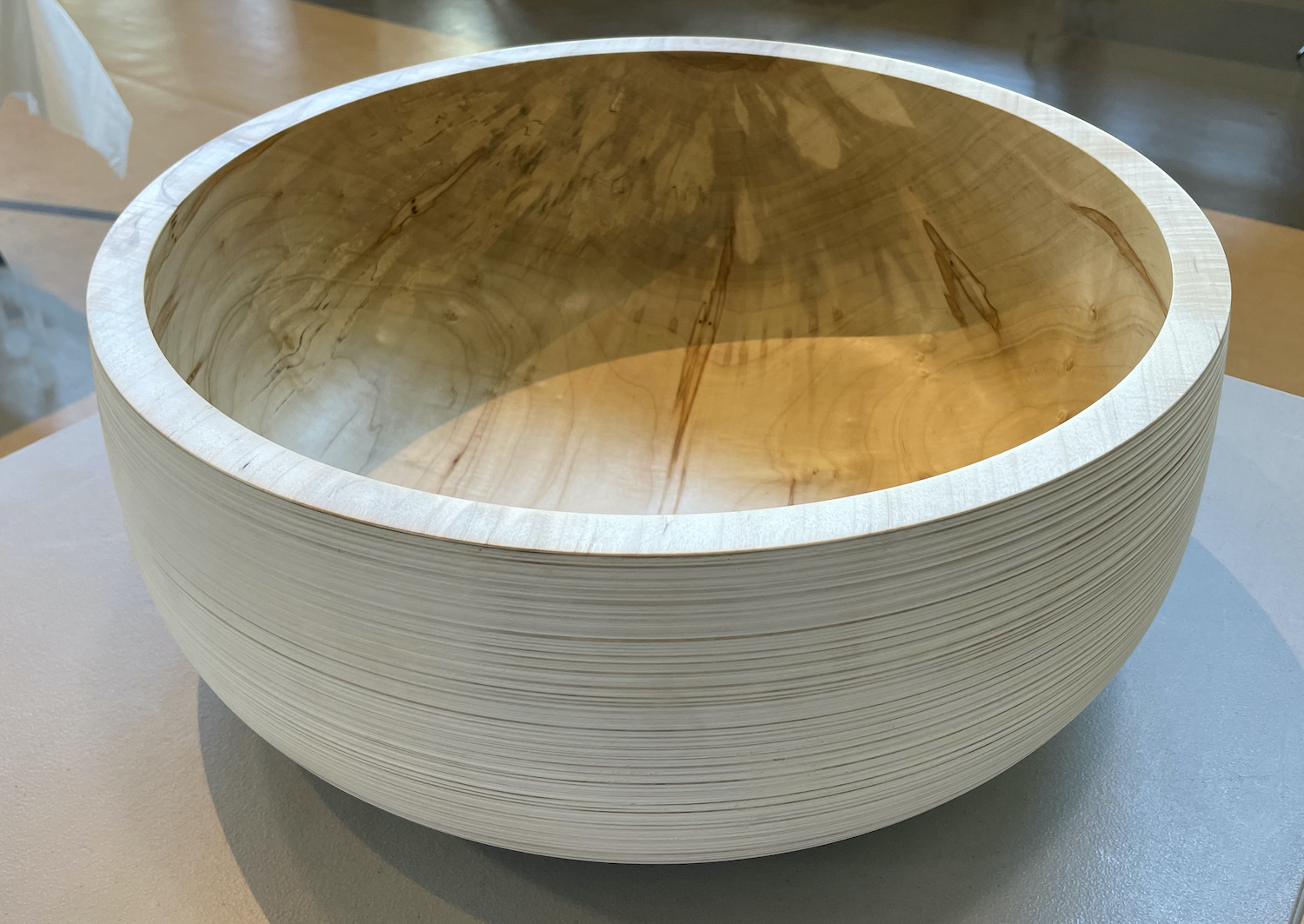 In addition to creating and selling his work out of his studio in Saluda, North Carolina, Gardner also teaches and hosts woodturning demonstrations in various clubs and craft schools around the country. The foundation will award $5,000 to Gardner, specifically for his woodwork of "Maple Bowl" pictured above.
Morse Museum Award for a Distinguished Work of Art
Winter Garden-based painter, Yu Zhou, received the Morse Museum Award for a Distinguished Work of Art for "Lemons in a Glass Bowl", which allows Zhou to keep his work and a $2,500 cash prize.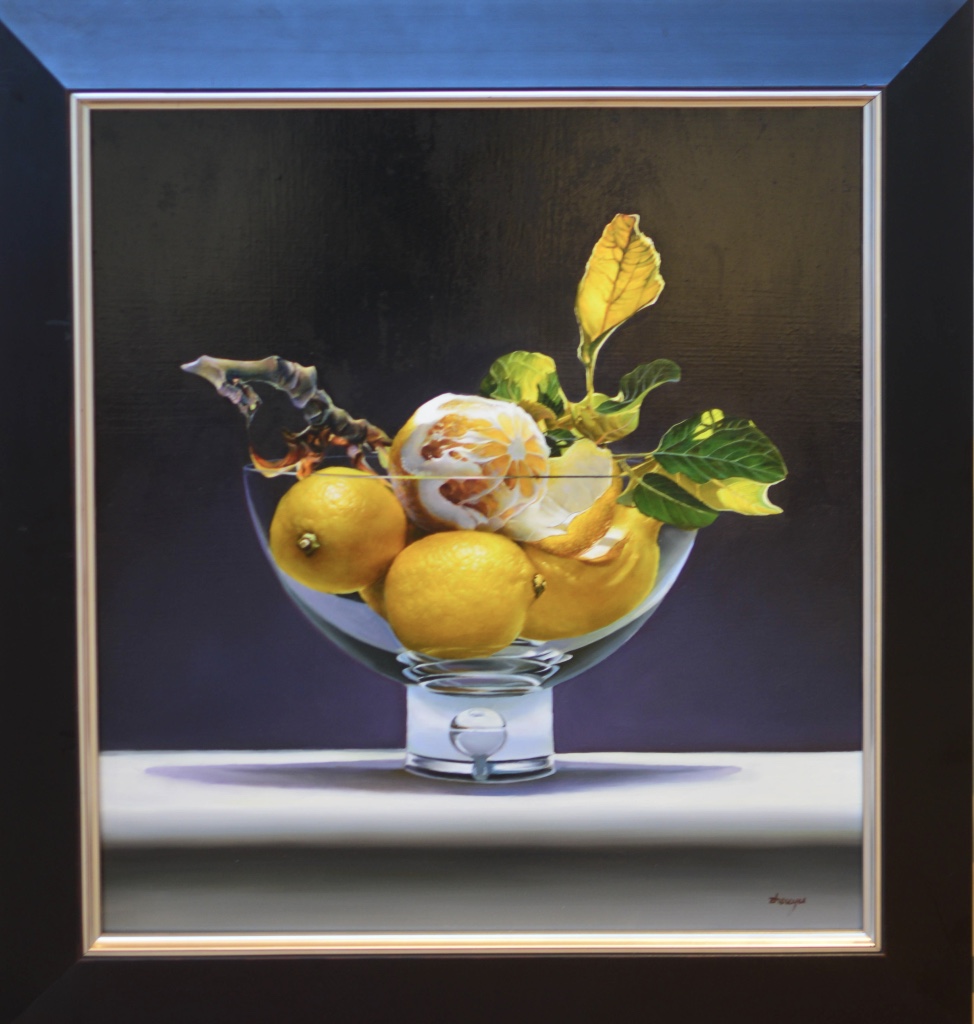 After studying at the Tianjin Academy of Fine Arts in Tianjin, China, Zhou earned his Master of Arts from the Central Academy of Fine Arts (CAFA) in Beijing, China. Known for his still-life oil paintings on linen, the Zhou uses a magnifying glass to prioritize detail throughout his pieces.
Award of Distinction: Mixed Media
Ummarid Eitharong, otherwise known as "Tony," is a self-taught mixed media artist from Thailand who now works out of his studio in Deland. He has attended the festival for more than 30 years. "The committee for the Winter Park Sidewalk Art Festival is one of the best in the country.  They organize all year so we can have a show that runs seamlessly," Eitharong said. "They take care of the artists and the patrons alike."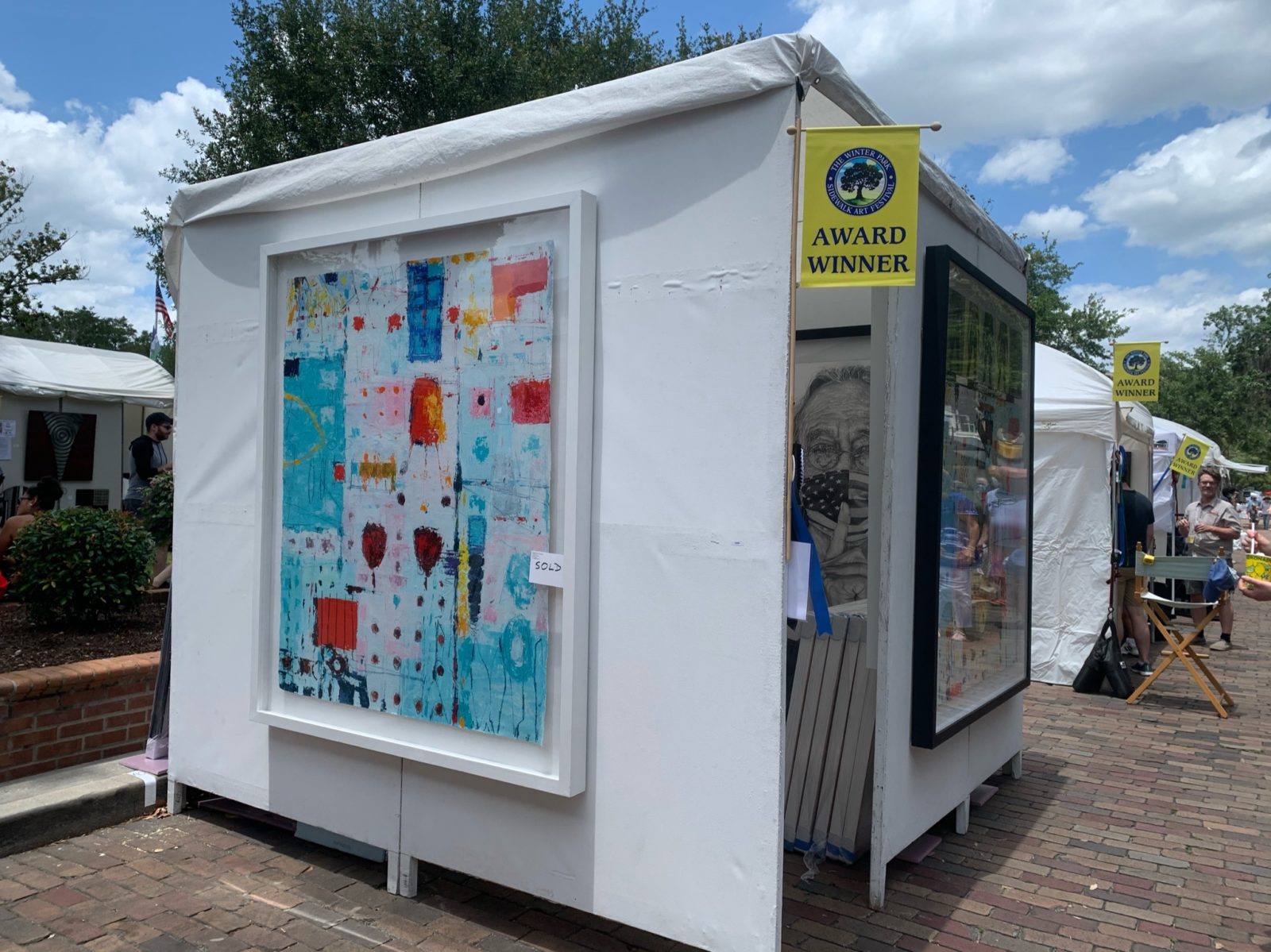 Earning the Award of Distinction, Eitharong's 2D mixed media collection, along with his 40 years of experience as an artist turned the judges' heads. Eitharong's career started in large-scale pencil drawings, but now works primarily with acrylic abstracts on watercolor paper, canvas, and incorporates various mixed media pieces into his collections. "I am inspired by the world around us," Eitharong said. "Nature, urban landscapes and relationships all inspire me to create large scale abstract work that combines shape, texture, color and line."
Award of Merit: Clay
Miramar-based clay maker and potter, William Kidd, received an award of merit for his clay sculptures, which do not imitate any actual, living thing but are life-form creations inspired by the beauty of the natural world.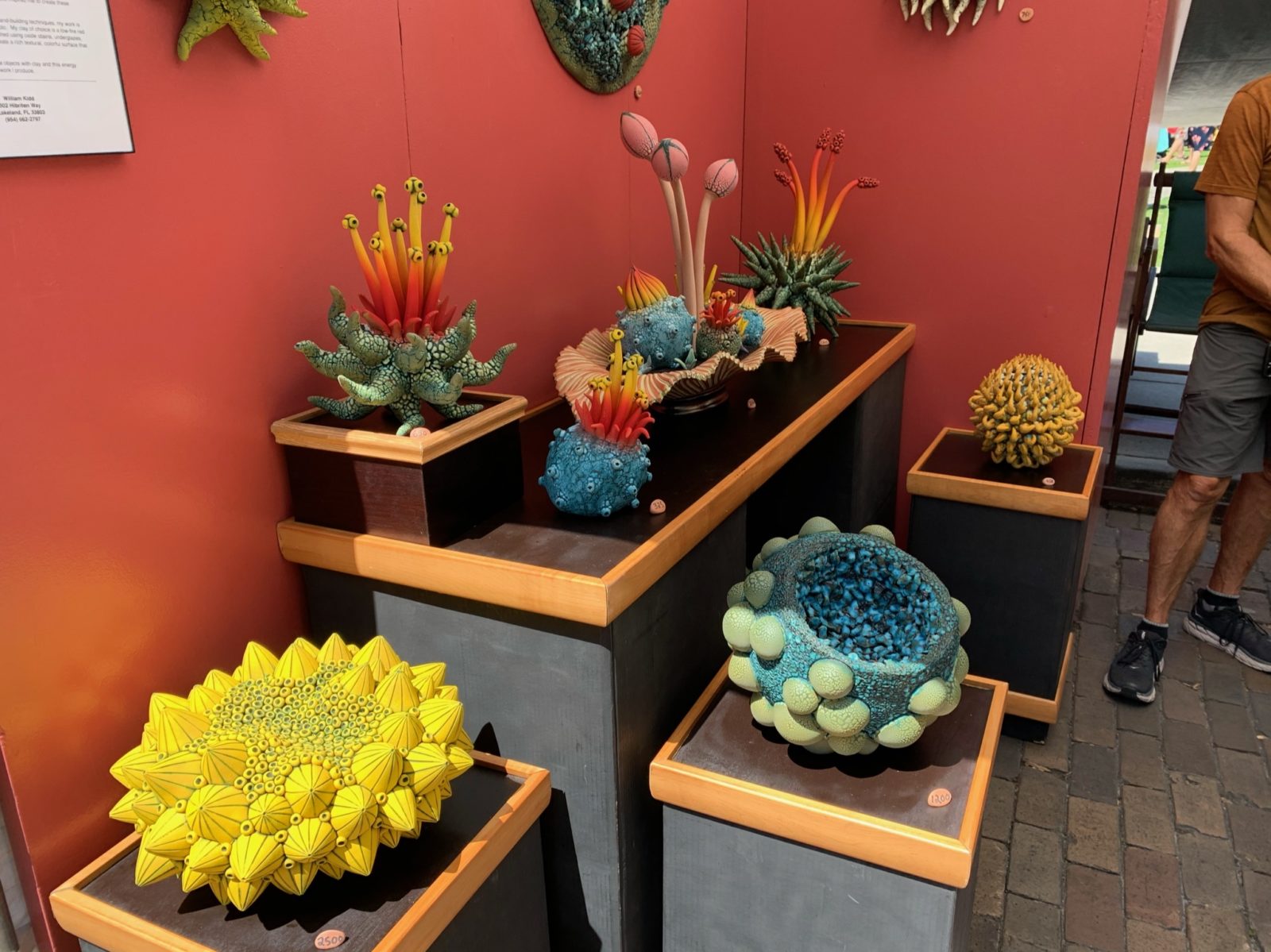 Using a potter's wheel and various hand-building techniques, Kidd collection is made from low-fire, red earthenware clay. "I've done this show almost every year—probably 25 times since the mid-90s—and it's always my best show of the year," Kidd said. "The community is so supportive of the arts, and I consider this the best show there is in Central Florida."
Award of Merit: Photography
The judges also gave an Award of Merit and $500 cash prize to Massachusetts-based photographer, Andrew Sovjani. After living in Tokyo and working as an engineer, Sovjani saw an exhibit by American photographer, Ansell Adams, that inspired his move to the U.S. to work with Adam's assistant, John Sexton. There he mastered black and white photography and traditional darkroom printing.
"I developed my process, reaction printing, where I chemically alter prints by hand using brushes rags stencils and calligraphy pens to create unusual colors and mark making that blurs the line between painting and photography," Sovjani said. "I'm inspired by aspects of American culture that are slowly vanishing like old barns, secret watering holes, rural rail crossings, and engineered structures of the early 1900s — my goal is to trigger memories."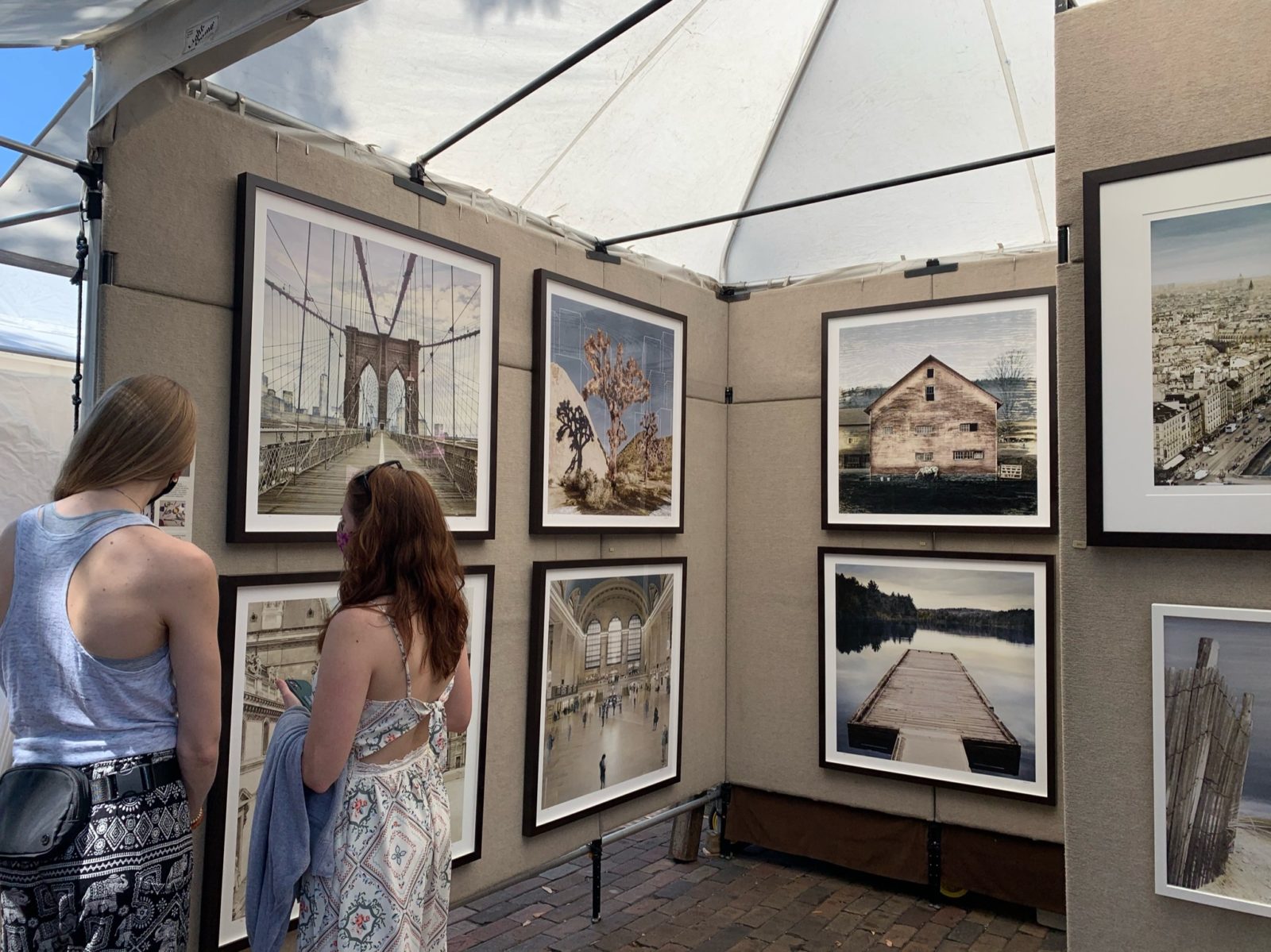 The 2021 WPSAF was Sovjani's fourth time presenting and selling his art. "I don't have just one favorite part of the Winter Park Sidewalk Art Festival, but I am always amazed at the energy and enthusiasm of the volunteers, board members, and helpers that put on this spectacular show," Sovjani said. "The excitement of the patrons and people attending the show were so welcoming after this long period of dealing with Covid. This is always one of my best shows and something I look forward to every spring." 
To see the full list of winners, visit the website.