Note: Due to the nature of her recent partnership, Stephanie Nickitas and the Samaritan Village team ask readers to respect that some details of this story have been adjusted to maintain total confidentiality of the organization and its members.
Stephanie Nickitas, the owner of CrossFit Winter Park and former University of Central Florida (UCF) women's tennis head coach, has had a long-lasting passion for fitness and has applied her extensive strength and conditioning expertise to supporting a variety of causes since opening her gym in 2013. Most recently, Nickitas focused her efforts on supporting Samaritan Village, a local safe home and therapeutic program for adult survivors of female sex trafficking.
Thanks to her 15 years coaching Division I tennis and many years of studying the CrossFit methodology, Nickitas was well prepared to open her gym. "Prior to our opening, I noticed that there was a gap in the area for CrossFit because there really wasn't a gym in the heart of Winter Park," Nickitas said. "I was able to develop a following of people that knew I was looking to open a gym, but the Winter Park location really expanded our visibility. It's been a really organic growth over the years, and we're grateful to provide strength and conditioning for people of all levels."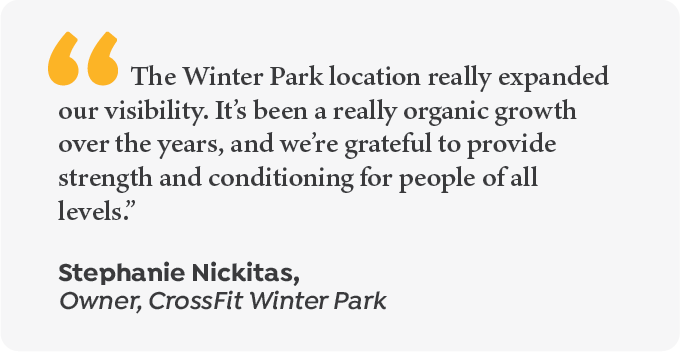 Although it's best known for its fitness offerings, CrossFit Winter Park has coordinated various in-studio fundraising competitions to raise money for non-profit organizations such as the Leukemia and Lymphoma Society. Through generous donations and fundraising from members, CrossFit Winter Park has also collected items and donations every year since its opening to support a family in need during the holidays. In her search for a family to sponsor in 2020, Nickitas was approached by a member of her gym who suggested she consider supporting the women of Samaritan Village.
"In December, we started gathering things for these women based on their needs and wants for the holidays," Nickitas said. "Everything from journals and planners to clothing and makeup, along with typical household items such as cleaning supplies and paper towels– we wanted to make sure that each request or item on the list was purchased for each of the ladies within the home so that everyone would receive an equal number of gifts when it came time to deliver the items. Our members began to chip away at buying things for these women and, as a gym, we were able to collect such a great amount of the requested items."
As members of the gym began to contribute, Nickitas was thrilled to find that their collection of donation items far exceeded what they expected to deliver to Samaritan Village and quickly realized that what started as a holiday drive would soon evolve into an ongoing donation program and create a long-lasting relationship. "When we met with Samaritan Village to transfer the items, they were so grateful and that felt so good to all of us, but my brain started turning about what else we could do for these ladies," Nickitas said. "That's when I decided that I wanted to offer the women three months of our program for free. We wanted to assist their journey to getting fit, seeing what they could do with their bodies, and providing some tools and resources to learn about health and fitness."
Although the names and stories of these women are confidential, Nickitas can speak to the female empowerment she and her team strive to encourage amongst all women in their programs. "I think one significant aspect of this initiative is that, for these ladies, everything in their lives was controlled before finding the Samaritan Village," Nickitas said. "They were in situations in which they were told what to eat and what to wear as well as other terrible circumstances. So, we're trying to play a positive part of their process as they develop or renew the strength and confidence needed as they prepare to return to the workforce and society."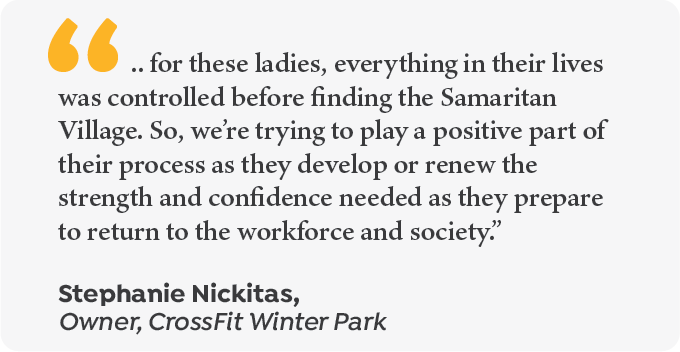 In hopes of building strength, confidence, and knowledge of nutrition and healthy eating habits among the women of Samaritan Village, CrossFit Winter Park plans to continue efforts to support the organization. "One of my long-term goals is finding members who are interested in helping continue these 'scholarships' for the programs that we're currently providing the women of Good Samaritan, beyond the first three months that we've originally offered," Nickitas said. "We want to find a way help by not only funding their fitness goals, but also their health and wellness journey—I want to point locals to Samaritan Village for more ways to get involved."
To learn more about how to support of the women of Samaritan village through scholarship donations or other ways to get involved, visit their giving page, call (407)-205-8976, or contact them directly for more information.