Last Friday, the City of Winter Park sent out a press release announcing its plans for the 62nd annual Winter Park Sidewalk Art Festival (WPSAF). This year's festival, which is facilitated by the WPSAF Committee, will be held along Park Avenue and throughout Central Park next month starting on Friday, May 14 through Sunday, May 16.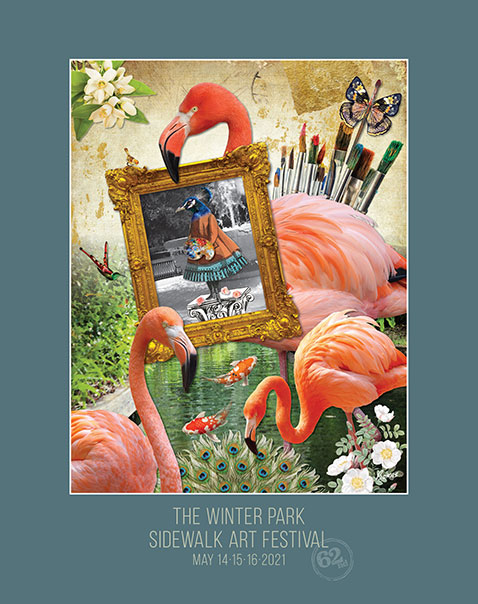 Accompanying its announcement, the committee released its 2021 festival poster designed by Victor Bokas. The poster is a companion piece to the previous poster released for the cancelled 2020 event. According to the festival's website, "The 2020 poster is from the only festival that has ever been canceled, and the 2021 poster is from the first, (and likely only), festival to be held in May. Victor has truly captured the essence of the Winter Park Sidewalk Art Festival in this poster. There are many iconic elements from the art festival in the poster design as well as historical landmarks from around Winter Park."
Earlier this spring, the32789 covered the festival's first ever virtual event, held in lieu of its annual in-person festival, which was created to ensure that COVID-19 health and safety precautions would be prioritized following the event's first ever cancellation in 2020. The City of Winter Park Assistant Director of Communications Craig O'Neil shared a statement on behalf of the city with the32789 about this year's festival.
"We are very happy and excited to welcome the Winter Park Sidewalk Art Festival back to the community," O'Neil said. "Although the 2020 festival had to be cancelled due to COVID-19, we are confident that delaying the event an extra two months, after the virtual event in March, along with implementing responsible social distancing protocol will allow for a safe and successful 2021 event."
Retail businesses can set up one table or rack outside of their concept without a permit, however, more than one table or rack will require shop owners to fill out an application, which should be sent to mrcp@cityofwinterpark.org. Restaurants that are included inside of the designated road closures listed below have the option to extend their dining outdoors by filling out an application with the WPSAF road closure checklist, which is due on Wednesday, May 12.
Street Closures:
Garfield Avenue: Closed
Lincoln and East Welbourne Avenues: Center Street to South Park Avenue
Morse Boulevard: South Knowles to South New York Avenues
New England Avenue: West Park Avenue to Center Street
Park Avenue: West Canton to Lyman Avenues
The WPSAF Committee, which is facilitated by an all-volunteer board, asks attendees to remember that pets, bicycles, motorized scooters, and skateboards are prohibited. Additionally, it is recommended that guests follow CDC guidelines throughout the event such as wearing a face mask, social distancing, and washing their hands at the available stations located throughout the area.
For additional information about the Winter Park Sidewalk Art Festival, check out the festival website or call (407)-644-7207.