On Wednesday, a new upscale Mediterranean concept, Ava MediterrAegean, confirmed plans to move into 290 South Park Avenue, the 11,000-square-foot space formally occupied by Luma on Park, as early as fall 2021. Ava will be the first concept to acquire the space since the closing of Luma, which vacated the Park Avenue corner in September 2020 after nearly 15 years of offering upscale dining to Winter Park locals.
In February, Mila Florida LLC, who also manages Mila MediterrAsian in Miami Beach, was reportedly in talks to open a Mediterranean concept in the Luma space called Kaya, according to a recent article in the Orlando Business Journal (OBJ). The Mila Florida group has since changed the concept's name to Ava MediterrAegean.
According to Jill Rose, vice president of retail services at Orlando-based commercial real estate firm, Bishop Beale Duncan, building the framework for a space that will accommodate operations is typically the biggest challenge for businesses looking to open on Park Avenue.
"The infrastructure of the space, which is built out beautifully, is in place to open a restaurant, and what a lot of people don't realize is the amount of money it takes to create that infrastructure," Rose said. "Whenever second-generation spaces become available, especially in places like Winter Park, they get leased up pretty quickly—there are probably four in the whole region."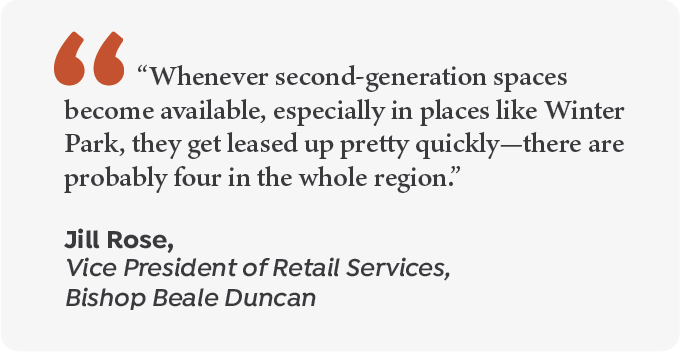 Although uninvolved with the deal, Rose explains that the value of the Park The value of the Park Avenue corner, according to Rose, who was not directly involved in the deal, has everything to do with its general location and previous tenant. "When you're dealing with spaces of this caliber, a landlord is very specific about who they will allow to lease the space according to the users' ability to keep up with the rent," Rose said. "Because Luma occupied the corner for 15 years, it shows significant value to the Park Avenue space when compared to, let's say, another shop that has been flipped five or six times."
Over the last few months, several new businesses have started to open on Park Avenue, reviving the vacant storefronts of retailers that struggled to stay open during the pandemic. "Park Avenue stands on its own… It's a hot area with high incomes, people are still going after a difficult year [of COVID-19], and it has programs like the art festival—so open spaces will only continue to fill," Rose said. "There are not many areas in town where you're able to pull entrepreneurial, chef-driven concepts from other areas of the country, but Winter Park is one of them."
Plans for a grand opening have not been announced yet by the managing entity, Battaglia Group Management, LLC.