It's been 25 years since Founder and President of John Craig Clothier, Craig DeLongy, first opened his doors to the Winter Park community with a vision to create an innovative hub for "fresh" men's fashion with "killer customer service." This month, the one-stop-shop for luxury menswear celebrates a quarter century on Park Avenue.
DeLongy and his family were living in the area when he first introduced his vision, John Craig, on March 2, 1996. Since its inception, the clothier has impacted the community's fashion scene as well as his family.
"I was living in Winter Park at the time, looking to open up a men's store, and there it was right in front of me – I said 'Wow, I've got to do this on Park Avenue,'" DeLongy shared. "I live about a half of a mile away from Park Avenue, and I feel like it's become such a major part of me and my family. 25 years is a milestone, and looking back now, I never would have envisioned that would happen."
Attributing the operational success to his team, DeLongy explained the important role his daughter, Blair DeLongy, has played in the business as Vice President of Retail Operations. Based out of Naples, Blair serves John Craig in marketing and day-to-day store functions, along with handling the brand's biannual lifestyle magazine.
"My daughter will be the one to celebrate 50 years, not me, and I'm just so very proud of her," DeLongy said. "We've been able to grow upon our original vision, and now we're stronger than we've ever been because we continue to evolve. That's the important thing – that we continue to evolve."
The clothing industry is not easy, according to DeLongy; however, the clothier's approach to success is found in the details. "I think detail is a huge part of our business, which also follows along with listening," DeLongy said. "Just the smallest things are that important to us – that might include how we wrap a birthday present or the way that we ship something out to a customer – everything is what we try to think about in terms of detail."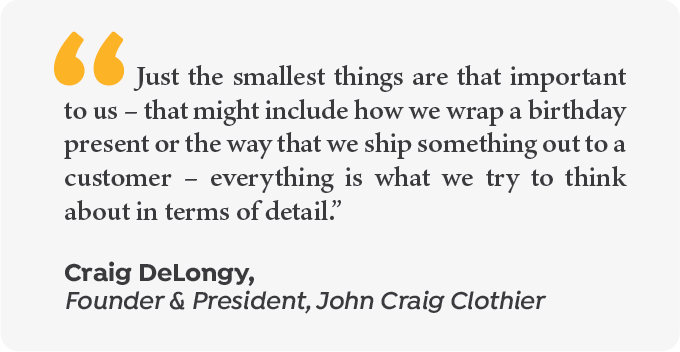 John Craig has expanded into four locations in addition to its Winter Park concept, which include Jupiter, Naples, Downtown Naples, and Ponte Vedra Beach. Additionally, the storeowner opened Current, which offers sportswear for the "modern man," in a neighboring Park Avenue retail space. According to DeLongy, the company wouldn't be celebrating this milestone without the support from local residents and customers at each of their locations.
In his career, DeLongy has seen businesses come and go along the ever-evolving Park Avenue strip. He attributes his shop's ability to keep up to its' strong customer foundation. "Business owners always ask, 'how do you keep up with the rent,' when in my experience, it isn't about the rent – it's about the sales. And you have to find something to sell that's tangibly worthwhile," DeLongy said. "Over the years we've been able to pay this expensive rent that we have because of the local foundation that we've built on Park Avenue, and I feel the same 25 years after establishing because our customer foundation, they've been very good to us."
John Craig's customer base remained solid even through the COVID-19 pandemic when many companies in Winter Park's downtown central business district struggled to remain open. The clothier was maintaining enough business to be able to rent a third space on Park Avenue, where the former Violet Clover boutique took residence, to open a temporary John Craig pop-up shop, which acts as an outlet of sorts for surplus stock.
As DeLongy and his team look forward to another 25 years of John Craig, locals can expect a few store remodels, a possible increase in sportswear selection, and continued loyalty to customers.
"We're very fortunate to get incredible reviews, we've worked very hard to earn them, but we will continue to evolve," DeLongy said. "We're just going to continue doing what we do."