On Wednesday, the Winter Park Community Redevelopment Agency (CRA) and City Commission held a hybrid meeting where the purchase agreement for 901 West Fairbanks Ave., otherwise known as Imperial Dry Cleaners, was unanimously approved.
Located on the corner of Denning Drive and Fairbanks Avenue, the property is positioned along Lake Rose and has proposed development plans for a new turn lane, sidewalk, green space, and parking lot that will provide 70 to 80 spaces for residents. The redevelopment plans, which can be found on the city's agenda item, also provide designs for a southbound turn lane that will minimize traffic and regulate car flow through the area.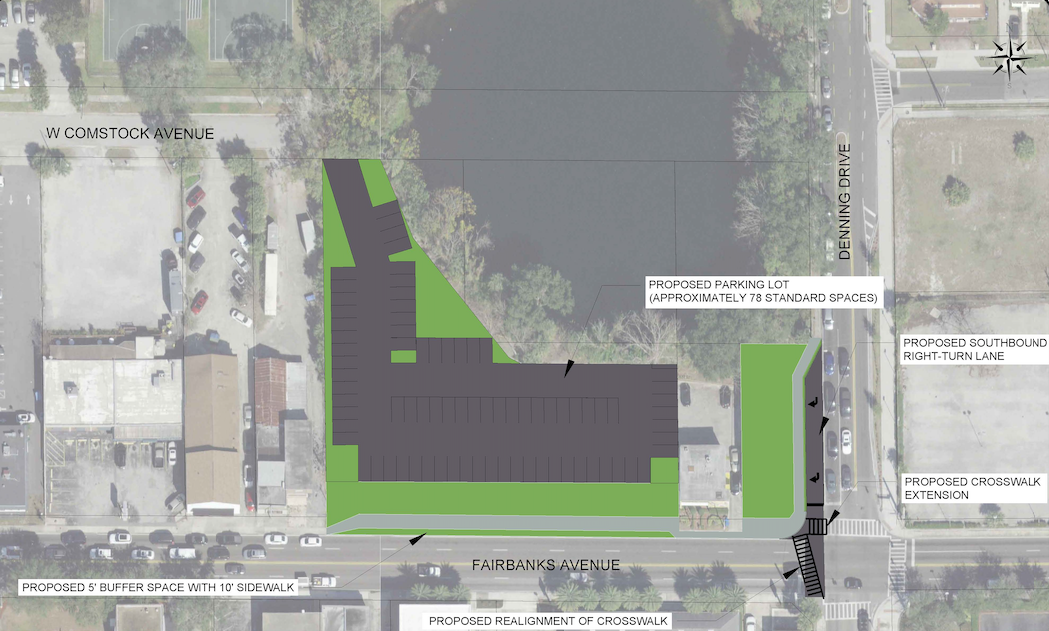 While there are two conceptual maps included in the agenda, only one contains designs for a pedestrian trail where locals and visitors can walk and bike around Lake Rose, along with an expansion of the parking lot to hold close to 90 new parking spaces. To further these plans for development, both groups also moved to proceed with negotiations for an additional land purchase, which is needed for the redevelopment project.
Proceeding the approval of the purchase agreement, the CRA and City Commission also approved to continue negotiations with surrounding retail spaces, such as 929- 957 West Fairbanks Avenue for additional unit sales. With the allocation of these retail spaces, the city would be able to develop a parking lot that wraps around nearly half of Lake Rose.
Although the city originally set aside $1 million for this project, the acquisition of this lot requires an agreed-upon purchase price of $750,000. Representing the city in its deal is Jones Lang LaSalle, otherwise known as JLL brokerage agency. According to Vice Mayor Carolyn Cooper, JLL is set to make a large commission on the sale of the land.
Further proceedings are scheduled to take place during future meetings held by the City Commission and Community Redevelopment Agency.