It was only about a year ago that owner and manager, Nora Jain, introduced Tabla to the Park Avenue food and dining scene. However, for Jain, the love and support with which the community has surrounded the local business has made it feel like it's been here all along.
As a frequent visitor to Winter Park's downtown area, Jain's decision to open Tabla's second restaurant location on Park Avenue was as easy as taking her kids to school—literally. According to Jain, her admiration for the new location first started when she was driving back and forth from Lake Highland, where her children attend.
"We would always come here after school with friends or family for celebrations with them and we love the area," Jain said. "Park Avenue, and the rose garden. It has a very beautiful, European vibe to it. So, when it came to opening our second restaurant, we were like 'okay, we have to be here one day,' and that's just how it started."
Tabla, which offers a variety of authentic Indo-Chinese and Thai food, embodies the vibe that Nora first felt from the community through its modern-yet-cozy atmosphere. "We have done a lot to make the space very clean and modern-looking, but at the same time it's very warm," Jain said. "It's not a big space, so it's very cozy and perfect for an intimate, candlelit dinner with your family." Nora continued, "We also have a tree right outside that is so pretty, so being able to have an actual, live tree inside the Shops on Park adds a nice touch to the outside of our restaurant."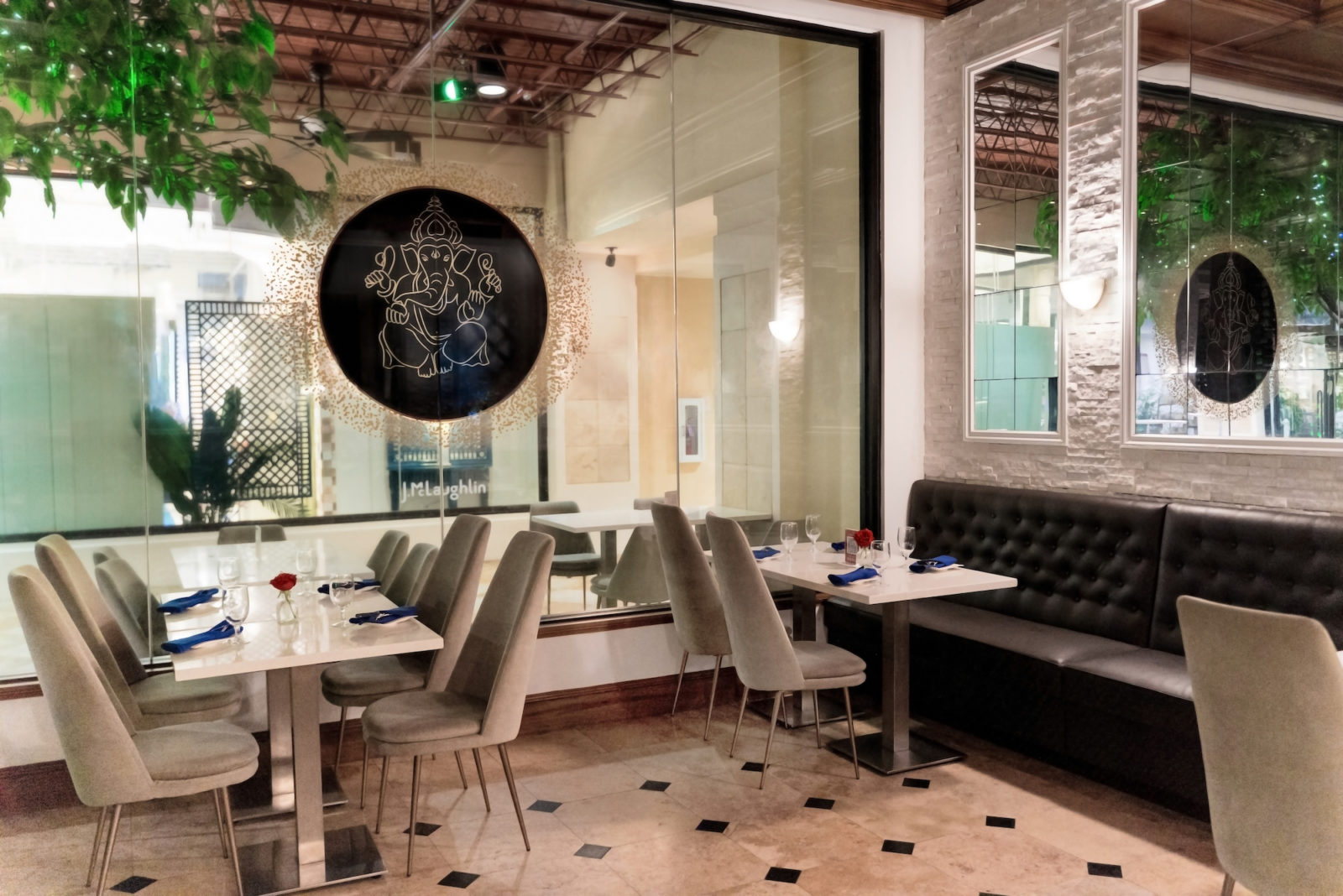 Originally planning to greet its guests with must-try dishes, and a warm welcome upon opening, Tabla's introduction into the community took an unexpected turn after making its debut last February. "We opened right before the pandemic hit last year in February," Jain explained. "But it was because of all the love and support we got from our customers that we were able to survive through the year… and keep our doors open."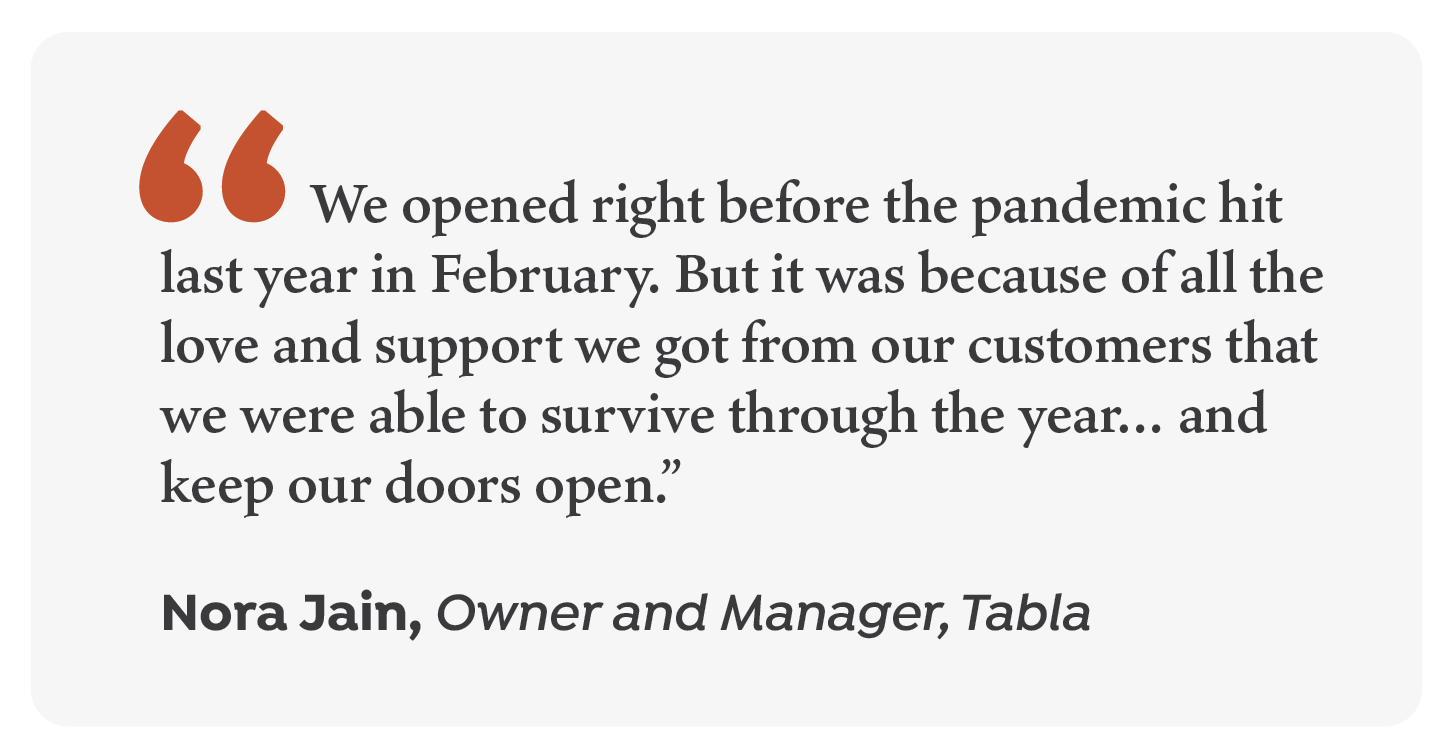 While other restaurants were forced to shut down, Jain aimed to prioritize customer relationships and the safety of its guests and employees in order to keep Tabla running. "We never actually fully closed the restaurant, but we shifted to takeout for a little bit of time," Jain said. "We also were not the first ones to open back up, just because we wanted to wait a few weeks to ensure that we would keep our staff and guests safe."
Despite the shift in operations caused by the pandemic, Tabla continues to be well-received by the community since reopening its dine-in services in June. Tabla's menu features various gourmet dishes, which are comprised of both vegan and vegetarian options.
Curated by Chef Sajan Prem, the menu reflects traditional Indo-Chinese and Thai food dishes but with a modern approach. Guests can start their meal with one of several flavorful appetizers such as the vegetable samosas, pani poori, or, the owner's favorite, gobi/chicken Manchurian. The entrée options include Tabla's chicken curry, kadai paneer, and butter chicken. Guests who prefer spicy foods might try the "can't-be-made-mild" chicken vindaloo.
With only a year under its belt, the Indian cuisine restaurant has been honored with an abundance of great reviews, online praise, and loyal customer feedback for not only its food and dining services, but also its philanthropic efforts.
"[Tabla] has received such awesome responses and we are so grateful, especially for [those in] this community, who allowed us to stay open throughout our first year which started with the pandemic," Jain said. "We are just thankful and try to find ways to give back to them as much as we can."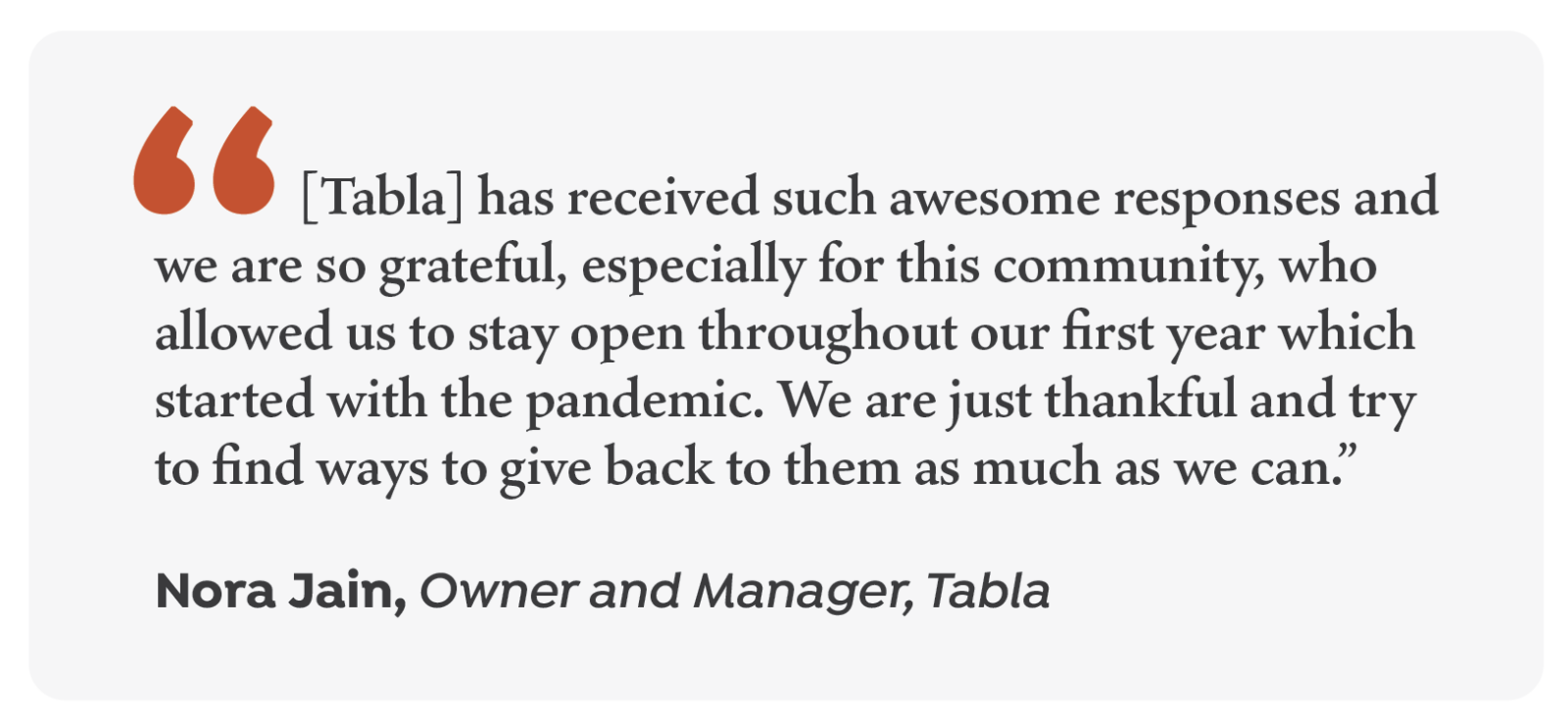 Spearheading these charitable efforts is none other than Nora's daughter, Shivi, who raised a great amount of funds for their organization, Cooking for Cause, in just a few months. In an effort to provide aid to those in need, Cooking for Cause invites locals to attend a monthly cooking class to help raise funds for different causes for a small admission fee. During its first class, which raised nearly six thousand dollars used to build a water well in Uganda, Chef Sajan taught guests how to cook five pre-selected dishes from the Tabla menu.
Since classes were put on hold due to COVID-19, the charity has continued to support causes through prepared meal kits, which include recipes, ingredients, and a video link to learn how to cook with both Chef Sajan and food critic Scott Joseph. The kits are stocked with all the ingredients needed to prepare a Tabla dish for three to four people right from home. All proceeds from the meal kit purchases go to Ekal Vidyalaya, which is a non-profit organization involved in education and village development in rural, tribal areas of India.
Looking ahead, Jain and her team at Tabla are excited to continue to build relationships with customers, give back to the community, and hopefully start hosting in-house charity events as early as March.