Associate Professor of Biology at Rollins College Bobby Fokidis and his students have discovered an unexpected visitor inhabiting Winter Park's Genius Preserve. With infrared, motion-sensor cameras, the class captured insightful footage of a rare black coyote. Other animals filmed include armadillos, raccoons, possums, and peacocks, the mascot of the official city seal.
In addition to his classes, Fokidis conducts a research program. As a wildlife biologist, he studies hormones involved in stress and "how we can use our understanding of stress hormones to look at how animals are adapting to their environments, especially environments that change, like an urban environment." Knowing students enjoy working with animals, the professor has integrated much of his research efforts into his classes, like his vertebrate zoology class that made the black coyote sighting. "We've been interested in finding out what lives on the preserve and trying to get a sense of the kind of animals that move around through the city," Fokidis said of their research. Students first made the discovery when reviewing footage and alerted Fokidis. First thinking it was a fox, he then realized it was a black coyote.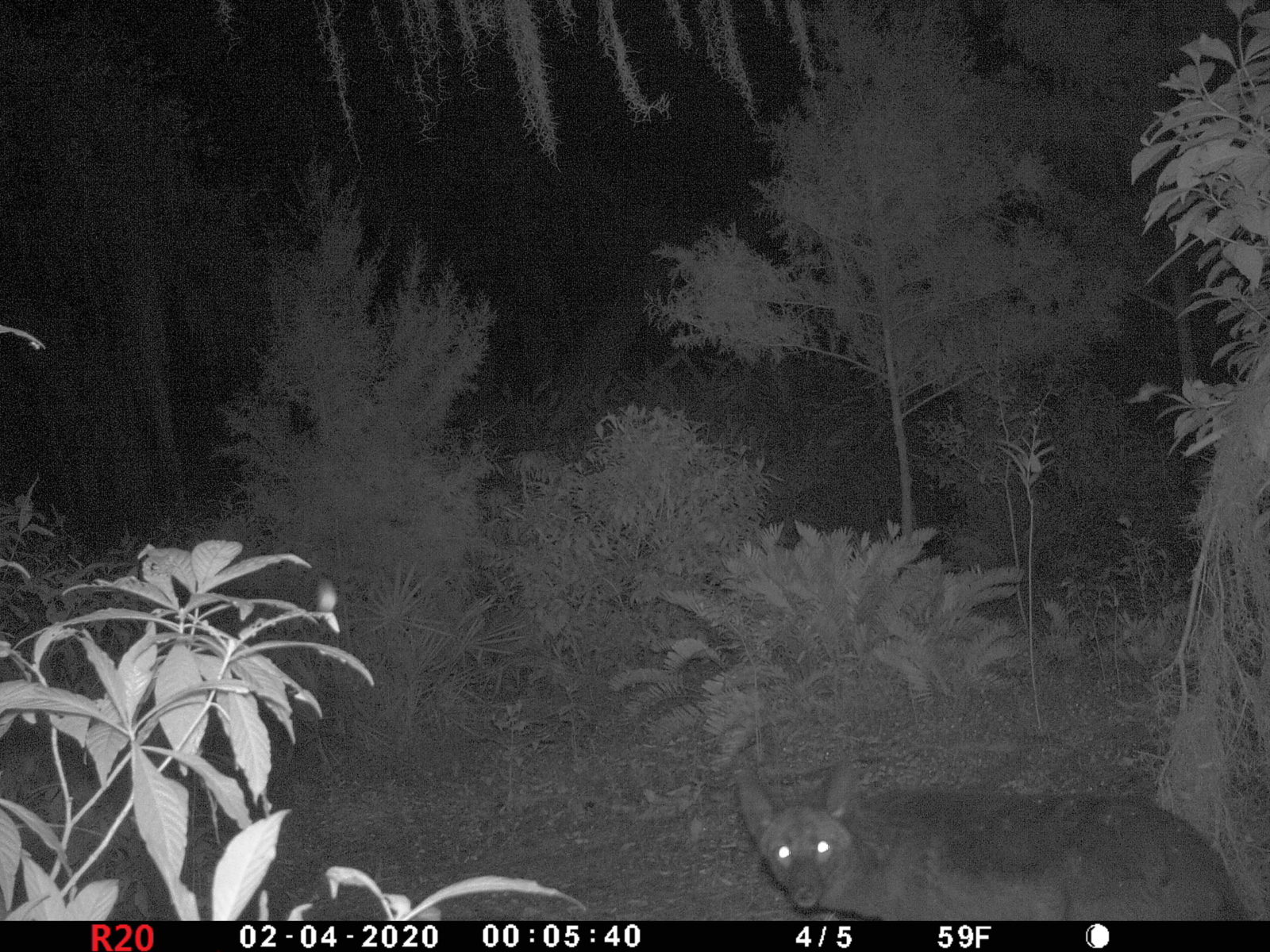 Though he admittedly didn't have much interest in black coyotes before, Fokidis says the sighting inspired deeper investigation into the animal. According to Fokidis, the gene that causes the coyote's dark color is the same gene found in dark colored dogs. The gene is thought to have originated from coyotes breeding with dogs or coyotes breeding with wolves that previously bred with dogs. Now, Fokidis and his students are interested in locating a den and tracking how many offspring are producing the same coloration. "It's interesting to see a pattern of inheritance so that's something we're exploring right now," Fokidis said. "Also, [we want] to learn more about how coyotes are interacting and if there are any differences in behavior in these coyotes." Fokidis and his classes are currently reviewing footage captured on trails throughout Orange and Seminole County.
Fokidis has been teaching for 15 years. Prior to coming to Winter Park, he taught in British Columbia and Arizona. He is now approaching seven years of instruction at Rollins College. Along with his vertebrate zoology class that made the sighting, Fokidis also teaches zoology, animal physiology, human physiology, human anatomy, general biology, and more. His vertebrae zoology class focuses on learning about animals and how to study them in the wild. Already curious about animals, his students were incredibly enthusiastic to realize they had come across a special sighting. "They were really excited. It was a nice opportunity to talk about the coloration and how [the coyote] jumps around. It's actually a topic we covered later in class," he said. "I think any time students find something out of the ordinary, there's a genuine interest."
In the spring semester of 2021, Fokidis plans to further explore Genius Preserve with a small group of students and hopes to find the coyote's den. He feels their research is valuable in understanding Winter Park wildlife and how the city can further protect and support its urban environment. "For many animals, [urban environments] are just another ecosystem. So, viewing the urban environment as an ecosystem can give us a little information about what animals can be successful, what are the traits of those animals that can be successful in a city, and if there's any way to find out how we can change our cities to promote even more diversity," Fokidis said. "The more we know, the better we can make future decisions."