On Monday, November 16, the Diebel Legacy Fund Golf Tournament will take place at Interlachen Country Club in Winter Park at 11 a.m. Inspired by one man's lifelong commitment to compassion and care, The Diebel Legacy Fund is a local nonprofit founded in remembrance of Dr. Donald Diebel Jr. On June 8, 2002, Dr. Diebel was struck and killed by a tractor trailer as he provided medical assistance to a couple who had overturned their car on the Florida Turnpike. He heroically assisted them alongside firefighter Shane Kelly, who was also killed in the accident while several others helping were injured.
Known for his giving spirit and life-changing work as an obstetrician and gynecologist, Dr. Diebel's death rocked the Winter Park community. His father, Dr. Donald Diebel Sr., and close friends were compelled to continue the kindness he was known for and founded The Diebel Legacy Fund in his honor. Dr. Donald Diebel Sr. currently serves as chairman of the board and has continuously played a significant role in The Diebel Legacy Fund's operations and fundraising since its creation. The foundation supports medical missionary work in Orlando, most notably Shepherd's Hope and the KNIGHTS Clinic at Grace Medical Home.
At the time of the accident, one of Dr. Diebel's sons, Nicholas Diebel, was just two years old. Now a junior at Rollins College, the youngest Diebel serves as a board member for the foundation and has taken the lead in coordinating the nonprofit's first charity golf tournament. When Diebel saw a need for new fundraising initiatives, he was encouraged to step up and brainstormed with his grandfather. "We needed to find a way to get [fundraising] kickstarted again and this was the best idea I could think of," Diebel said. An avid golfer himself and player for Rollins' Men's Golf team, Diebel is excited to celebrate his father's legacy with the help of the game he loves.
All proceeds from Monday's event will benefit Shepherd's Hope and the KNIGHTS Clinic at Grace Medical Home. Refreshments will be served prior to the event and during the reception following the tournament. Attendees can expect games, raffles, and onsite fundraising. The cost to sponsor a hole is $300 and the price per foursome is $1,600. Interlachen Country Club donated a foursome with PGA Tour golfer Rob Oppenheim as a raffle prize, which Diebel expects to be a popular item. Oppenheim is a Rollins College graduate and a former player for Rollins' Men's Golf team. Diebel and Oppenheim have become close friends since meeting through the team. To promote a safe environment during COVID-19, guests will have their temperatures checked upon arrival and masks are recommended.
Though Diebel only had his father a short time, he knows his moving story well. "My dad was known around the community as someone that always helped people no matter what. We wanted to create something to exemplify those qualities that my dad showed," Diebel said. He's especially passionate about the contributions the foundation has made to medical students at the University of Central Florida. "We've been able to give medical students real-time experience. They volunteer at Grace Medical Home where they can see patients and learn [in the field], which has been a really cool experience for any student that's been involved," he said of the program. "It's been a great addition to what we've been able to do because we want to make more doctors like my dad and more citizens like my dad because we really believe that's important. He was really a great guy."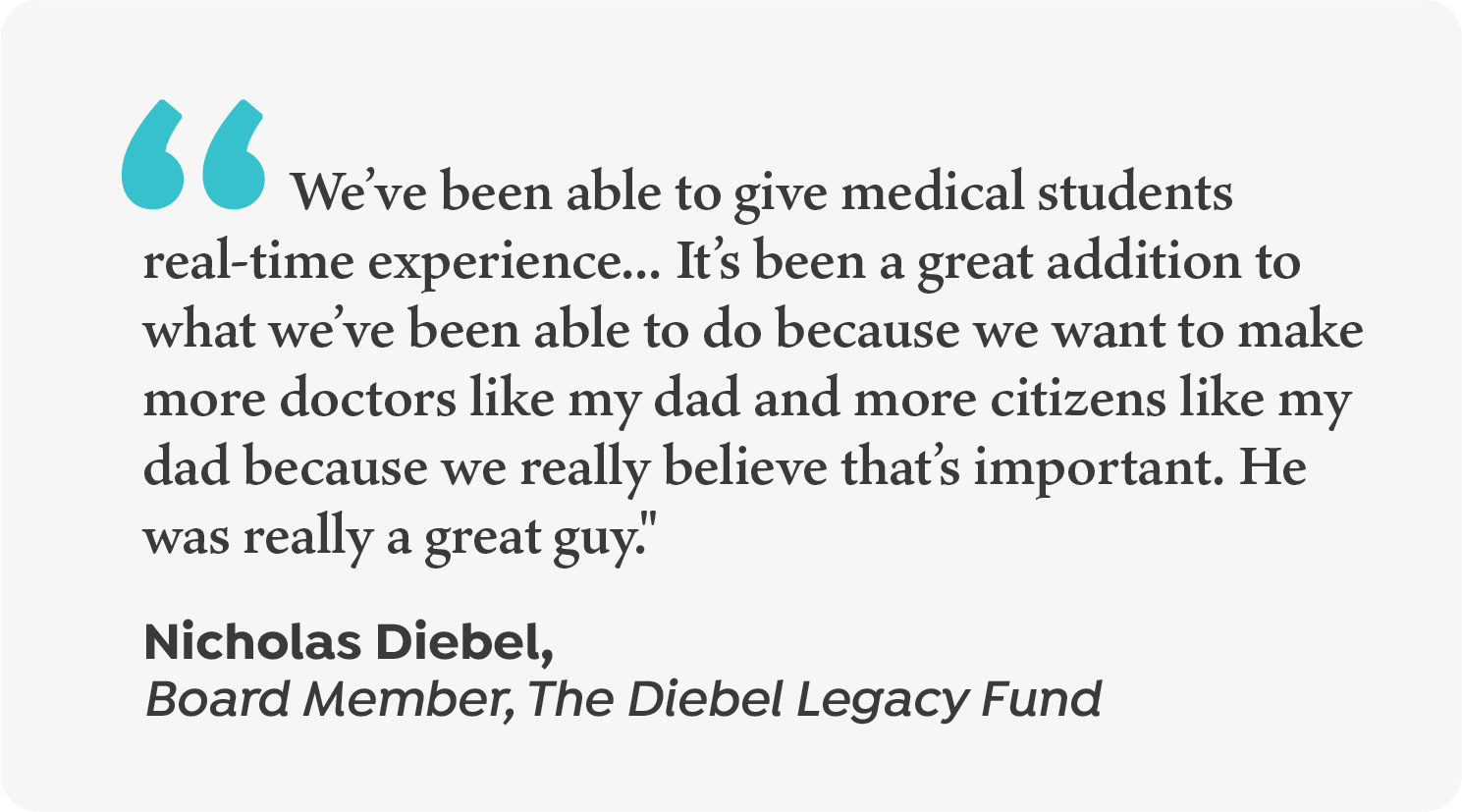 Diebel is inspired to continue his father's work and support philanthropies in the medical community that enrich the lives of those less fortunate. "I just think about all the people he would've helped over the last 18 years and I think it's the least we can do to raise money for two great causes," he said. Diebel is hopeful this year's golf tournament will be the first of many and has plans to make it an annual fundraiser. Though Dr. Diebel was taken from his family, neighbors, patients, and countless others who cherished his life and legacy too soon, his loved ones have dedicated themselves to ensuring his benevolence lives on.