Winter Park Historic Hotels Group, LLC announced today an upcoming virtual community meeting to give citizens a platform to ask questions and provide feedback regarding plans for its proposed Henderson Hotel project. The meeting, set to be held via Zoom on November 19 from 6:30-8 p.m., will feature a brief presentation by the development group before opening the floor to attendees and addressing public comments. Representatives from Orlando-based Baker Barrios Architects, Inc. and other members of the project team will also be present.
The hotel, proposed to be built on nearly three acres of land sitting on the eastern side of Lake Killarney, just south of Hillstone Restaurant, was initially proposed in March 2019. After receiving feedback on the original plan, the development group made changes to the proposed project. The updated proposal includes a 235-space underground parking garage as well as over an acre of open green space, which will include a new park available to the public through the Winter Park Land Trust. The 5-story hotel will feature 132 rooms, 7,500 square feet of ballroom and meeting space, a 220-seat restaurant, and walkways along the lakefront. According to the developer, it will be the first and only LEED v4-certified ground-up construction building in Winter Park.
"A large part of what makes this project so special is the vast input we've received from Winter Park residents who want to welcome the Henderson Hotel to their community," said Adam Wonus, Managing Member of Winter Park Historic Hotels Group, LLC.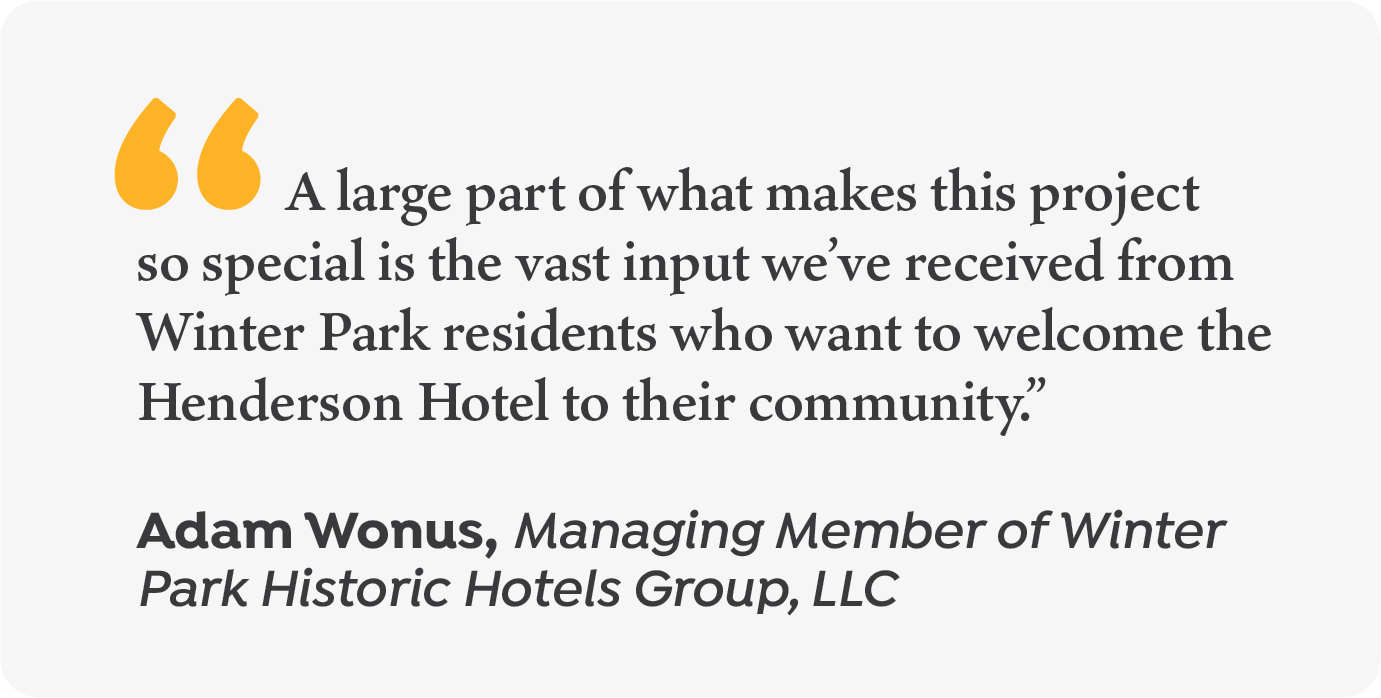 In addition to providing luxury accommodations and lake views, Henderson Hotel, named after the Henderson family who owned Lake Shore Motel adjacent to the proposed site, is intended as a nod to the several high-end lakefront hotels that have played significant roles in Winter Park's history. These iconic locations, the Virginia Inn, the Seminole Hotel, and the Alabama Hotel, now all torn down or converted, each played a significant role in the development of Winter Park. The developers of Henderson Hotel hope this project will revive Winter Park's tradition of housing one-of-a-kind lakefront lodging.
Before beginning the project, the Winter Park Historic Hotels Group, LLC must attain approval from the Winter Park City Commission, which is set to discuss and vote on the proposal on January 13, 2021, as well as the City's Planning & Zoning Board.
Those interested in attending the virtual community meeting on November 19 can RSVP here. Public comment can be submitted to the developer in advance of the meeting here. To find out more about the Henderson Hotel, visit www.hendersonhotelwinterpark.com.